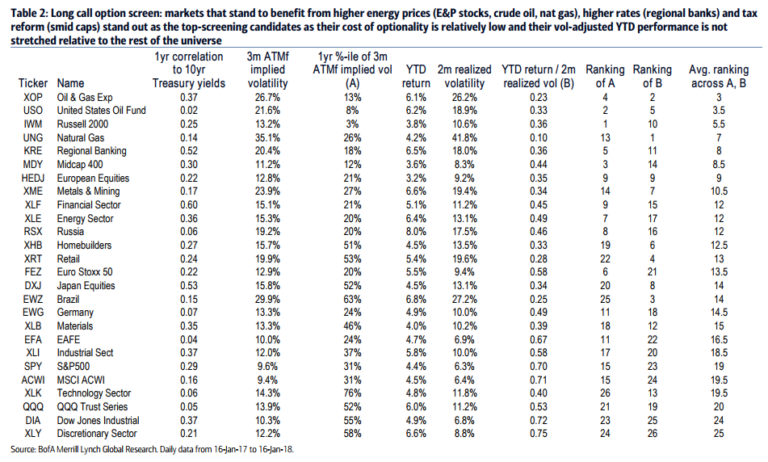 How should investors chase global equity upside without exposing themselves to the risk of an aggressive market selloff? That's the topic of the latest research report from Bank of America's Global Equity Derivatives team.
2017 was a year of positive and accelerating momentum for the global economy, and it is already looking as if momentum will continue into 2018. The data have been firm with some reports exceeding expectations for US economic growth, sending the Bloomberg economic data surprise index to a historic high. Meanwhile, the earnings season has gotten off to a good start with analysts revising targets substantially higher.
US Valuations are extreme compared to global markets according to BoA, " S&P 500 bottom-up EPS is now tracking over $150, up more than $2 (1%) over the past week [to Jan 16] and more than $4 (3%) since mid-December. Of the companies that have already reported, 77% of companies beat on EPS, 85% beat on sales and 69% beat on both. BoA notes that these numbers are "tracking near record highs for beats on EPS and on both, and at the highest levels in our data history for sales beats."
These Are John Buckingham's Stock Picks For 2021
The economy remains in distress, although there are signs of recovery underway. John Buckingham of Kovitz, editor of The Prudent Speculator newsletter, has found that value stocks typically outperform coming out of economic downturns. Thus, he argues that this is an excellent time to be a value investor. Q4 2020 hedge fund letters, conferences and Read More
Combined, all of the factors above have helped US equities record their best start-of-the year performance since 1928 on a vol-adjusted basis.
Growth and a cyclical recover seem to be the themes of 2018. However, some investors and analysts are skeptical that the benign environment will continue throughout the year as central banks become more hawkish. Indeed, according to BoA's latest Global Fund Manager survey, an inflation/bond crash are now viewed as the top tail risks for 2018.
Against this backdrop, BoA's Global Equity Derivatives team believe that an attractive strategy for investors is to buy call options to capture global equity upside without needing to time the top.
Global equity upside without timing
The report notes that this strategy is attractive for several reasons. Firstly, it minimizes downside risk, if volatility returns later in the year. Second, option costs not only remain relatively cheap but they also "afford investors the ability to reduce delta exposure and not precisely call the market top, which our investment strategists believe will occur during H1-18."
To this end, the Derivatives has scanned the market for the options that they believe offer the best value for money. To be included, options must have: 1) a non-negative sensitivity to rates (1yr correlation between weekly asset returns and changes in 10yr Treasury yields is non-negative.); 2) Cheap optionality and; 3) Further room for upside (vol-adjusted YTD performance is low compared to other assets).
Candidates that passed the screen are listed in the table below:
Caveat emoptor !