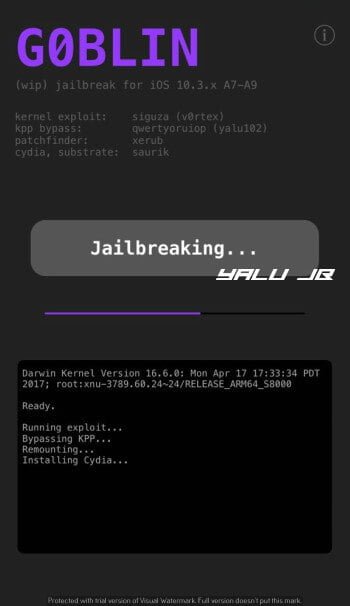 With security becoming tighter and demand lowering for an iPhone and iPad jailbreak, progress on the project for modern operating systems has been slow. However, the past few weeks have ushered in a huge amount of progress towards a crack of both iOS 10 and iOS 11. Adding another utility to the pile, the G0blin iOS 10.3.3 jailbreak has been developed and released – currently intended primarily for developers.

The G0blin iOS 10.3.3 Jailbreak
The G0blin iOS 10.3.3 jailbreak is intended for Apple 64-bit devices, and is based off of the kernel exploit recently discovered by iPhone hacker Siguza. The jailbreak joins two other options that have already been demonstrated to crack through iOS 10.3.x 64-bit devices, but in a collaborative community, the G0blin iOS 10.3.3 jailbreak is more than welcome.
How A Weakening PE Market Serves As Another Sign Of A Weakening Economy
Amid the turmoil in the public markets and the staggering macroeconomic environment, it should come as no surprise that the private markets are also struggling. In fact, there are some important links between private equity and the current economic environment. A closer look at PE reveals that the industry often serves as a leading indicator Read More
With how many jailbreaks that have been released and the massive amount of progress made in just a short amount of time, it can be easy to get a little lost in the specifics of who's doing what and which utilities are released. If you're a jailbreak user, chances are that you're at least a little bit tech savvy. But even for those of us who are comfortable installing a normal crack, the G0blin iOS 10.3.3 jailbreak may still be a little out of reach. The jailbreak, released by "iOS developer" Slicktron, is intended for those who are comfortable compiling IPA themselves using Xcode before installing it on their device.
A Unique Development
As mentioned above, we've already seen a couple of jailbreaks for iOS 10.3.x. However, what makes the G0blin iOS 10.3.3 jailbreak unique is in the mechanism it uses to unlock Apple's restrictive operating system. The utility uses the KPP bypass developed by Luca Todesco, which allows the G0blin iOS 10.3.3 jailbreak to function using Cydia and Cydia Substrate.
For the uninitiated, Cydia is one of the most popular alternative launchers for iPhone, and has long been a significant part of the iOS jailbreaking scene. The Fact that the G0blin iOS 10.3.3 jailbreak includes support for both Cydia and Substrate seems to suggest that the release may be more fully featured at some point when compared to the previous two launches.
The more people that are working on an iPhone jailbreak the better, and there's always room for improvement. With more useful utilities that feed off of the work of one another, the collaborative iOS jailbreaking community can work together to develop cracks for a phone that is notoriously locked down. For those who believe that users should have unrestricted access to their phones, this progress in the jailbreaking scene has been a godsend – and as of right now, it shows no sign of slowing down.
Unless you're a developer, we recommend waiting a while on installing the G0blin iOS 10.3.3 jailbreak. Still, a modern jailbreak that isn't currently reliant on a yet-unreleased update to Cydia is a major addition to the jailbreaking scene. We can't wait to get our hands on the finished release.
Updated on