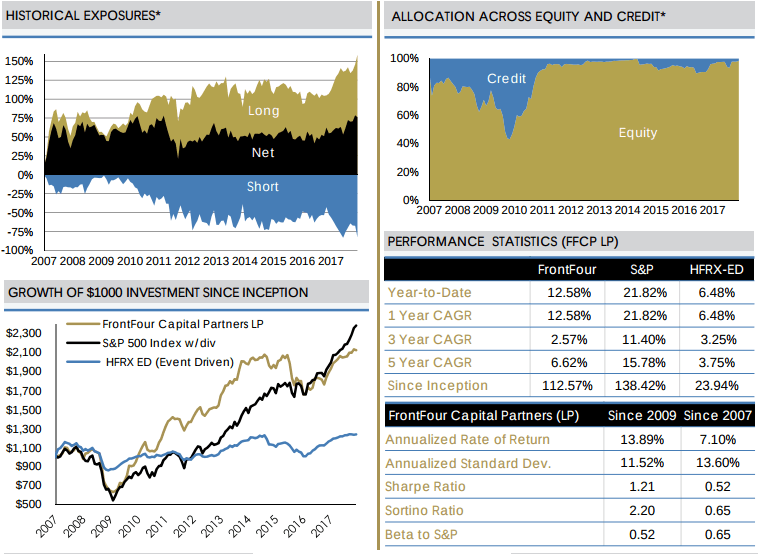 FrontFour Capital, the event-driven fund with a focus on value, currently involved in a battle with Obisidian Capital, returned 12.44% net during 2017 underperforming the S&P 500's return of 21.82% but outperforming its peer group. The HFRX Event Driven hedge fund index only gained 6.48% net during 2017.
Since inception (Jan 2007), FrontFour has produced a cumulative return for investors 112.6% net against the HFRX Event Driven index's total gain of 23.9% and the S&P 500's return of 138.4%.
FrontFour's strategy is based on value. The firm invests across the capital structure at the best opportunities and will "selectively engage as activists with management teams and boards to drive shareholder value." According to the firm's year-end 2017 letter, a copy of which has been reviewed by ValueWalk, over the past eight years, FrontFour has been steadily increasing its short equity positions. From a short exposure of around 0% at the beginning of 2009, short exposure increased to -75% during 2017.
Modern Day Asset Management
ValueWalk's Raul Panganiban interviews Ross Klein, CFA, and Vince Lorusso. Ross is founder and CIO at Changebridge Capital and Vince is Partner and Portfolio Manager at Changebridge Capital where they manage the CBLS, Changebridge Capital Long/ Short Equity ETF and CBSE, Changebridge Sustainable Equity ETF. The following transcript is computer generated and may contain some Read More
At the end of the year, FrontFour's net long exposure was 76% with gross long exposure of 159% and gross short exposure of 83% for a total gross exposure of 242%.
Also see Mohnish Pabrai Fund Up 57 Percent For The Year
FrontFour Capital Gains 12.4% Thanks To Fiat
According to FrontFour Capital 's 2017 letter, the year was one of "steady" performance for the firm. It won several proxy contests with ClubCorp Holdings Inc. (eventually sold to Apollo Global Management) and Granite REIT Inc. adding three members to the board. Several other companies generated a positive performance for the year as they executed "strong strategic plans to unlock value." One of these holdings is Fiat Chrysler Automobiles N.V.
FrontFour still holds Fiat, and like other value funds, believes that there still considerable value to be unlocked from the company's assets.
The stock has surged by over 140% during the past 12 months as CEO Sergio Marchionne, and team have continued to make progress achieving their strategic objectives, "targets that were previously thought to be too ambitious" by sell-side analysts. 2018 is set to be another transformational year for the company. FrontFour writes that "several key catalysts will drive upside to shares during the year" including the launch of new models globally for the Jeep Cherokee and Wrangler brands as well as the potential spinoff of more luxury brands from the Fiat group. "On the scheduled June 1st, 2018 capital markets day, we expect a new portfolio rationalization plan that could include the spin-off of this luxury segment" the report notes. On earnings growth alone and assuming an average peer valuation, the firm believes the stock could be worth as much as $31.
Staying on the automotive theme, FrontFour's acquired for its portfolio last year a position in Cars.com Inc. After missing Q3 earnings, shares in the online auto marketplace took a beating and FrontFour Capital decided to take a position. The firm believes that investors misunderstand the company's legacy agreements, which are set to roll off in 2019--2020. These old agreements will likely be replaced by new contracts adding "incremental $100 million in annual revenue at a 70%+ incremental margin due to rate increases alone."
For more value stock ideas from value funds with similar characteristics to FrontFour, check out ValueWalk's exclusive value hedge fund newsletter Hidden Value Stocks.