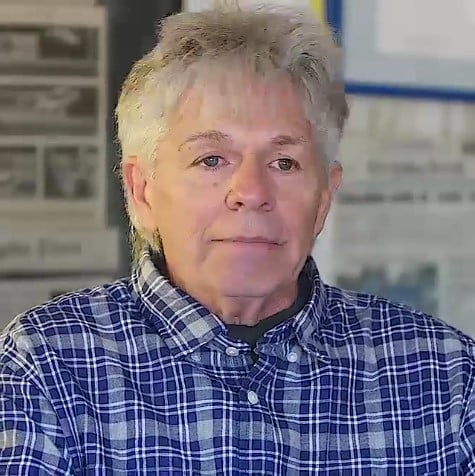 It's been a while since we last heard of the self-taught rocket scientist and limo driver "Mad" Mike Hughes, a member of the flat-Earth society and supporter of the same conspiracy theory. Near the end of last year, he announced that he will launch himself in a rocket in order to prove that the Earth is actually a flat disc. The launch was prevented as his rocket would have crashed into Bureau of Land Management (BLM) property. Now, the Flat-Earth rocketeer seems to be preparing for a new launch.
Originally, in November 2017, the 61-year old limo driver and stuntman Mike Hughes announced his plans to launch himself in his homemade steam rocket. He was supposed to be launched above California's Mojave Desert and fly 1,800 feet, as previously reported by the Associated Press. Back then he said that he would take photos which would be live proof that our planet is disc-shaped.
"I don't believe in science. I know about aerodynamics and fluid dynamics and how things move through the air, about the certain size of rocket nozzles, and thrust. But that's not science, that's just a formula. There's no difference between science and science fiction," Hughes told the Associated Press in an interview last year.
ValueWalk's March 2021 Hedge Fund Update: Klarman, Loeb, Reddit And Much More
Welcome to our latest issue of issue of ValueWalk's hedge fund update. Below subscribers can find an excerpt in text and the full issue in PDF format. Please send us your feedback! Featuring Seth Klarman and Dan Loeb's investment in Intel, losses and profits from Reddit's frenzy, and an analysis of hedge fund pay. Q4 Read More
Flat-Earth Rocketeer postponed plans
His plan was to launch himself from a ramp in the ghost town of Amboy, and by that have acceleration to a speed of 500 mph. He was supposed to use a parachute in order to get back to the ground, while his $20,000 rocket would crash 1 mile away, although it would smash into the property of BLM, which led to shutting down his plans.
Despite BLM shutting down his plans, the flat-earth rocketeer doesn't feel defeated, and strongly believes that eventually he will launch himself. A number of posts on his Facebook page suggest that he is preparing for a launch that will occur on Feb. 3. Instead of a horizontal launch, like he had planned last year, this time he will launch himself vertically. In the Facebook posts (some of his statements are located in the comments) he states that he believes that the vertical launch will prevent any problems with the government.
According to the posts and comments on his Facebook page, he has built a new rocket, and he plans to launch it from private land in Amboy.
"That way we got enough buffer that when it lands, it will not be on [Bureau of Land Management] property," Hughes stated in a video published on his Facebook page last week.
Not the first launch
This is not the first time Hughes has launched himself in homemade rockets. In fact, he already launched himself as human cargo years ago. Only recently has he become a supporter of the flat-Earth society and conspiracy theory. According to the Washington Post, at that time, he needed money to raise funds in order to craft his homemade rocket.
Nevertheless, Live Science stated that it's unclear what the limo driver and stuntman is trying to prove with this launch. Even though he wants to take photos of what's supposed to prove that the Earth is flat, in order to capture a photograph of the curvature of the Earth, he needs to reach about 35,000 feet on a clear day, which is much higher than he intends to reach in his DIY rocket.