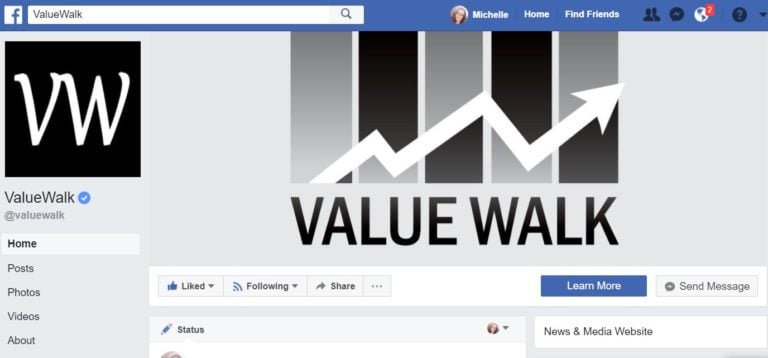 Changes to the algorithms Facebook users to populate users' News Feeds have publishers concerned, and their concerns highlight just how much power the social network has when it comes to the information users take in, including which news source it comes from. This is important because many news outlets lean heavily in one direction or the other, politically.
When you add in the sweeping issue of fake news, especially as it spreads over social media, we begin to see how important it is to go directly to the websites of news outlets you wish to see rather than relying on a third party to dictate whose articles you see. However, using Facebook as a news source is one habit that's not going to die easily, as a study from Pew Research Center revealed that at least 45% of Americans actually get their news from the social network.
Facebook's algorithm change battles fake news
Perhaps the most ironic thing about Facebook's algorithm change is that it seems to be an effort to fight fake news. However, the change means that, other than user-generated content, the social network will favor publisher posts that are interacted with the most. This could mean that fake news could end up being up-ranked while real content stops appearing in users' News Feeds because people don't interact with it as much as they do with fake news.
DG Value Adds 23.7% In 2020, Plans New SPAC Fund
Dov Gertzulin's DG Value Funds returned approximately 19.2% in the quarter ending December 31, 2020, according to a copy of the hedge fund's full-year 2020 letter to investors, a copy of which ValueWalk has been able to review. Following the fourth-quarter performance, DG's flagship value strategy ended 2020 with a positive return of 23.7%. That Read More
The company announced more recently that it has polled users on which news outlets they find most reputable, but there's still a problem with this. Facebook controlled (presumably) the list of options that users were given to choose from when ranking news outlets' credibility, which still leaves smaller reputable publishers without a voice and gives Facebook more control over which publishers might be favored over others.
Keep seeing ValueWalk in your Facebook News Feed
The good news is that you don't have to give up on using Facebook as a news aggregator entirely, even if you like reading a lot of non-mainstream news outlets. Just changing a few settings can still help you see ValueWalk's articles in your Facebook News Feed, despite the algorithm change. Here's how to do it.
First, make sure that you've "liked" and are "following" ValueWalk on Facebook.
Thanks to Facebook's algorithm change, however, it's not enough to "like" and "follow" ValueWalk on the social network anymore because every publisher's content is being down-ranked in favor of user-generated content. Thus, it's necessary to change one or two other settings to keep our content in your News Feed.
If you're using a PC or browser, go to ValueWalk's Facebook page here and then choose the dropdown box on "Following." From the options, select "See first."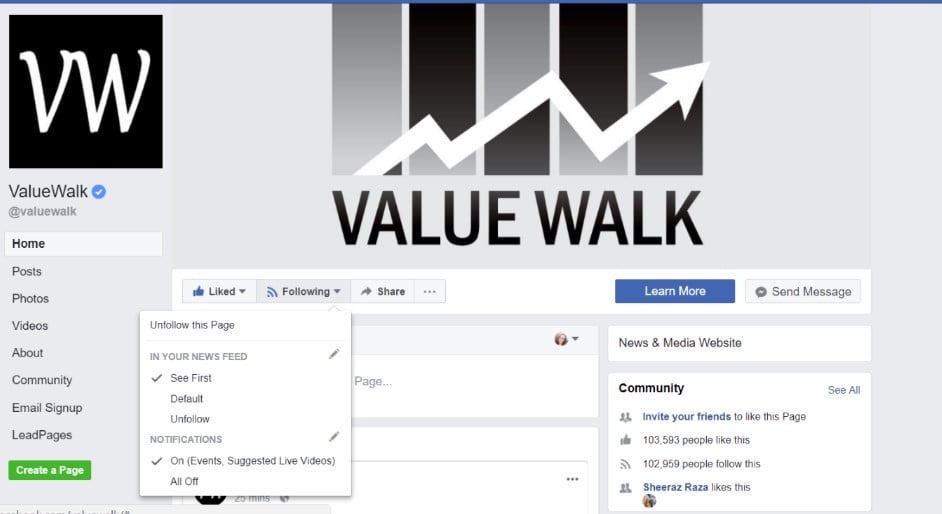 On a mobile device, go to ValueWalk's Facebook page, tap "Following, and choose "Get notifications." from the subscriptions menu. Then tap "See first," and you're done.
Because Facebook's new algorithm favors user-generated content over publisher content, choosing this option will keep ValueWalk's posts mixed in with the posts from your friends. If you don't change this setting, you may need to start taking the extra step of actually visiting all the news outlets you follow on Facebook individually. That's actually the best option, but we realize that old habits die hard.