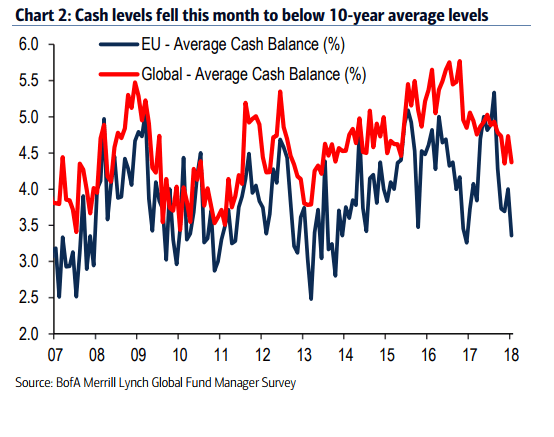 After a decade of bailouts, reforms, strikes, spending cuts and tax hikes, Europe's economy is finally starting to look as if it's back on a stable footing. 
Even though there's still plenty of work for lawmakers to do, preliminary data from Capital Economics shows that the region's economy grew by 2.4% last year, which is faster than the 2.3% the research firm expects for the US.
At the same time, confidence is soaring with economic confidence rising to a 17 year high in the 19 countries that use the euro according to a survey published by the European Commission on Monday. And most importantly, unemployment is falling rapidly across the European block. 
ADW Capital's 2020 letter: Long CDON, the future Amazon of the Nordics
ADW Capital Partners was up 119.2% for 2020, compared to a 13.77% gain for the S&P 500, an 11.17% increase for the Russell 2000, and an 8.62% return for the Russell 2000 Value Index. The fund reports an annualized return of 24.63% since its inception in 2005. Q4 2020 hedge fund letters, conferences and more Read More
For the fourth month in a row, unemployment declined in November to 8.7%, the lowest since January 2009. This means 1.6 million more people are at work than a year ago (although youth unemployment still sits at 18.2%).
European Fund Managers: More bullish as economy improves
Against this backdrop, it seems that European fund managers have adopted a highly bullish stance. According to Bank of America's latest European Fund Manager survey, the average cash weighting at European funds had fallen to 3.4% at the beginning of January, that's one percentage point below the global average of 4.4% signaling a more bullish attitude among investors.
That being said, as shown in the chart below, historically European fund managers have tended to hold less cash than international peers.  Generally speaking, most European fund managers are confident on the outlook for the European economy in the year ahead. 58% of respondents expect the European economy to strengthen over the next 12 months, up from net 47%. Both a pick up in Capex and global reacceleration were cited by managers as the critical drivers for potential Eurozone growth, with 25% picking each category.  
Interestingly, European managers believe that the European Central Bank's dovish monetary policy is too stimulative in the current environment with 64%, the highest percentage of respondents in two decades, making this point in the survey. As a result, a net 83% expect inflation to rise over the next 12 months, "notwithstanding subdued CPI in the Euro area and the headwind to inflation from a stronger euro."
On average (58% of respondents) European equity managers expect companies to report positive EPS growth this year. A small minority (22%) expect double-digit EPS growth.
However, the most significant catalyst for further share price gains according to the survey would be "evidence of double-digit EPS growth" with 31% of respondents indicating that this catalyst would be the most positive for European risk appetite. The next most cited potential catalysts were agreement on a structural reform agenda in major Eurozone countries and sustainable inflation.
Even though managers are broadly positive on the outlook for European equities, they don't have the same view about the UK. According to BoA's Global Fund Manager Survey, UK equity allocation remains depressed at a net -36% underweight, close to historical lows.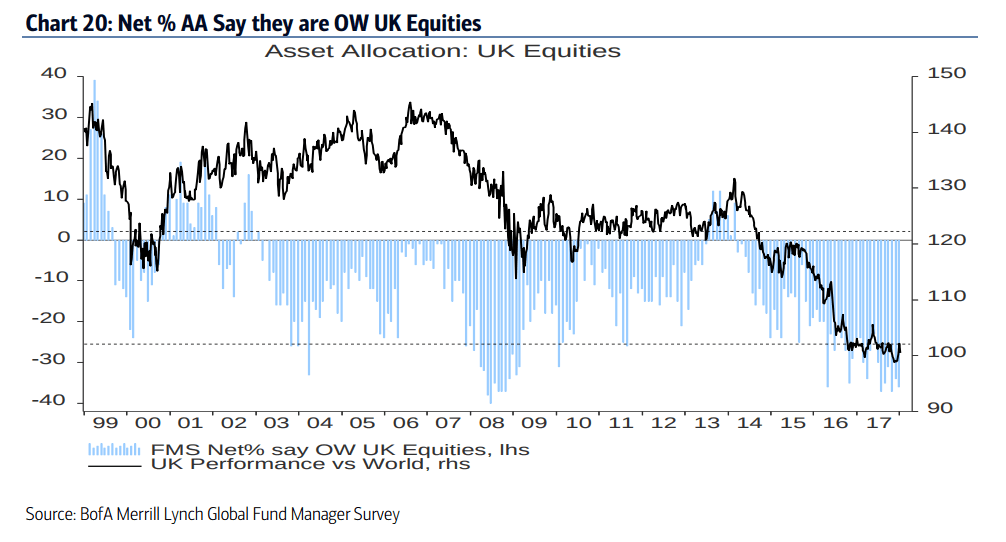 Regarding positioning, Banks, Oil & Gas and Technology (even though most respondents believe that this sector is overvalued) are the most overweight sectors with defensives and bond proxy type sectors generally out of favor. Food & Beverage, Utilities, Real Estate and Healthcare all underweight to a greater or lesser extent.