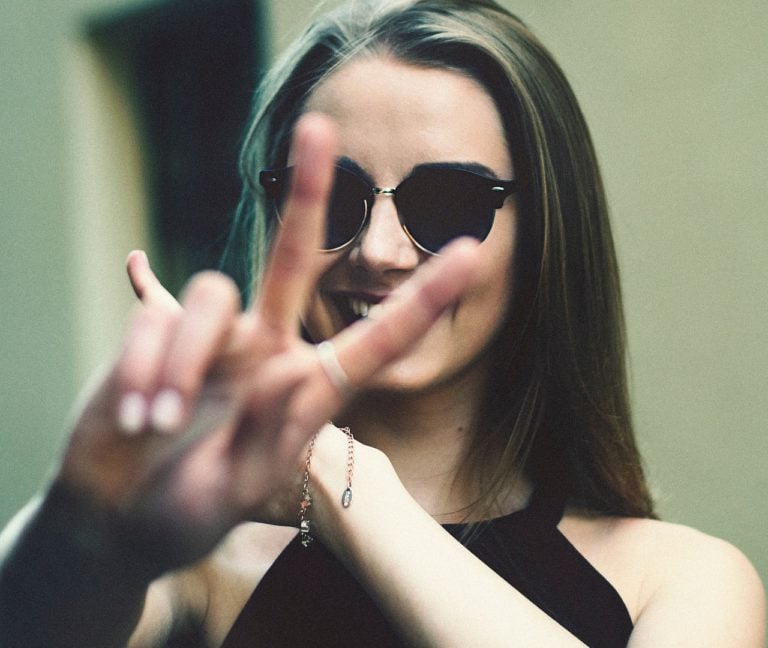 Even though economic sentiment around the world is improving, analysts at HSBC believe that the world is still stuck in a period of economic stagnation.
Over the past year, for the first time since 2008, economic sentiment around the world can be said to be improving. Central banks are beginning to tighten monetary policy, economic growth in developed economies is returning, unemployment is falling (and in several developed nations is at a record low) and inflation is returning.
However, HSBC's global equity strategy team headed by Ben Laidler, Daniel Grosvenor and Alastair Pinder believes that these tailwinds are unlikely to last for long. In a global equity strategy report, published earlier this week, the team writes that over the next year, "there will be persistent undershooting of global inflation targets, low wage growth and high debt levels that will ensure continued looser monetary conditions than would be expected", in an apocalyptic report subtitled "The 'millennialization' of investment is accelerating the relevance of thematic investing; we add low wage growth and Blockchain & Cashlessness to our 'themes you can use'"

GrizzlyRock Value Partners returned 30 percent in the fourth quarter; Here are their favorite stocks
GrizzlyRock Value Partners returned 30.31% net for the fourth quarter, bringing its full-year return to 7.57% net. During the fourth quarter, longs added 42.8%, while shorts detracted 10.3%. Q4 2020 hedge fund letters, conferences and more In his annual letter to investors, which was reviewed by ValueWalk, managing partner Kyle Mowery noted that 2020 was Read More
HSBC is forecasting 2.9% world GDP growth in 2018, similar to the 2017 level with developed market inflation to remain at only 1.7% in 2018 and 2019 as wage growth remains a low 2.2% overall and under 2% in Europe.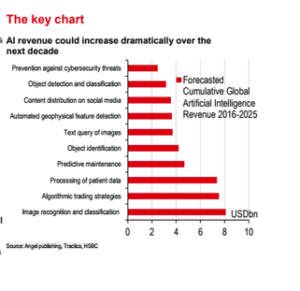 Invest For Economic Stagnation And Lower For Longer
Economic stagnation is only part of the investment thesis. HSBC's global equity strategy team believes the over-indebted, late cycle US economy cannot sustain higher rates, and therefore, the Federal Reserve will be forced to stop tightening in 2019. The team is forecasting two hikes in 2018 compared to the Fed dot plot's expectation of three and only one increase in 2019.
And even though the US 10-year is currently trading at a yield of approximately 2.5%,  HSBC believes it will end the year at 2.3% (in contrast to the Bloomberg consensus average of 2.9% by year-end). Lower for longer rates should support equity prices at current valuations.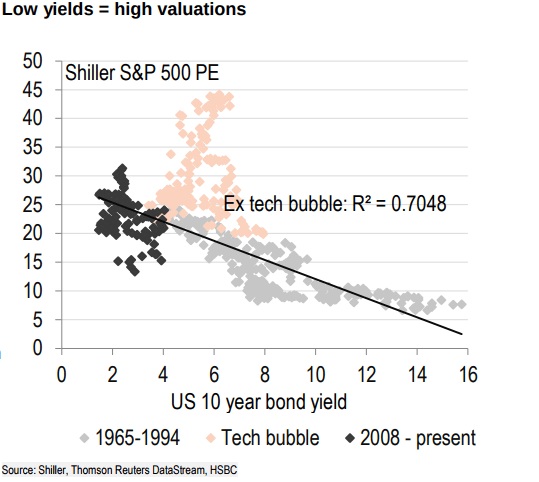 HSBC's global strategy team point to the rise of the robots as one reason why they believe economic stagnation is set to persist in the years ahead. Specifically, the team highlights the fact that "One more robot per thousand workers reduces the employment to population ratio by 0.18-0.34 percentage points and wages by 0.25-0.5%."
Further research from HSBC's analysts' shows that the world robot population reached nearly 300,000 in 2016 is likely to grow to 414,000 by 2019. Currently, robot unit growth is running at 15% per year, which considering the figures above, will have a marked impact on the employment market in developed economies.
To play the lower for longer, economic stagnation thesis, HSBC's global equity strategy team recommends the following positioning:
"Long equity duration sectors and perceived 'bond proxies', such as consumer staples, health care, utilities and telecoms, would likely benefit. They are some of the most out-of-favor sectors in the market, based on our analysis."

"EMs in aggregate is our core global overweight. Not only is it long duration, but it also has some of the strongest recovering earnings and the world's cheapest valuations while investors are only half-weighted vs. benchmarks."