There's been a growing number of key finders and other gadgets designed to help you locate lost items, and while they all work in a similar fashion, there are some differences. This Cube Tracker review is very short because it's very straightforward and easy to use.
Cube Tracker review
Within minutes of removing the unit I received for this Cube Tracker review from its box, I had it paired with my phone. All you need to do is download the Cube app from the appropriate app store and then follow the instructions to pair it. The Cube's range is advertised as up to 150 feet, but walls and other barriers affect the range. It's priced at around $25, which is about average for Bluetooth trackers.
The device comes with a keychain to connect it to your keys or whatever else you need help locating from time to time. I ended up rigging it up to the TV remote after it was lost for days, and it's already saved us time and headaches! The Cube Tracker can also be used to locate your phone by double-clicking the button, which then rings your phone. That's a pretty handy functionality as well (coming from someone who regularly loses her phone under blankets or pillows, in the couch cushions, etc.)
The battery in the Cube Tracker is a regular CR2032 coin battery, which means it's easy to replace it. From what I've read about other Bluetooth trackers, this is a big plus because others, like Tile, don't have replaceable batteries. If you wish to keep using your Tile, you've got to pay for a new tracker every year, albeit at a lower cost than full price. So if you're planning on buying a Bluetooth tracker, whether you're looking at the Cube or another brand, one of the first things to check is whether the battery can be replaced.
Further, Cube uses Bluetooth 4.0, also referred to as Bluetooth Low Energy. That means the batteries should last quite a long time, possibly even more than a year if you don't need to locate your lost item frequently.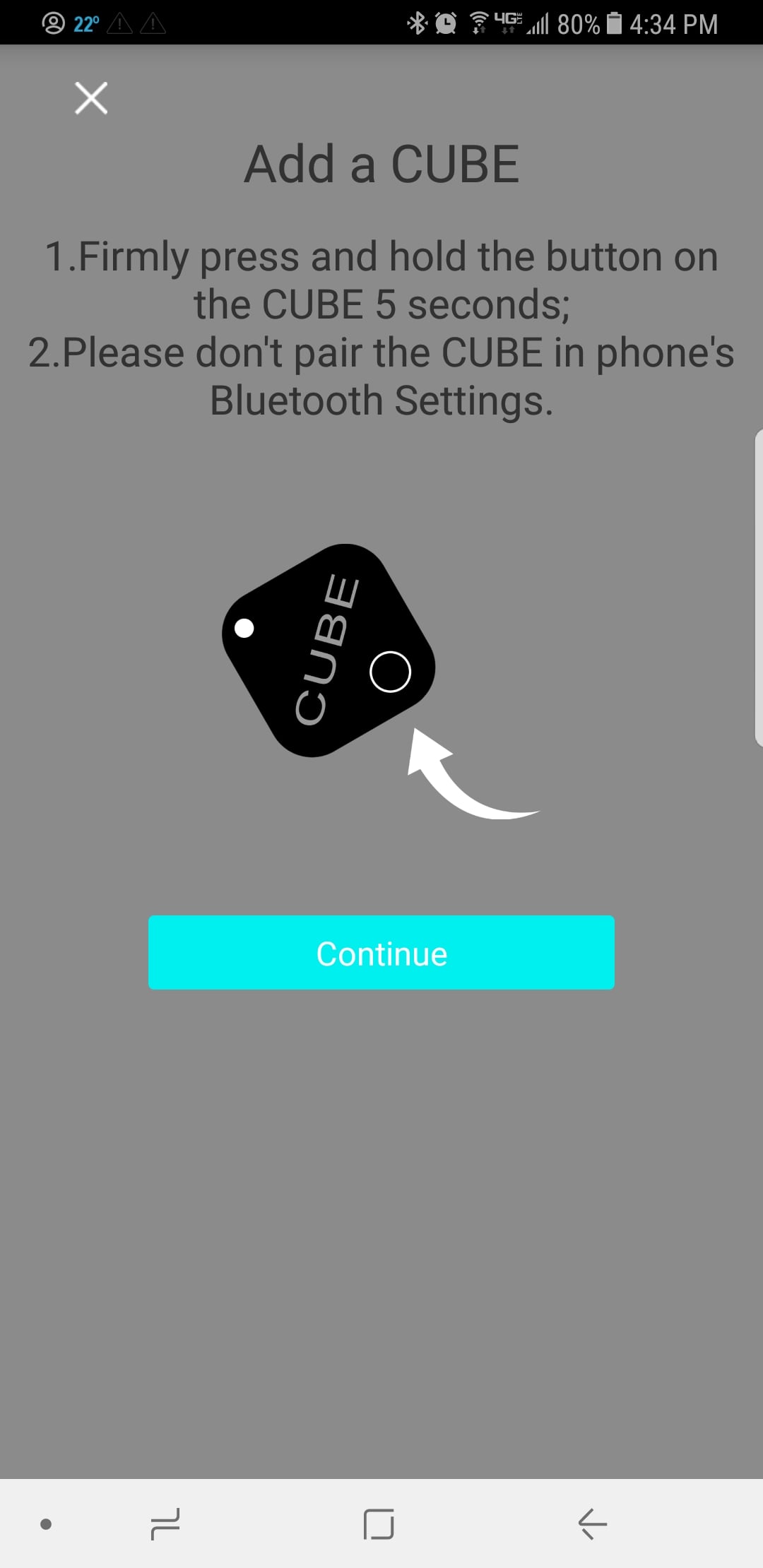 Cube Tracker review: easy-to-use app
While doing the work for this Cube Tracker review, I spent a little time with the app, and I do mean very little time because the app is so easy to use. To locate your lost item, just open the app and tap the button to locate the tracker. It will then ring the tracker to help you find the item. One nice feature is the map inside the app, which shows you the last location of the item. It's nice because if you can't remember whether you brought your keys with you or left them at home (like if someone else drove you somewhere), then you can at least see whether the last known location was at home or somewhere else.
If you're looking for a very advanced app that does a lot, then Cube might not be for you. The app is very basic, and for my needs, it's absolutely perfect. In fact, I'm probably going to be ordering some more of these trackers!
The Cube tracker can even be set up to use as a shutter button for the camera on your phone. Just open up the Cube app and then choose which unit you want to serve as the shutter for your selfie camera. Then select the camera icon, which opens the camera. Then you can press the button on the tracker device to snap a selfie.
Disclosure: I was given a Cube tag to complete this Cube Tracker Review.