When it comes to cryptocurrency, regulation is basically a dirty word. The value many people see in digital currencies is their lack of regulation, but central bankers see danger in that. So will central bankers get their way with real cryptocurrency regulation, or is it only a fairy tale with no basis in reality?
It seems like most see cryptocurrency regulation as a real threat, although at least one analyst team seems to disagree.
Cryptocurrency regulation ahead?
Credit Suisse analyst Damien Boey pointed out in a note this week that central bankers certainly seem threatened, as regulators in more than one country have spoken out about the dangers of cryptocurrencies. He noted that Chinese officials have been especially harsh, saying that cryptocurrency is a bubble, suggesting price manipulation, and calling the advantages touted by enthusiasts into question. In his analysis, they seem "concerned about the prospect of cryptocurrencies being used as vehicles for capital outflow" just as much as they're concerned about the speculative risks.
Icahn vs. Buffett: Three Reasons The Oracle Of Omaha Wins
Carl Icahn has been in the news a lot recently so much so that some are now wondering if the 77 year old investor is starting to overshadow history's most successful investor, Warren Buffett. Icahn has been so successful In fact, Icahn has been so successful that his wealth has grown by 131% over the Read More
He pointed out that the Reserve Bank of Australia, Bank of England and Bank for International Settlements have chosen instead to focus on the benefits of an e-currency controlled by a central bank, although this is, of course, ironic because blockchain technology is all about ducking regulation.
A point for central bankers
Deutsche Bank strategist Oliver Harvey said in his own note on Thursday that central bankers have scored a point against bitcoin, while the cryptocurrency still has zero points on the bard. He noted that the 50% plunge in bitcoin's value in the last month has been a major focus and connected it to the 30% surge in the share price of the Swiss National Bank.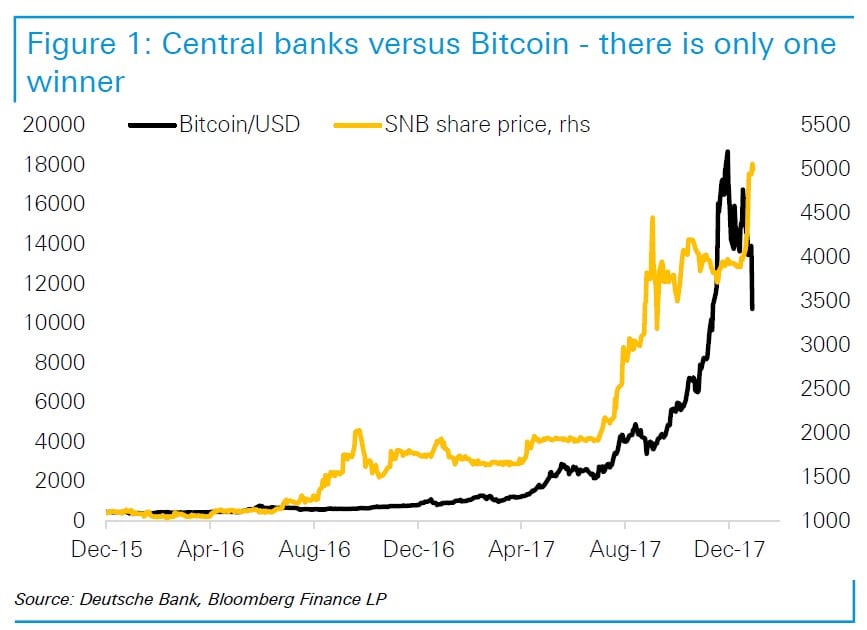 Although they aren't actually connected in any way, he noted the irony of the moves in opposite directions. He explained that some bitcoin advocates believe that central bankers' quantitative easing initiatives after the financial crisis have been "debasing" fiat currencies. He also said that these advocates might consider why the expansion of the SNB's balance sheet in recent years hasn't done much to "dent investor perceptions about its future solvency."
"Meanwhile, Bitcoin, whose scarcity is carefully governed by computer algorithms, has moved almost diametrically in the opposite direction," he added.
He also pointed out that one weakness in the argument for bitcoin is that central banks will probably be "extremely reluctant" to hand over control to unregulated currencies. The warnings about cryptocurrencies from the world's central banks illustrates how reluctant central bankers are—and how cryptocurrency regulation may indeed become a reality, if they can figure out how to pull it off.
Japan as a cryptocurrency haven
Deutsche Bank analyst Masao Muraki and team considered the possibility of cryptocurrency regulation in a note earlier this month. They explained that many see Japan as a "cryptocurrency haven" because the Japanese government was the first to "legally define Bitcoin and be keen about its popularization."
On the contrary, they believe the amendment to the Payment Services Act, which those of this mindset point to as the reason for their view, comes from a G7 agreement from June 2015 regarding the regulation of cryptocurrency exchange operators. They said it's important to understand that the reason cryptocurrency regulation is a reality in Japan is so that digital currencies "cannot be used for money laundering and to fund terrorism."
Interestingly, they seem to disagree with the Credit Suisse view that central bankers feel threatened:
"In keeping with BoK Governor Haruhiko Kuroda's statement that 'the sharp rise [in bitcoin price] is in fact abnormal,' central banks also view the surge as speculative," they wrote. "However, they believe that this speculation is not degrading the functioning of payments that are based on sovereign currencies or monetary policy, and that it does not currently pose a threat to the financial system."