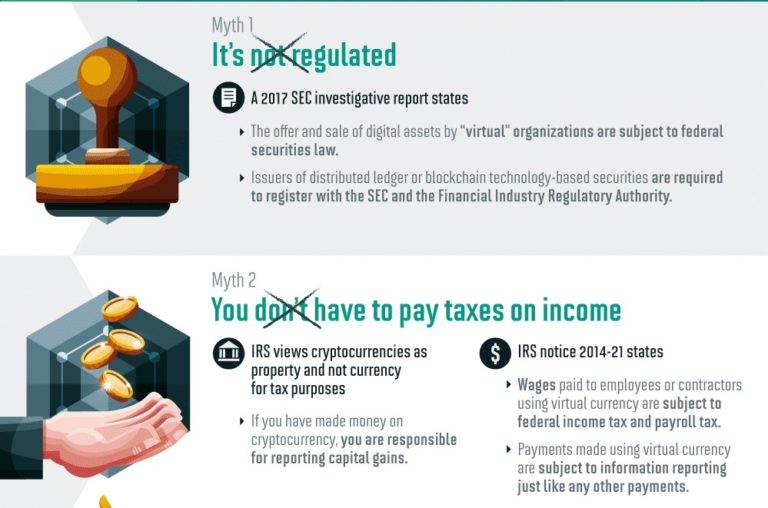 It's fair to say that most people don't understand cryptocurrency in the least. Most people are completely mystified by cryptocurrency, and as a result there are many pervasive myths about it that need to be dispelled. At the end of the day when you strip cryptocurrency down to its basic parts it isn't all that difficult to understand after all. Here are some of the most common cryptocurrency myths debunked:
Cryptocurrency is not regulated - When most people first encountered the concept of cryptocurrency it was after the Silk Road Raid of 2013 when millions of dollars in Bitcoin were seized because they had been used in human smuggling and drug trafficking. That criminal association has stayed with cryptocurrency. But the fact of the matter is that cryptocurrency is considered property and it is regulated by the SEC.
Cryptocurrency is not taxable - People tend to think that because there aren't banks involved that you don't have to pay taxes when someone pays you in cryptocurrency or when the value of your cryptocurrency goes up and you sell. In reality both situations are taxable.
Cryptocurrency is anonymous - You can certainly set your accounts up to be as anonymous as possible, but in this day and age there is no such thing as true anonymity online or anywhere else.
The cryptocurrency bubble is another issue that experts have been warning about for months. Sudden spikes in value of certain cryptocurrencies are not sustainable in the long run, and there are external factors that are going to influence when that bubble bursts. In fact, Bitconnect was taken offline because of cease and desist orders from local and state governments combined with bad press. We have seen bubble like this during the dot-com era and the housing bubble era, and just because bitcoin isn't a physical property doesn't mean it won't burst just like everything else.
There are multiple cryptocurrencies rallying right now, including the once obscure Dogecoin. South Korea just enacted taxation on Bitcoin exchanges and 50 Cent just found out his $400k in Bitcoin from album sales years ago has ballooned to a valuation of more than $8 million. Every day there is news about misunderstandings and regulations about cryptocurrency, and if you are going to invest you need to be informed.
Marathon Partners: There Is A "Compelling Opportunity" In US Cannabis
Marathon Partners Equity Management, the equity long/short hedge fund founded in 1997, added 8.03% in the second quarter of 2021. Q2 2021 hedge fund letters, conferences and more According to a copy of the hedge fund's second-quarter investor update, which ValueWalk has been able to review, the firm returned 3.24% net in April, 0.12% in Read More
Learn more about pervasive cryptocurrency myths from this infographic. It's not that you absolutely shouldn't invest in cryptocurrency, you should rather make sure you are fully and completely informed about what it is and how it works before you do.