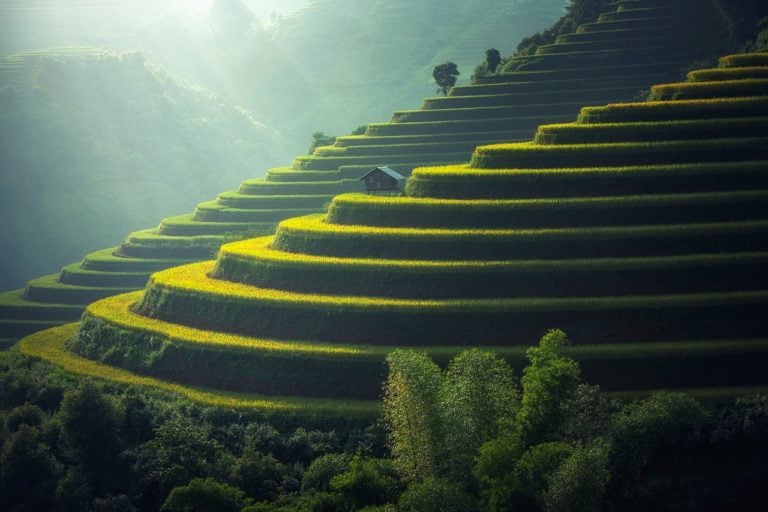 Wharton's Minyuan Zhao and NYU's Ann Lee discuss the outlook for China in 2018.
China under President Xi Jinping has proven wrong its critics in the past year with strong economic growth, leadership in combating climate change and clean energy, and implementation of its "One Belt, One Road" initiative that could be a trade game changer. And while there should be more momentum in the year ahead, the country could continue to see trade conflicts with the U.S., as well as potential social unrest, experts say.
[REITs]
Canyon Distressed Opportunity Fund likes the backdrop for credit
The Canyon Distressed Opportunity Fund III held its final closing on Jan. 1 with total commitments of $1.46 billion, calling half of its capital commitments so far. Canyon has about $26 billion in assets under management now. Q4 2020 hedge fund letters, conferences and more Positive backdrop for credit funds In their fourth-quarter letter to Read More
As China braces for the year ahead, its president is in the spotlight. "The year was great for Xi Jinping," said Ann Lee, New York University adjunct professor of economics and finance. "He seemed to come out as the biggest winner in China, given all the things he wanted, all the power he consolidated, and the people that he wanted in the [Communist Party's] standing committee." Furthermore, "a lot of what President Trump said that was anti-China during the [2016 presidential] campaign didn't come to fruition. So that was a big sigh of relief for many of the Chinese."
Confidence in Xi's regime has increased because of a sense of stability he has brought to the Chinese economy, said Wharton management professor Minyuan Zhao. She noted that over the past 30 years or so, concerns had run high about the ill-effects of authoritative regimes, including censorship and social unrest caused by unemployment. Disruption caused by economic adjustments as the country transitions to become a market economy could also foment social unrest.
But Xi managed to shift the focus to areas such as pollution control by closing down non-compliant factories and so forth, Zhao said. "In a sense, people feel that … things are not going to go terribly wrong."
Lee and Zhao discussed the outlook in 2018 for the Chinese economy on the [email protected] show on Wharton Business Radio on SiriusXM channel 111. (Listen to the podcast at the top of this page.)
Economic Strength
Xi has also earned high marks for his efforts to build out the Chinese economy. He has initiated discussions with French president Emmanuel Macron on forming partnerships and to find new uses for China's excess industrial capacity. According to Zhao, "the biggest concern" is to sustain "the manufacturing power that China has built up in the past 40 years."
"A lot of what President Trump said that was anti-China during the [2016 presidential] campaign didn't come to fruition. So that was a big sigh of relief for many of the Chinese." –Ann Lee
China's economic growth in 2017 at 6.9% is robust even with some expected softening, but worries loom on some fronts. "The growth is real," said Zhao, noting that China's services industries such as tourism, restaurants and e-commerce are doing well. "People feel more comfortable spending." But the size of local government debt is a big concern, and so is the real estate bubble, she added. "But the hope is that they will be digested if economic growth can continue." Lee agreed that consumption trends are "very strong" in China. "That, in itself, will guarantee at least 2% to 3% growth over global growth," she said.
A Game-changing Trade Route
Much of the extra growth will come from the One Belt, One Road (OBOR) Initiative in which China is heavily invested, Lee said. She noted that the project is "central to China," and that in addition to the infrastructure spend, it would generate significant trade and other business opportunities. As the OBOR initiative progresses, it would also silence its skeptics in the European Union and elsewhere, she said.
Lee noted that OBOR has been compared to the Marshall Plan, which in the post-war years drove rebuilding Western Europe, except that it is several times larger. "[It would] create more economic opportunity in parts of the world that have not been brought into the modern economy, such as Central Asia and others."
China is using its own currency for the project, which will help it achieve its geopolitical objectives such as to create stronger ties with other markets and to encourage more widespread use of the Chinese currency in lieu of other currencies like the U.S. dollar, Lee said.
But it is not exactly a smooth road. The U.S. and its allies like Japan are concerned about how China could flex its muscles with the OBOR project, and so "we will certainly see more tension around these areas in 2018," Lee predicted. Many countries are worried about how the OBOR would change the geopolitical equilibrium, and many beneficiary countries are reluctant to accept infrastructure loans for projects along the trade route, added Zhao.
Leadership in Environmental Protection
Because China is a signatory to the 2015 Paris Accord on climate change, taking the lead in promoting clean energy and environmental protection is very much in its interests, said Zhao, who offered two reasons. For one, the pollution damage caused by its rapid industrialization in recent decades has rallied public support for environmental protection measures. Secondly, it makes economic sense for China to invest in newer, environmentally friendly technologies, and thereby not compete head-on with established industrial giants that are built on existing technology.
"So leapfrogging them by developing electric cars versus the diesel cars or gasoline cars to compete directly with the established giants makes sense strategically," Zhao said. Consistent with that approach, China is actively promoting renewable energy and infrastructure equipped with solar panels. "That would be cheaper for China to build from scratch than for the U.S. to renovate from established systems."
"The growth is real…. People feel more comfortable spending." –Minyuan Zhao
As Lee saw it, China has no choice but to be a leader in promoting environmentally friendly technologies. She pointed out that its pollution has grown to unsustainable levels, with people dying of cancers, the wasting of arable land and contamination of drinking water — all of which had created social unrest. By contrast, the problems caused by environmental damage in the U.S. do not warrant the same urgency to find solutions as in China, which is what allows Trump to push back on climate change, she added. "I don't believe China has the same option."
Strained Ties with the U.S.
Although it would be in the best interests of both the U.S. and China to cooperate on trade issues, there would be continued tensions between the two in the year ahead, said Lee. "The U.S. still is feeling threatened by China's ascendance politically and economically," she explained. Trump needs to find answers for his political base, "which is very angry with the fact that economic benefits have not been accruing to them," she added. "And so he'll need to find a convenient scapegoat."
Alongside, Trump will be facing pressure to extract "more sweetheart deals in China" and to force China to open up even more than it has, she said. Trump's struggles to balance different factions within his administration may be the reason why 2018 will see a continuation of the "schizophrenic behavior that the U.S. has towards China," said Lee.
Lee noted that the optimism around Trump's visit to China last November faded when the U.S. soon thereafter announced that it would not recognize China as a "market economy" as it relates to the World Trade Organization. China's non-market economy status benefits the U.S. by allowing it to restrict some imports from China. "This sort of bait-and-switch probably wasn't well-received by the Chinese," said Lee.
Zhao expected "an all-out trade war" between the U.S. and China even as the two countries "realize they cannot live without each other." She noted that the caustic rhetoric between the two "is damaging because economics need stability, and any uncertainly is not helpful," she added.
Zhao offered examples of how those trade wars could manifest in the year ahead. "China will require technology companies to separate local servers," ostensibly over security concerns, she said. On the other hand, the U.S. could erect all manner of barriers for Chinese companies to enter its markets. She pointed to reports that AT&T has canceled its agreement to sell Huawei cell phones. "The Chinese suspected political intervention in this," she said. AT&T's decision was "a big upset" for Huawei's ambitions to become one of the world's topmost cell phone makers, she added. "So there will be examples made of Huawei from here [in the U.S.], and examples made of, say, Google, Apple or other [U.S.] companies [in China]."
The rivalry between the two countries will likely intensify, said Lee, "especially as China comes up quickly along the innovation route and the way they pivot more of their economy into research and into high tech, which is really stepping on the U.S. turf."
"The U.S. still is feeling threatened by China's ascendance politically and economically." –Ann Lee
Here, Lee highlighted China's strengths in developing artificial intelligence (AI). China has collected the massive data sets – more than the U.S. – that are required to develop AI applications, she said. This space offers the potential for China and the U.S. to cooperate, she noted. "While maybe a lot of the initial ideas and talent come out of Silicon Valley, they need to be deployed in China in order for them to have real life applications," she said. But if the two countries choose to be "secretive and competitive, advances in this area will certainly be slower."
Different Takes
Looking back at 2017, Zhao said, "one bottom line is China survived." She recalled that a year ago, China observers were pessimistic about China's issues with its debt, potential capital outflows and the political issues around the 19th National Congress of the Communist Party of China. "From the political and economic [standpoints], most commentators are changing their mind and saying the crisis is over."
To be sure, not everybody in China is on the same page. For many in the smaller cities, "life is good," Zhao said. "Air got cleaner, and a lot of polluting industries got eliminated. The streets are clean and beautiful. They built bathrooms everywhere."
But among the intellectuals in big cities, and in social media, "there is a lot of concern about the authoritarian regime, that the Cultural Revolution may come back," Zhao said. "On social media, the discussion about Cultural Revolution has never been so intense in the past 30 years."
Article by [email protected]