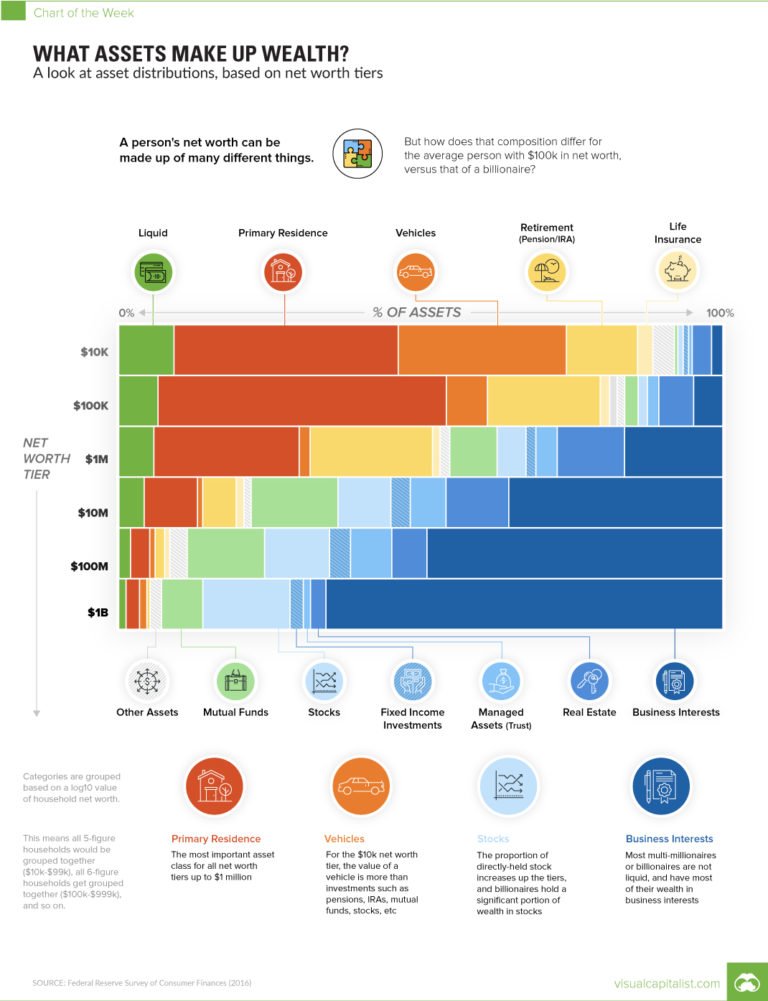 A look at asset distributions, based on net worth tiers
The Chart of the Week is a weekly Visual Capitalist feature on Fridays.
A person's wealth can be made up of many different assets.
This AI-Powered Emerging Hedge Fund Manager Is Blazing A New Path
Investment strategies used by hedge funds have evolved over the years, although the biggest changes have come in the use of computers to develop portfolios. Rosetta Analytics is a woman-founded and woman-led CTA that's pioneering the use of artificial intelligence and deep reinforcement learning to build and manage alternative investment strategies for institutional and private Read More
Net worth, the measure we use to gauge wealth, is actually the sum of all of a person's assets after subtracting liabilities (such as loans). Therefore, net worth can be comprised of liquid savings, stocks, mutual funds, bonds, real estate, vehicles, retirement accounts (IRAs, pensions), and many other types of assets.
But how does the composition of net worth differ for a person with $100k in net worth, versus that of a billionaire?
Today's chart uses data from the Federal Reserve Survey of Consumer Finances from 2016 to find out.
Simplifying the Data
Based on this original work done by Ben Weber of Windfall Data, we've since taken the data and tried to clean up the categories to make it more digestible.
For example, residential real estate and non-residential real estate were combined into a single category, and bonds, savings bonds, and certificates of deposit were merged into a single fixed income investment category.
The end result is a net worth composition for each of the six different wealth brackets, which are each grouped based on size. For example, in the $10k bracket, all five-figure net worths ($10k-$99k) are grouped together, and so on.
Different Makeups
The composition of wealth ends up varying considerably between lower and higher net worths:
Primary Residence:
This is by far the most important asset class for all net worth tiers up to $1 million.
Vehicle:
For the $10k net worth tier, the value of a vehicle is more than investments such as pensions, IRAs, mutual funds, stocks, etc.
Stocks:
The proportion of directly-held stock increases up the tiers, and billionaires hold a significant portion of wealth in stocks.
Business Interests:
Most multi-millionaires or billionaires are not liquid, and have most of their wealth in business interests.
Article by Jeff Desjardins, Visual Capitalist