2018 is set to be a landmark year for central banks. For the first time since the financial crisis, the world's three leading central banks, the Federal Reserve, Bank of Japan and European Central Bank will all taper their quantitative easing programs, and many analysts are nervous as to how markets will react in this new environment.
According to BNP Paribas, The global pace of quantitative easing is set to slow by a total of $48 billion a month by the end of 2018. This is a substantial reduction, but central banks are not quitting the market entirely just yet.
According to analysts at State Street, central banks are "continuing to push the expansion of balance sheets - we are at $21.3 trillion of assets purchased by the largest central banks, including China. We expect this will become $24 trillion by the end of this year."
Central Banks Taper: Will The Speed Surprise Markets?
Also see Central Bank Support – Too Big to Unwind?
However, analysts at Capital Economics Believe that Wall Street analysts are currently underestimating how fast the Fed will tighten in 2018.
Indeed, federal funds futures contracts are currently implying rate increases of 60 basis points throughout the rest of the year. The team at CapEcon (likely to the dismay at Ray Dalio) believes that a forecast of 100 basis points is probably more appropriate. What's more, the economists speculate that the US central bank is likely to raise rates for longer than currently expected with an ultimate fed funds target of 2.5% to 2.75% penciled in for 2019. After this they expect the economy to start slowing.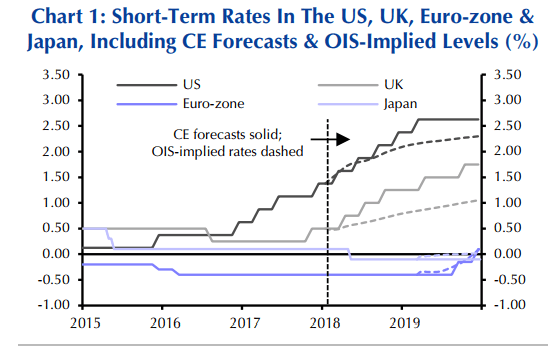 The team at CapEcon are also forecasting faster tightening by the Bank of England. The BoE could increase rates by 75 basis points this year as "the UK economy remains resilient during the negotiations over Brexit" resulting in a base rate of 1.75% at the end of 2019. Meanwhile, the European Central Bank might have to wait longer than expected to start its tightening.
The Rising fed funds rate will likely end up causing financial stress in the US economy, and as a result, CapEcon is expecting a recession to begin towards the end of 2019. As economic growth slows, they are also forecasting equity market weakness through the end of next year.