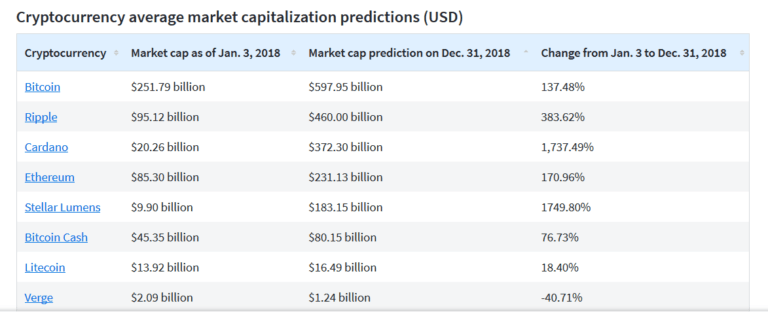 Personal finance comparison website Finder.com's inaugural monthly Cryptocurrency Predictions Survey has just launched. This month, they asked 4 fintech leaders to provide their predictions on how the top 8 trending cryptocurrencies will perform in 201, with Cardano ADA coming out of nowhere to claim the number three spot on the list.

Out of the 8 coins, their panelists predict that Cardano (ADA) will see the greatest price increase this year (+8,623.99% on average), followed by Stellar Lumens (XLM) (+1,269.93%). Verge (XVG) is the only coin out of all 8 whose price is expected to drop by the end of the year (-37.99%).
London Value Investor Conference: Joel Greenblatt On Value Investing In 2022
The first London Value Investor Conference was held in April 2012 and it has since grown to become the largest gathering of Value Investors in Europe, bringing together some of the best investors every year. At this year's conference, held on May 19th, Simon Brewer, the former CIO of Morgan Stanley and Senior Adviser to Read More
The panelists also expect bitcoin (BTC) to remain the highest value out of the 8 coins, averaging a predicted US$33,000 by the end of 2018, and also the largest market cap of US$597.95 billion by year's end – a whopping 137.48% increase!
Ripple (XRP) is predicted to have the second-greatest market cap at $460.00 billion by December 31, 2018, while Cardano (ADA) is expected to hit $372.30 billion.
As for the biggest change, Stellar Lumens' (XLM) market cap is expected to increase the most by the end of the year – an incredible 1,749.80%, moving from its current $9.90 billion to $183.15 billion. Expectations for Verge (XVG) are the lowest, with an forecast 40.71% decrease in market cap.
Key data points:
Finder.com launches new Cryptocurrency Predictions Survey, eight coins forecast

Cardano to see greatest spike in price in 2018 – up 8,624%

Bitcoin forecast to hit $33,000 by December 31, 2018
The site notes:

Cardano's price, as of January 3, 2018, sits at US$0.78 per unit. Cardano is expected to see an 8,623.99% increase in price over the coming year, the highest of all 8 coins in this survey. Schebesta predicts it will be worth the highest at US$200 by the end of the year, while Daniel has the lowest prediction, at US$1.50.
Market cap for Cardano has mixed predictions, with the lowest at US$38.89 billion by December 31, 2018, by Daniel, and the highest at US$1 trillion by Schebesta.
The full details of the survey, complete with comments from the panelists, can be found here: finder.com/cryptocurrency-predictions
Updated on