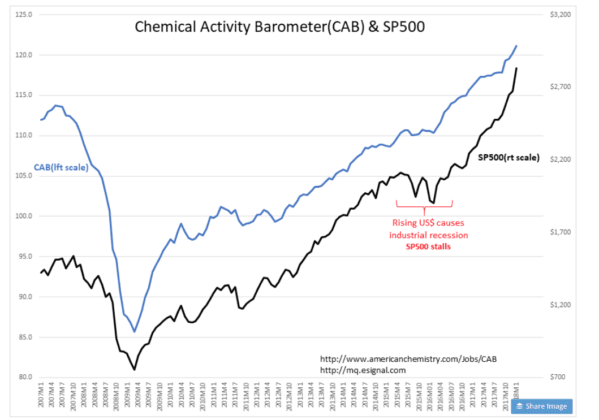 "Davidson" submits:
CAB reported at a new record of 121.13 with past few months revised higher. Economic activity is accelerating and equities should follow as they have done historically. Likely a 3yr-5yr period of higher equity markets based on recent reduction of regulations, tax reductions, US reemerging as protector of Democracy globally and a falling US$.

Contrary to accepted wisdom, a weaker US$ represents repatriation of capital back to Intl markets which in recent years had pooled in the US as a safe haven from predations of Iran, ISIS, Russia and etc. Fear of capital losses drove the US$ higher 2014-2016 by ~40% resulting in a US Industrial recession and collapsing commodity prices. Exiting this period, we are seeing a very strong recovery which spurs global economic expansion. The US$ still has ~25% fall to return to its long-term trend.

Hedge fund managers present their best ideas at Robinhood [In-Depth]

The latest Robinhood Investors Conference is in the books, and some hedge funds made an appearance at the conference. In a panel on hedge funds moderated by Maverick Capital's Lee Ainslie, Ricky Sandler of Eminence Capital, Gaurav Kapadia of XN and Glen Kacher of Light Street discussed their own hedge funds and various aspects of Read More

A falling US$ is positive for global economic expansion and rising global equity markets.

Upside should continue to surprise, markets should respond.
Article by ValuePlays