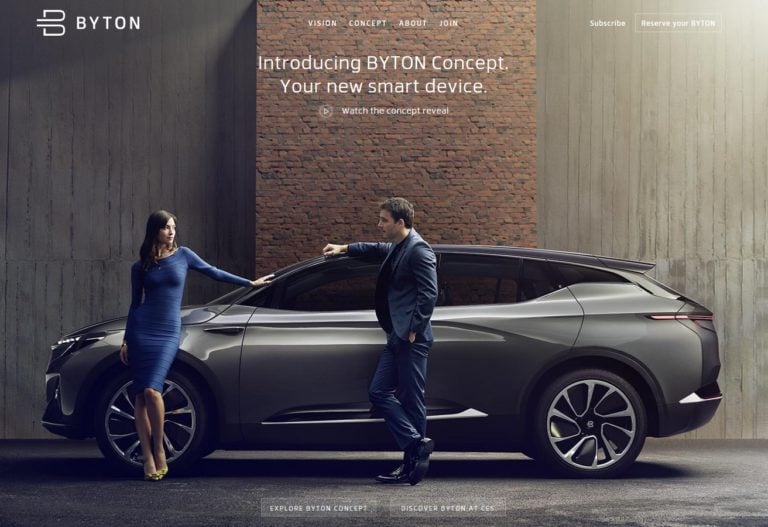 The future is here. With recent forays into the field of self-driving technology from the likes of Tesla, we've seen that a future filled with autonomous vehicles is a real possibility rather than the stuff of fantasy. A recent electric car startup will offer a unique twist on existing design and philosophy with the upcoming reveal of the new BYTON concept.

A New Kind Of Self-Driving Car
BYTON – a play on the word "byte" – is a China-based electric car manufacturer created by a group of industry professionals from the likes of BMW and Nissan. Together, they hope to provide a different take on the electric car – providing useful technology and ensuring passengers stay connected while on the go, rather than focusing on traditional metrics like increasing speed and performance.
The BYTON concept revolves around connectivity and convenience. The startup elaborates on their philosophy on their website, stating "We are convinced that future mobility is not about improving driving performance. We will replace cylinders and horsepower by connectivity and technology you care about. In doing so, we are creating the next-generation smart device: the car. BYTON lets you do what you want to do. Enjoy entertainment and boost your productivity. Make plans for work and your spare time. Or simply cherish each and every moment in your private place of retreat."
Fund Manager Profile: Zhang Hui Of China's Southern Asset Management
Historically, the Chinese market has been relatively isolated from international investors, but much is changing there now, making China virtually impossible for the diversified investor to ignore. Earlier this year, CNBC pointed to signs that Chinese regulators may start easing up on their scrutiny of companies after months of clamping down on tech firms. That Read More
BYTON Concept: What We Know
Although the BYTON concept has yet to be released, we already know a decent amount about what we can expect from this revolutionary new self-driving car.
The car will be an electric SUV, and will come in two different models – both with Level 3 autonomy. The more intelligent Level 4 autonomy will be available in 2021, but until that point there will still be a decent amount of control required of the driver. While the eventual goal is a fully autonomous vehicle that allows passengers to sit back and relax, the fact remains that current technology still requires some user attention and input.
The gadgets of the BYTON concept are where it's at, with a huge 40-inch widescreen called a "Shared Experience Display" complemented by a tablet-sized touch screen on the steering wheel for the driver alongside optional touch screens for passengers in the rear. All media and entertainment functions are operated by voice or gesture controls, making the BYTON concept one of the highest-tech offerings on the market when it comes to convenience and connectivity.
The rear-wheel-drive BYTON concept will have a 71 kWh battery with 272 horsepower and a range of 250 miles. The all-wheel-drive version is a little fancier, with a 95 kWh battery, 476 horsepower, and a range of 325 miles. Although the range is already pretty high, both models of the BYTON concept will support fast charging to bring the SUV up to 80% battery in less than 35 minutes.
Although technology and specifications are a great start for the BYTON concept, people won't buy a car if it doesn't look good. Fortunately, the electric startup's offering is aesthetically pleasing despite not being particularly revolutionary. It doesn't appear that design will be a focal point for the company, but it's clear that the car will have a generic yet attractive look that clearly pulls from other car manufacturers – perhaps due to the company leadership's background in more traditional auto manufacturers.
The BYTON concept is expected to cost around $45000 for the base model which is actually surprisingly affordable, but it's clear that some of the cool technology features may be reserved for the higher-end models. While we have a few years to wait until a release in the West – provided everything goes to plan, of course – a morning commute spent browsing the web rather than stressing about traffic may be closer than we think.
Updated on