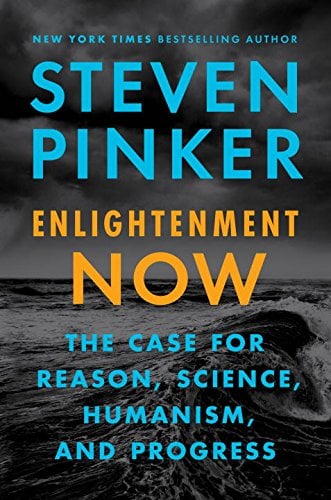 Also see Bill Gates full recommended reading list
For years, I've been saying Steven Pinker's The Better Angels of Our Nature was the best book I'd read in a decade. If I could recommend just one book for anyone to pick up, that was it. Pinker uses meticulous research to argue that we are living in the most peaceful time in human history. I'd never seen such a clear explanation of progress.
I'm going to stop talking up Better Angels so much, because Pinker has managed to top himself. His new book, Enlightenment Now, is even better.
Seth Klarman Describes His Approach In Rare Harvard Interview
In a rare interview with Harvard Business School that was published online earlier this month, (it has since been taken down) value investor Seth Klarman spoke at length about his investment process, philosophy and the changes value investors have had to overcome during the past decade. Klarman's hedge fund, the Boston-based Baupost has one of Read More
Enlightenment Now takes the approach he uses in Better Angels to track violence throughout history and applies it to 15 different measures of progress (like quality of life, knowledge, and safety). The result is a holistic picture of how and why the world is getting better. It's like Better Angels on steroids.
Pinker was generous enough to send me an early copy, even though Enlightenment Now won't be released until the end of February. I read the book slowly since I loved it so much, but I think most people will find it a quick and accessible read. He manages to share a ton of information in a way that's compelling, memorable, and easy to digest.
It opens with an argument in favor of returning to the ideals of the Enlightenment—an era when reason, science, and humanism were touted as the highest virtues.
Read the full article here by Gates Notes
---
Enlightenment Now - Book Review
Enlightenment Now: The Case for Reason, Science, Humanism, and Progress by Steven Pinker
Is the world really falling apart? Is the ideal of progress obsolete? In this elegant assessment of the human condition in the third millennium, cognitive scientist and public intellectual Steven Pinker urges us to step back from the gory headlines and prophecies of doom, which play to our psychological biases. Instead, follow the data: In seventy-five jaw-dropping graphs, Pinker shows that life, health, prosperity, safety, peace, knowledge, and happiness are on the rise, not just in the West, but worldwide. This progress is not the result of some cosmic force. It is a gift of the Enlightenment: the conviction that reason and science can enhance human flourishing.
Far from being a naïve hope, the Enlightenment, we now know, has worked. But more than ever, it needs a vigorous defense. The Enlightenment project swims against currents of human nature--tribalism, authoritarianism, demonization, magical thinking--which demagogues are all too willing to exploit. Many commentators, committed to political, religious, or romantic ideologies, fight a rearguard action against it. The result is a corrosive fatalism and a willingness to wreck the precious institutions of liberal democracy and global cooperation.
With intellectual depth and literary flair, Enlightenment Now makes the case for reason, science, and humanism: the ideals we need to confront our problems and continue our progress.
Review
One of The Guardian's "Books to Buy in 2018"
"A terrific book…[Pinker] recounts the progress across a broad array of metrics, from health to wars, the environment to happiness, equal rights to quality of life." —Nicholas Kristof, The New York Times
"Elegantly [argues] that in various ways humanity has every reason to be optimistic over life in the twenty-first century…. A defense of progress that will provoke deep thinking and thoughtful discourse among his many fans." —Colleen Mondor, Booklist

"Pinker defends progressive ideals against contemporary critics, pundits, cantankerous philosophers, and populist politicians to demonstrate how far humanity has come since the Enlightenment…In an era of increasingly "dystopian rhetoric," Pinker's sober, lucid, and meticulously researched vision of human progress is heartening and important." —Publishers Weekly

"[An] impeccably written text full of interesting tidbits from neuroscience and other disciplines…The author examines the many ways in which Enlightenment ideals have given us lives that our forebears would envy even if gloominess and pessimism are the order of the day."  —Kirkus Review
Praise for The Better Angels of Our Nature:
"If I could give each of you a graduation present, it would be this—the most inspiring book I've ever read." —Bill Gates (May, 2017)
Updated on