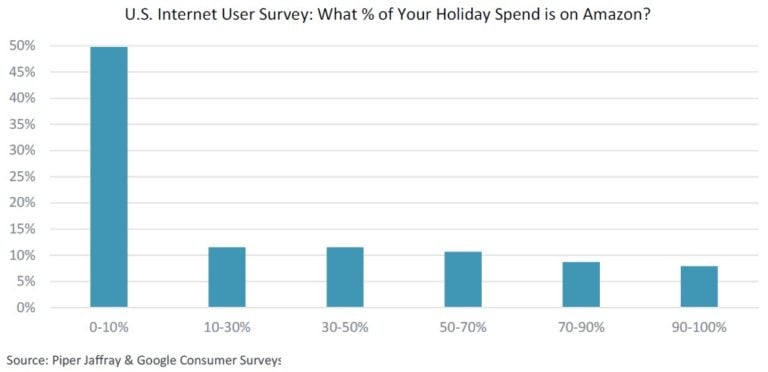 A growing number of analysts are boosting their price targets for Amazon.com, Inc. (NASDAQ:AMZN) stock to $1,400 or even higher, and this morning we have another one. This time the analyst cited Amazon's wallet share, adding that the online retailer has a massive opportunity to gain an even greater share of consumers' wallets.
Amazon retail penetration appears low
There's been quote a lot of talk about Amazon's wallet share these days, especially as the company takes aim at product categories in which it can be more difficult to convince shoppers to buy online instead of at a brick-and-mortar store. In order to gauge Amazon's wallet share, Piper Jaffray analyst Michael Olson conducted a survey of 1,000 U.S. Internet users and found that use of Amazon has been "far more sparingly than many would expect."
In fact, after comparing total holiday retail spend in the U.S. to his estimates for Amazon's gross merchandise volume, he found that the retailer's penetration rate could be merely in the low-to-mid single digits.
Brook Asset Management had a strong first quarter, is shorting This US education stock [Exclusive]
Brook Asset Management was up 7.27% for the first quarter, compared to the MSCI GBT TR Net World Index, which returned 3.96%. For March, the fund was up 1.1%. Q1 2021 hedge fund letters, conferences and more In his March letter to investors, which was reviewed by ValueWalk, James Hanbury of Brook said returns during Read More
Survey reveals Amazon's wallet share not as high as what most think
Olson's survey found that half of the respondents allocated between 0% and 10% of their holiday budgets for 2017 to Amazon. The other 50% of the respondents were split among these ranges, and none of the other groups of respondents exceeded 12% of their holiday budgets.
Olson estimates Apple's gross merchandise volume for the fourth quarter at $42 billion, and he believes that about 80% of that was generated in November and December. He added that this suggests Amazon's wallet share amounted to just 4% of the $923 billion in overall 2017 domestic retail holiday spend estimated by eMarketer.
Amazon stock price target raised to $1,400
Because the U.S. is Amazon's biggest market, Olson sees this low percentage for Amazon's wallet share as a "significant positive" because it leaves plenty of room for growth. As a result, he boosted his price target for Amazon stock from $1,200 to $1,400, putting his target in line with those of Credit Suisse and Citi. To come up with his new price target for Amazon stock, Olson raised his target multiple from 15 times to 18 times estimated 2019 EV/ EBITDA, which he feels offers a better picture of the company's growth outlook.
He also complied this graph showing how Amazon's EV/ EBITDA multiple of 18 times compare to those of other companies, matched with each one's gross profit growth outlook.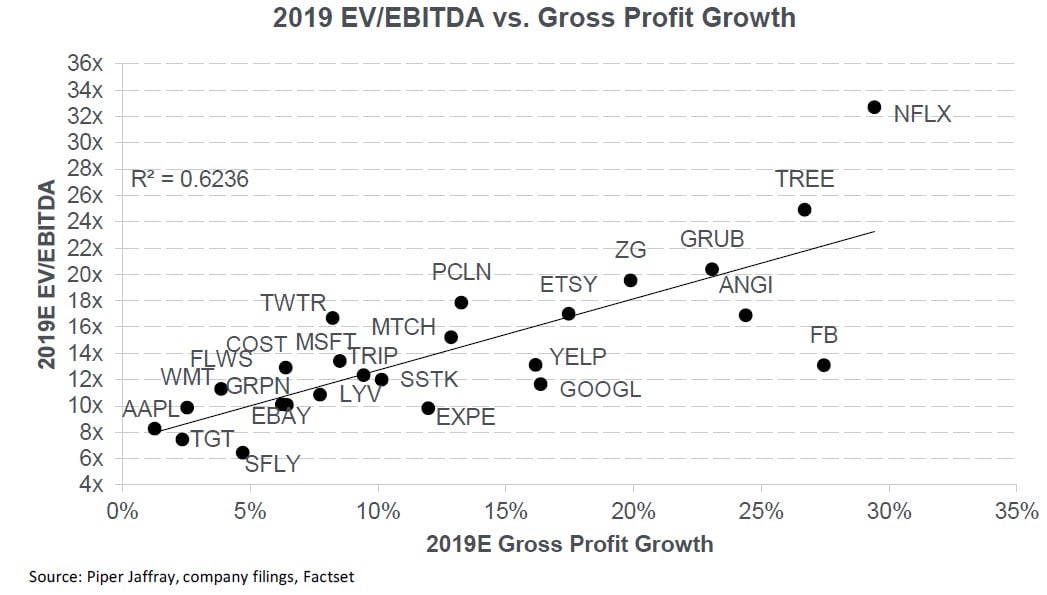 Amazon stock was little changed in morning trades as it hovered around $1,246.29, just below its opening price on Tuesday.