Over the past five years, Amazon has crowned itself the king of internet retail, disrupting multiple industries in the process and causing uneasiness and excitement throughout Wall Street. A prime (pun intended) example of the "Amazon effect" is the $13.7 billion acquisition of Whole Foods Markets (WFM-US), which led investors to dump shares of competitors in the Discount Stores and Food Retail industries the morning of the announcement (June 16, 2017).
[REITs]
David Abrams Likes Acacia, Kensico, Arbiter And Several Other Hedge Funds
Hedge fund managers are among the wealthiest people in society, and many of them choose to give back through their own foundations. David Abrams of Abrams Capital is one hedge fund manager who has his own foundation. We can get an idea about his favorite hedge funds by seeing which funds his foundation invested in. Read More
Consumers have flocked to Amazon for its $99 Prime membership, which offers expedited delivery service, product discounts, and unlimited media streaming. It is estimated that over half of the households in America have a Prime membership and 300+ million shoppers use Amazon.
While many merchants have been stung by Amazon's command of the retail space, the main victim of its success has been Wal-Mart (WMT-US). As a result of Amazon's expansion, the once dominant brick-and-mortar giant has been hit with pressures to provide convenient delivery options and lower prices. From 2012 to 2016, Wal-Mart's YOY sales growth averaged 1.8% with a 3.4% five-year growth rate. During the same time period, Amazon has grown on average 23.2%+ YOY, and a cumulative 122.5%. However, over the last two years Wal-Mart's stock price has made a miraculous turnaround from its five-year low of $56.42 (Nov. 13, 2015), recently trading at an all-time high of $102.70 (January 17). What is behind the surge in Wal-Mart's stock price? How is the competition between these two retail giants shaping their business decisions?
In recent years, Amazon and Wal-Mart have established competitive positions against each other, often employing "copycat" strategies to gain an edge. We have seen this strategy in other industries, such as Facebook's Instagram overhaul (FB-US) vs. Snapchat (SNAP-US). So how is it working for Amazon and Wal-Mart?
Shipping and Pricing
Amazon's two-day free shipping has become a staple for its customers. To compete, Wal-Mart introduced ShippingPass last year after acquiring Jet.com, a $49 annual subscription that offered two-day free shipping. After little success, Wal-Mart scrapped the pilot program. With hopes of converting Amazon Prime members, Wal-Mart now offers two-day free shipping for millions of products.
In terms of pricing, Amazon has put heavy pressure on Wal-Mart and other retailers, driving down prices across the board. A study conducted by Market Track found that on average Wal-Mart's recent prices were only 0.3% higher than Amazon; in comparison, Wal-Mart was 3.0% more expensive a year ago. The heavyweight retail belt could be up for grabs if Wal-Mart can continue to offer consistent lower prices and convenient delivery options rather than temporary discounts.
Going Back to Their Roots
Part of Wal-Mart's success is due to the implementation of hybrid brick-and-mortar/E-commerce strategies. Along with free shipping options, consumers now have the option of same day in-store pickup. This strategy, known as "Pickup Discount," has retained and brought some customers back to Wal-Mart while reaccelerating growth.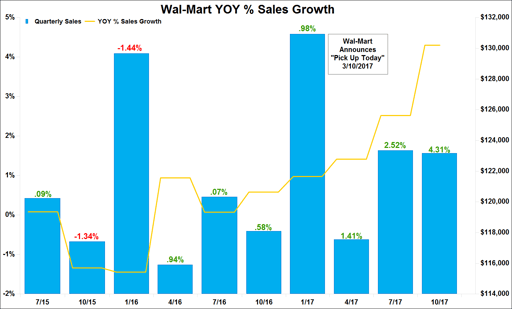 Amazon has taken notice of Wal-Mart's success and has begun implementing hybrid store/E-commerce platforms with physical bookstores and markets. According to FactSet Estimates, analysts are predicting explosive near-term and continuous growth for Amazon as a result.
 Physical Store Sales Estimates  (In Millions)
DEC 17E
Dec 18E
Dec 19E
Dec 20E
Dec 21E
Amazon.com, Inc
$5,617
$16,783
$17,289
$18,281
$19,931
      YOY Growth %
–
198.8%
3.0%
5.7%
9.0%
As Amazon continues to expand its physical retail locations, Wal-Mart may find itself in trouble yet again. With Amazon's world-class logistics, it is likely to find great success with its own hybrid delivery approach.
Going Abroad
One area where Amazon and Wal-Mart differ is their international presence. Using FactSet's GeoRev data, we can see that Amazon generated 33.6% of revenues offshore in 2016 compared to Wal-Mart's 25.8%.  Interestingly, Amazon's global revenues have declined 18.2 percentage points since 2008. Compared to their respective industries, both companies are roughly in line with the average international revenue percentage.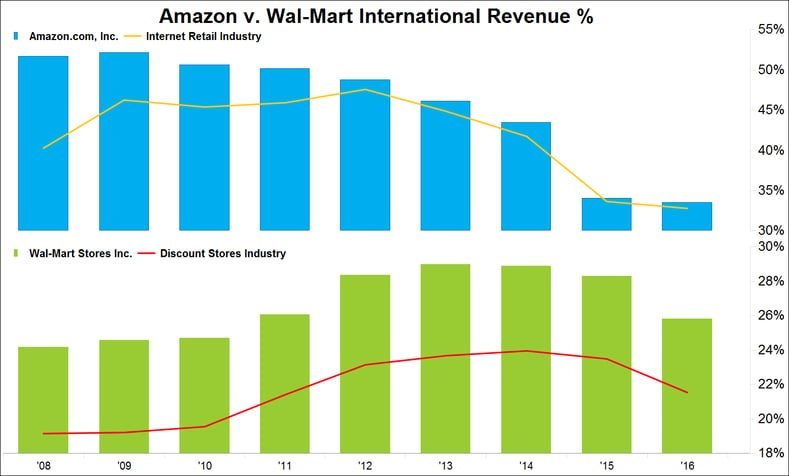 Over the past three years, Amazon's exposure in Europe has declined, yet sales have actually increased 7.6% there since 2014. Meanwhile, Amazon's exposure in Asia has surged, with reported revenue figures exploding by 58.2% in the same period. Wal-Mart, on the other hand, has seen a sharp decline in both regions. Africa and the Middle East are practically untouched by both companies.
Europe 2014 Rev
Europe 2015 Rev
Europe 2016 REV
Asia 2014 Rev
Asia 2015 Rev
Asia 2016 Rev
Africa/ME 2016 REv
Amazon
24.5%
21.2%
19.5%
12.3%
11.7%
12.7%
0.0%
$21,810.47
$22,653.12
$26,464.59
$10,906.49
$12,502.81
$17,255.99
$-
WalMart
3.1%
2.7%
2.3%
18.0%
16.9%
16.4%
0.8%
$15,108.43
$13,144.47
$11,334.45
$87,644.20
$81,239.20
$79,379.95
$4,118.87
(In Millions)
Mergers and Acquisitions
To add high-octane fuel to the fire, the retailers have acquired a number of companies across industries to build their competitive advantage and offerings. With more cash on hand, Amazon has closed 26 deals since the start of 2012.
| | | | | |
| --- | --- | --- | --- | --- |
| symbol | Cash and ST Invest (Millions) | Completed M&A Deals | Open Rumored M&A Deals | Rumor canceled M&A deals |
| AMZN | $24,310.0 | 27 | 2 | 5 |
| WMT | $7,023.0 | 5 | 0 | 2 |
Amazon has diversified and strategically acquired companies in different industries to grow its business. Notable deals including the aforementioned Whole Foods acquisition and others, like gaming company Twitch Interactive and Souq.com to expand its global reach. Wal-Mart has looked to enhance its current products and shipping logistics with acquisitions of retailer Jet.com and same-day delivery company Parcel.
With news of Amazon holding conversations with generic-drug makers, recent commentary centers on how companies such as CVS, Walgreens, Wal-Mart, and others will protect their pharmaceutical business if Amazon (AMZN-US) makes a play to enter the healthcare market. If Amazon were to make an acquisition, most expect a merger with Express Scripts (ESRX-US), another huge player in the Pharmacy Benefits Manager (PBM) space.
With Jeff Bezos at the helm, you can never be too sure what will happen. Looking at the RBICS report generated from FactSet's Deal Simulator, it is clear that a merger with Express Scripts would signal that Amazon is looking to disrupt the drug delivery sector, as it would gain a 26.5% market share among other PBMs. With this acquisition, Amazon would derive 22.38% of its total revenue from the PBM industry which can be seen in the Deal Simulator diagram below: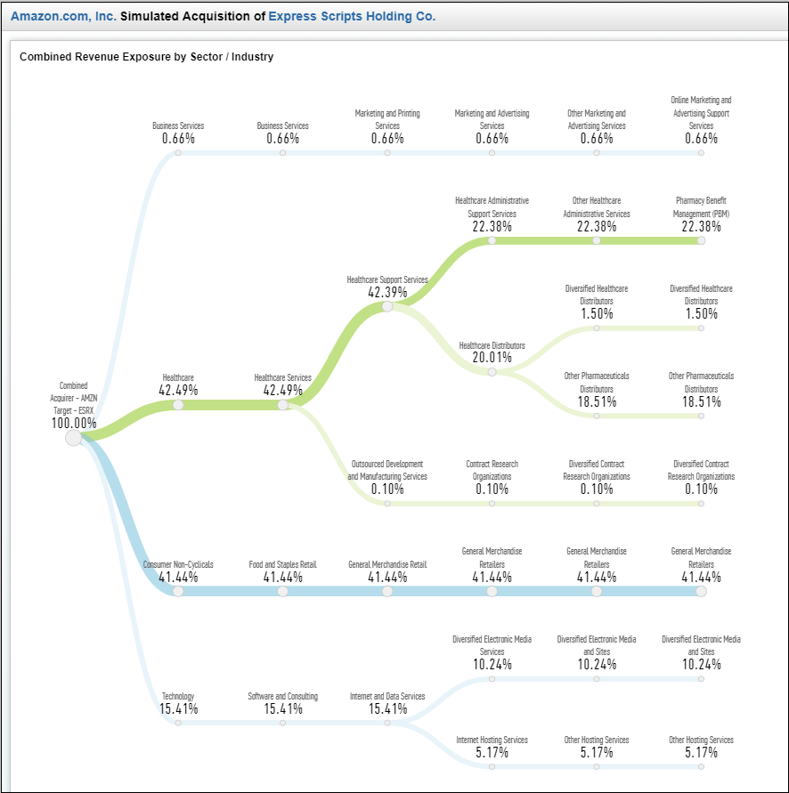 The next several quarters will give further evidence as to who has the upper hand in Amazon vs. Wal-Mart. With price wars escalating, pressure to build more advanced logistics to offer quicker shipping, and the "Amazon effect" lurking around every corner Wal-Mart operates, we can expect a long battle before we are able to determine who will reign as the king of retail.
Article by Carmine DiCesare, FactSet
Updated on