Amazon.com, Inc. (NASDAQ:AMZN) is scheduled to release its Q4 2017 earnings report next week, and the bulls have been lining up their price target increases all month long, jockeying for position as the biggest bull. Now we have a massive bull case for Amazon stock that carries a price target past the $2,000 mark. Well, at least it's not their base case.
Interestingly, this price target increase isn't for the Q4 2017 earnings release next week, but rather, for the Amazon ad business, which he now estimates at $7.6 billion by next year. His higher estimate for the company's ad business drives higher estimates, which, in turn, drives higher price targets for Amazon stock.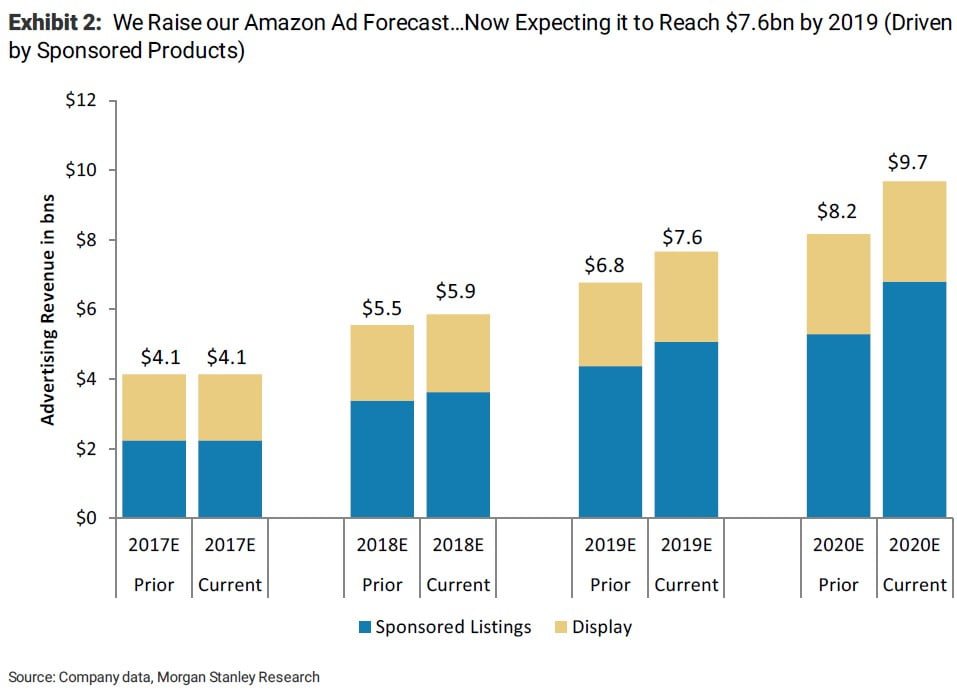 Bull case on Amazon stock for ad business
In a note to investors on Friday, Morgan Stanley analyst Brian Nowak said he raised his base case for Amazon stock from $1,250 to $1,400, putting him in line with most of the other perma-bulls right now. His bull case for Amazon stock moves all the way up to $2,100, and he cites the online retailer's ad business as a key driver of his new views in a move that's similar to Oppenheimer's recent price target increase.
He said that his "conversations" within the ad industry suggest that the majority of the company's ad dollars come from "traditional branded trade spend." He describes these ad dollars as "CPG brands/manufacturers pay to traditional brick and mortar retailers to promote inventory through their channels" through various routes, such as coupons attracting purchases. Vendor allowances for slots on particular shelves or endcaps also fall in this category, he said.
Gauging the Amazon ad business
Nowak said it's difficult to estimate the Amazon ad business because the nature of the ad spend the company is capturing is harder to track than traditional ad dollars. As a result, he tried three different ways to attempt to capture the opportunity presented in the Amazon ad business: "bottom-up net sales of CPG brands," "top-down retail sales from third party data sources," and "third-party estimates from management consultancies."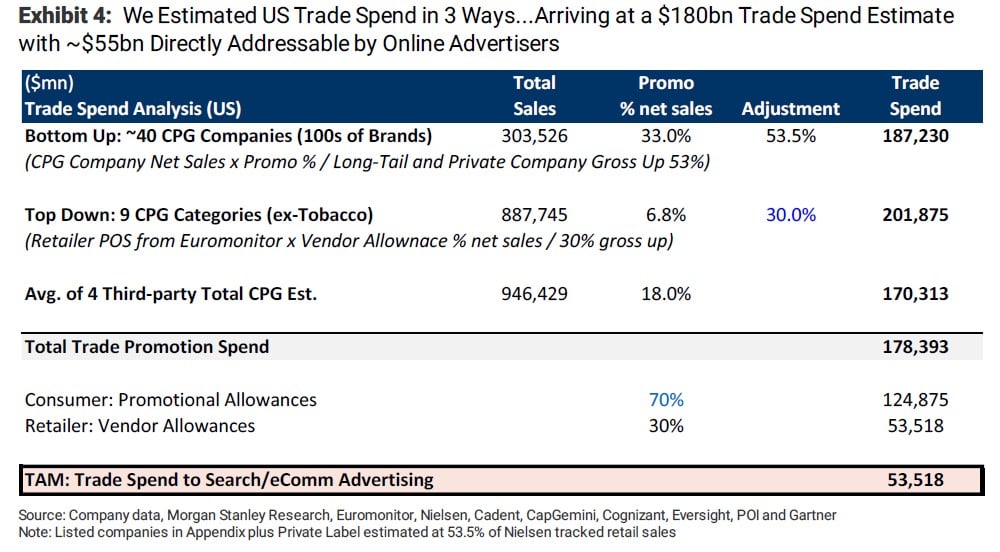 He estimates total U.S. trade spend at $178 billion, including $55 billion on vendor allowances he believes to be "directly addressable and could shift to online advertising." He feels that this $55 billion is "the most natural new source of dollars" for digital ad companies, including Facebook, Google Shopping and also the Amazon ad business.
Based on his analyses, he moved his bull case for Amazon stock from $2,000 to $2,100, driven by his new valuation of the Amazon ad business at about $75 billion, up from $50 billion before.
Amazon earnings preview for Q4 2017
The Q4 2017 earnings report is slated for release on Feb. 1, and GBH Insights analyst Daniel Ives raised his price target for Amazon stock going into that report. He reiterated his Highly Attractive rating on Amazon stock and boosted his target from $1,375 to $1,500, joining the growing circle of analysts looking past the $1,400 mark.
In his recent note covering the FANG names, he said he expects across-the-board strength on the back of better-than-expected performances from North America retail and Amazon Web Services. He's looking for upside of 3% to 5% on the top line in the Amazon earnings report for Q4 2017.
He estimates that the online retailer took nearly half of holiday e-commerce sales, up from 38% in 2016. He also believes Prime memberships help drive strength in Q4 and expects it to drive a more-than 20% increase in spending this year. He called Prime "the key jewel for Amazon going forward as cross-selling around Whole Foods customers."
The company recently raised the monthly subscription price for Prime, which will either drive more subscription revenue or possibly convince subscribers to switch to the cheaper annual plan and then spend more on the site.
Amazon stock jumped by more than 1.5% to as high as $1,400.06 in intraday trading on Friday. That already puts the $1,400-range price targets underwater or nearly underwater as many analysts raised their targets to that area this month. Amazon stock has added about $200 in value since the beginning of the year.