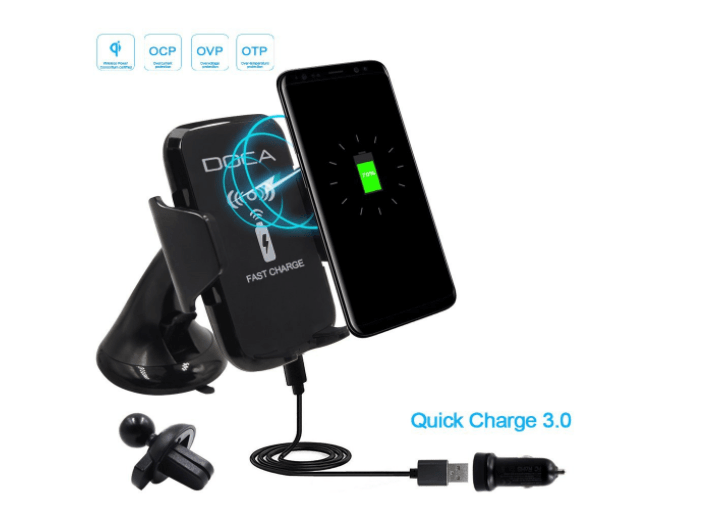 Apple finally added the Qi wireless charging technology to its flagship smartphones last year with the launch of the iPhone X, iPhone 8, and 8 Plus. You can now charge your shiny new iPhone X without having to worry about tangled wires. The Qi wireless charging isn't all that fast, but having the feature in your iPhone X car mount could provide the device with the much-needed battery while you are driving. You can also use the phone hands-free on the drive.
DOCA's iPhone X wireless car charger costs just $26
There are tons of iPhone X wireless car chargers out there, but most of them are pretty expensive. For instance, the Scosche MagicMount Charge sets you back by a whopping $70. After having dished out over a thousand dollars on the iPhone X, you'd want to save at least a few bucks on accessories. Especially when the affordable ones are as good as the expensive ones.
ValueWalk had an opportunity to test the DOCA wireless car charger mount first-hand. DOCA's wireless car charger mount works with almost every phone compatible with Qi charging standard such as the iPhone X, iPhone 8, 8 Plus, Galaxy S8, Galaxy Note 8, and others. ValueWalk editor Sheeraz tested it with his iPhone X.
Dan Sundheim Founder Of D1 At Sohn 2021 On His Favorite Stock
At this year's Sohn Investment Conference, Dan Sundheim, the founder and CIO of D1 Capital Partners, spoke with John Collison, the co-founder of Stripe. Q1 2021 hedge fund letters, conferences and more D1 manages $20 billion. Of this, $10 billion is invested in fast-growing private businesses such as Stripe. Stripe is currently valued at around Read More
Sheeraz told me he was impressed with how securely and firmly it holds the iPhone X in place. Rough roads, sharp turns or potholes – the mount holds on to the phone firmly. The box includes the wireless car charger, a USB charger, a micro-USB cable, an air vent clip, and user manual. Setting the whole thing up takes no more than a few minutes. Just combine the mount holder, attach it properly to the windshield or air vent, and you are good to go.
The DOCA wireless car charger mount is available for just $25.99 on Amazon.com. It combines the wireless charger and phone holder in a single unit, which means you can use the mobile navigation while the mount holder charges your phone. Sheeraz tells me that the mount's soft holder grip protects his iPhone X from scratching.
The DOCA wireless charging dock is not just for cars. You can also use it in your home, office or anywhere else. Its sticky suction cup mounts to any flat/glossy surface. DOCA's wireless car charger supports the Quick Charge 3.0 technology, allowing you to charge your devices faster. It has a 360-degree rotating cradle holder to offer you the best viewing angles.
 They also have a magnetic car mount
DOCA also offers a magnetic car mount designed for the iPhone X, which costs $29 on Amazon.com. It keeps the phone in place using magnets. You can place the magnetic car mount on the air vent, which is a bit more tolerable than on the dashboard. The magnetic car mount has a plastic swivel ball that allows 360-degree rotation to let you adjust the viewing angles. It offers about 6W of power, which is good but not great.
DOCA has used a soft silicone gel coating on the air vent clip to protect your car's air vents from scratching. It has a plastic sheet with four tiny magnets that are supposed to be mounted on the back of your iPhone X case so that its magnetic suction could hold the handset in place. It ensures that the magnetic mount is not interfering with the wireless charging area, which is at the center of your iPhone X's rear panel. The four magnets on the corners are enough to hold the phone well in place.
Are they long-lasting?
We have been using both the products only for a few days. So, we can't talk about their longevity yet. For their respective prices, DOCA's magnetic wireless car mount as well as the regular wireless car charger are worth it. They hold your iPhone X securely and charge the device while you drive to your destination. Even when you are in a hurry to leave home, you know that you could charge your phone wirelessly right in your car.
DOCA has been in the business of making high-end lithium-ion batteries and other electric products for almost two decades. The quality of their wireless car chargers clearly reflects their expertise.