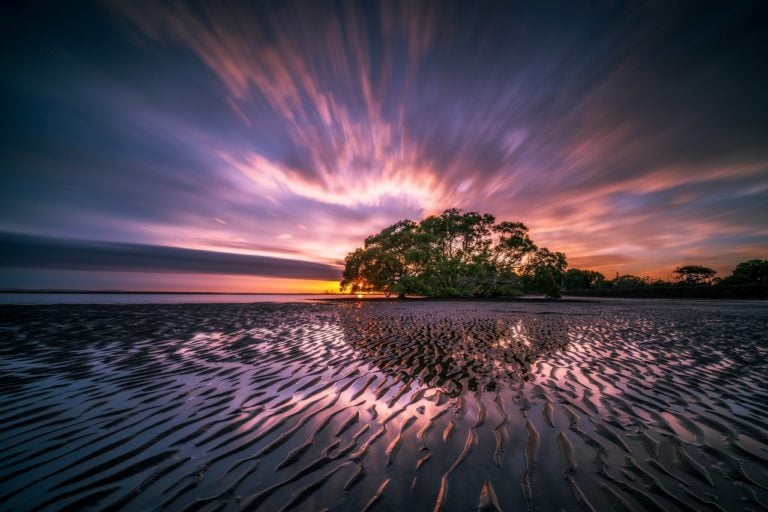 2018 is set to be a strong year for economic growth and improved credit conditions. Financial market risks look stable – with a sideways drift in the dominant risk factors over the past 6 months. The dominant theme for the past year has been central bank policy – from the Federal Reserve in the US, from the European Central Bank in Europe and from the Bank of Japan in Asia.
As the next port of call in the chain of liquidity from these central banks, the banking sector is understandably highly sensitive to policy changes. Should investors be cautious when investing in the financial sector in 2018?
Many fund managers have been patiently waiting for the other shoe to drop from tapering in quantitative easing (QE). However, recent research from Moody's suggests that these bearish managers may need to pause, if not rethink, this downside conviction given current market conditions and market sentiment. 1
Warren Buffett's Annual Letter: Mistakes, Buybacks and Apple
Warren Buffett published his annual letter to shareholders over the weekend. The annual update, which has become one of the largest events in the calendar for value investors, provided Buffett's views on one of the most turbulent and extraordinary years for the financial markets in recent memory. Q4 2020 hedge fund letters, conferences and more Read More
Economic Strength
For starters, the forecast for strong global economic growth, supported by predicted burgeoning in industrial output in 2018 and 2019, will support banking sector growth. Increased transaction sizes and volumes, increased liquidity, increased credit and more spell for growth in financials concurrent with economic growth.
Add to that the trickle-down effect into wages, consumer spending and debt and mortgage applications and the outlook appears rosy – buffered by capital quality and flows.
Uncertainty Remains Relevant
However, on the downside, Moody's research does indicate that 2018 could prove a cyclical peak in world economic growth – with forecasted G-20 growth exceeding 3% in 2018 and falling marginally lower in 2019.
1Further to this, downside risks are still relevant, with the Geopolitical Risk Index and Economic Policy Uncertainty Index still at levels indicating investors should exercise caution, despite falling below long run peak levels. 2
Are Legacy Issues Lurking?
Though forward-looking factors look promising there is still the small matter of the damage the past has left behind. Unemployment remains high in Europe, and the banking sector has experienced significant disruption in this region with Brexit well underway.
Looking even further back and certain outcomes of the GFC still linger – with some of Europe's banks holding non-performing loans (NPLs) which are keeping margins subdued.
The research from Moody's indicates that even by the most optimistic estimations it could take decades to return to pre-crisis levels without intervention on these NPL asset holdings. In Cyprus, Italy, and Greece, for example, banks, on aggregate, hold particularly alarming amounts of NPLs, exceeding 40% of their balance sheets.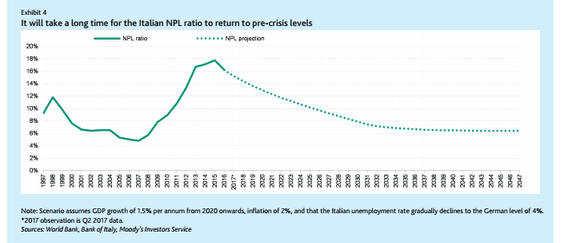 1These domestic risks have the power to hamper growth beyond national borders as we are all too well aware. Reassuringly, we did see reduced asset price contagion risk in 2017 – with weaker correlations between equity and government bond markets. 1
Against these risks, enhanced regulation will provide some support. MiFID II and the implementation of IFRS 9 came into force this January – the new regulations have the potential to support capital quality and generation in the European financial sector and beyond. On balance, the outlook is positive for the banking and financial sector in 2018. However, there are still pockets of identifiable risk that should be mitigated as much as possible in allocations, just look at Italy. Finally, look at housing in countries like Australia and Canada. Specifically, Moody's opines:
 Property prices in Canada, Australia and Sweden, among other countries, currently appear high based on simple earnings benchmarks (Exhibit 20). This is a cause for concern because the economic fallout from housing corrections — both in terms of magnitude and duration — can be substantial.

Source:
1 Moody's Investor Service, Moody's Financial Monitor, Sector in Depth, 15th January 2018
2 Economic Policy Uncertainty