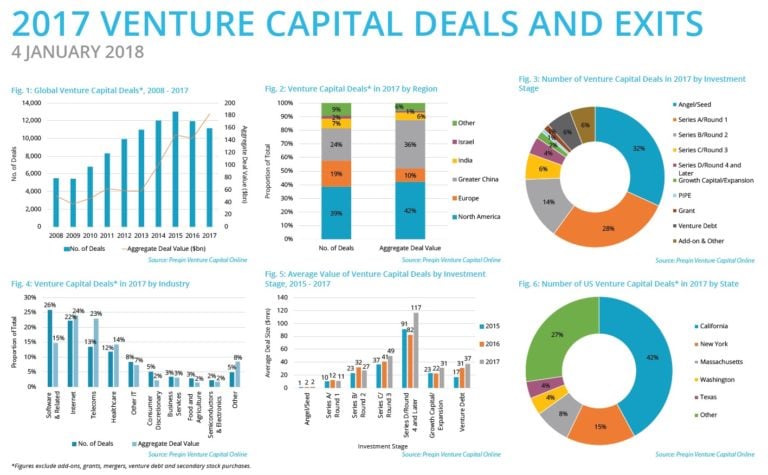 Average venture capital deal value increases for almost all investment stages
2017 was a record year for venture capital-backed deals, with 11,144 deals announced for an aggregate deal value of $182bn. Preqin expects these figures to rise by up to 5% as more information becomes available. This marks a 28% increase in deal value compared to 2016, and surpasses the previous record of $148bn set in 2015. However, 2017 also marks the second consecutive annual decline in the number of venture capital-backed deals, down from 11,699 financings seen in 2016. The largest deal of the year was the $5.5bn funding of China-based Didi Chuxing by investors including Bank of Communications and China Merchants Bank. This deal is the second largest venture capital deal in the past decade, as well as the largest Asia-based venture capital deal ever. Venture capital-backed exit value in 2017 also rose from 2016 levels, with 1,151 exits worth $71bn.
Corsair Capital Profits From Goldman Sachs' SPACs [Exclusive]
Corsair Capital, the event-driven long-short equity hedge fund, gained 6.6% net during the second quarter, bringing its year-to-date performance to 17.5%. Q2 2021 hedge fund letters, conferences and more According to a copy of the hedge fund's second-quarter letter to investors, a copy of which of ValueWalk has been able to review, the largest contributor Read More
Key Venture Capital-Backed Deals and Exits Facts:
2017 saw 11,144 venture capital deals announced for a record $182bn, surpassing the previous 2015 record of $148bn through 13,019 investments.
North America accounted for the largest proportion of venture capital deal activity, with 4,302 investments announced for a total of $77bn.
Asia also made up a significant proportion of deal activity, with $65bn invested in Greater China and $10bn in deals announced for India.
Angel/seed deals made up the largest proportion of the number of deals (32%), while series A deals accounted for 28% of deals announced in 2017.
While software deals accounted for 26% of the number of deals announced – the greatest proportion – investments in internet companies made up the largest proportion of deal value (24%).
Series C and later funding rounds, as well as growth and venture debt deals, all saw significant increases in average deal value from 2016, while series A and B deals both decreased in size on average.
Venture capital-backed exits also saw an uptick in 2017, with $71bn in total capital from 1,151 exits.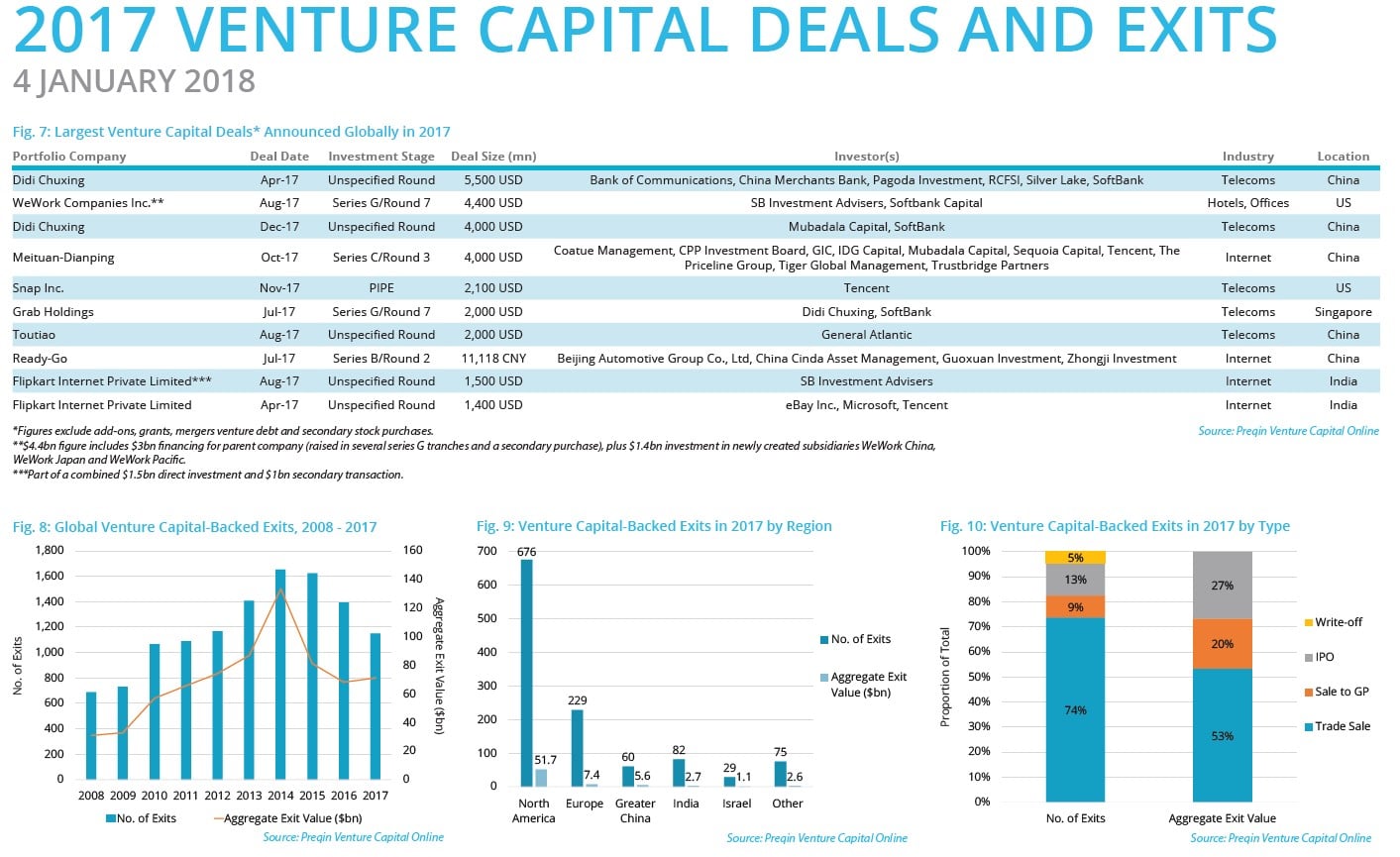 Felice Egidio, Head of Venture Capital Products:
"2017 has marked another record year for venture capital-backed deals, maintaining the period of strong activity we have seen in recent years. Total deal value has surpassed the previous record set in 2015 by a margin of over $30bn, a sign of the rate of expansion. However, it should be noted that while the total value of venture capital-backed deals has risen, the number of financings has fallen by 14% compared to that year, and the average size of most funding rounds has increased.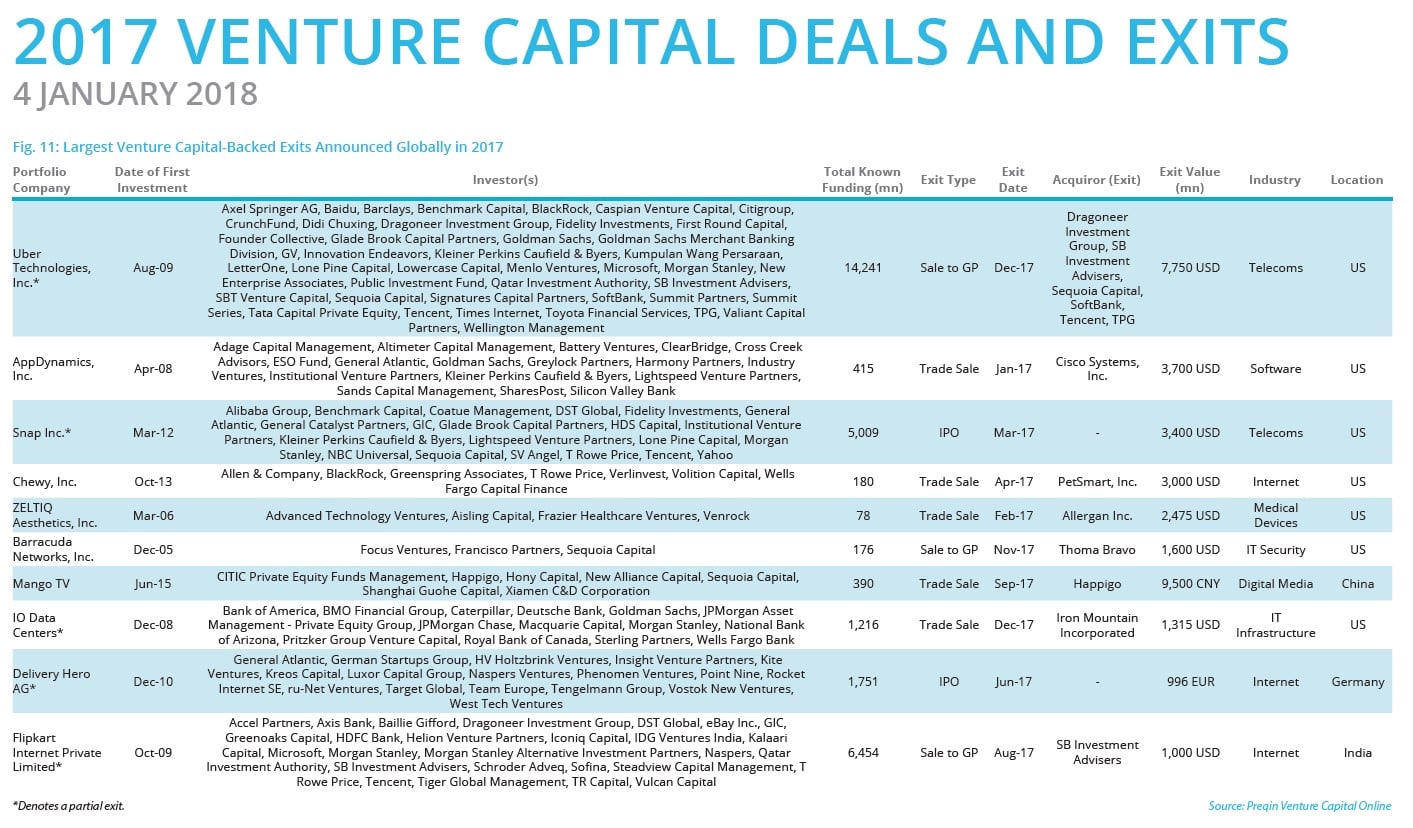 This may in part be a result of increasing competition for attractive opportunities, as well as the burgeoning number of companies seeking to raise multi-billion dollar late-stage funding rounds as an alternative to holding an IPO or sale. The number of venture capital-backed exits has declined in recent years, and in particular fewer venture capitalbacked companies are seeking to make an exit by going public. Recent examples of venture capital-backed companies seeing lacklustre performance after holding an IPO may have deterred others from following suit. However, this trend may see some reverse in 2018: investors may be increasingly applying pressure on founders to organize an exit strategy and liquidate their holdings."
Article by Preqin