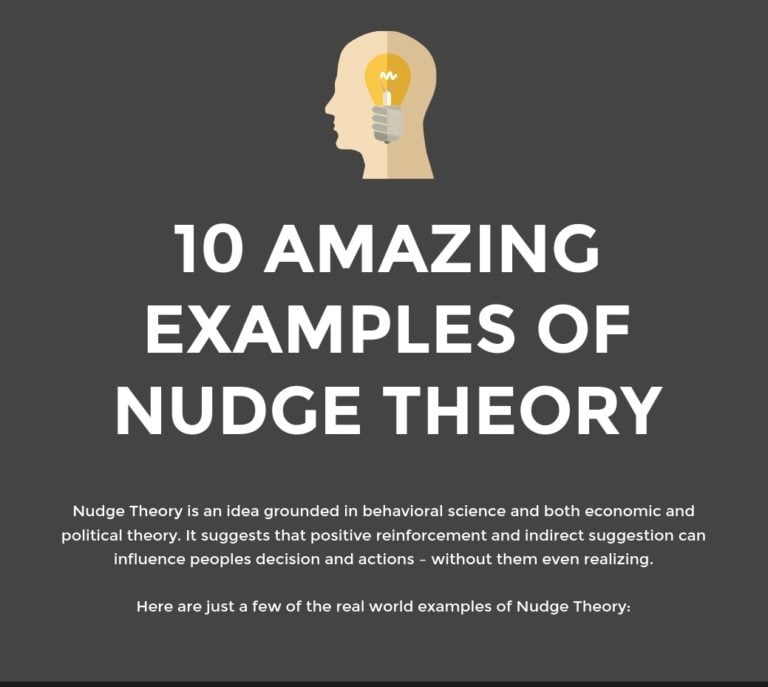 In case you haven't heard about nudge theory it is an idea grounded in behavioral science and economics that subtle indirect 'nudges' in order to influence people in to making a particular decision or choice. It has many uses from parenting to politics and is pretty interesting!
Nudge Theory – Did you know that your actions are not necessarily consciously chosen? Well that is true. Your decisions can actually be influenced by subtle cues in your environment, and by positive reinforcement. This may seem counter-intuitive, or even obvious, but it can also be a valuable lesson, as you can use this in your business, work life or personal life to increase your success.
In case you're not following, the idea is that your decisions can be influenced by subtle reinforcement in your environment. This is known as 'Nudge theory', as in you are being nudged in a certain direction. For example, you can influence customers to purchase a bigger drink by merely asking them 'do you want to supersize?' or encourage men to buy products by including a picture of an attractive lady in an advert. Likewise, supermarkets can encourage people to eat more veg by putting arrows on the floor pointing to the healthy food aisles.  Nudge theory has many applications in the field of business, education and the media.
Q4 2020 13F Round-Up: Notable Hedge Fund Changes Including Pabrai, Abrams, Price, Klarman And More!
Below is our 13F roundup for some high profile hedge funds for the three months to the end of December 2020 (Q4). Also check our screener for more detail! Q4 2020 hedge fund letters, conferences and more The statements only include equity positions as 13Fs do not include cash and debt holdings. What's more, the Read More
If you want to know more about Nudge Theory, take a look at the infographic below from our partners at PsySci.