The world's population is exploding at a precipitous rate, on track to grow by two billion people over the next 40 years. Population growth is expected to require a 70% increase in global food output by 2050. By focusing primarily on the supply prong of the food security crisis, China—the world's most populous country and the second largest economy—would technically be incapable of feeding its swelling population alone.
In 2014, China began to move away from self-sufficiency, with China's State Council reportedly projecting lower grain production than average consumption levels that year. Further complicating its ability to support its citizens, only 7% of China's land mass remains tillable due to heavy use of agricultural pesticides and pollution. The average American consumer relies on an acre of arable land per citizen; China only has 0.2 acres per citizen by comparison. This acute lack of arable land portends a fast-approaching food shortage with little resolution within China's borders.
Amazon's new security camera will be available for $99.99, a $20 savings over the regular price
Warren Buffett's Annual Letter: Mistakes, Buybacks and Apple
Warren Buffett published his annual letter to shareholders over the weekend. The annual update, which has become one of the largest events in the calendar for value investors, provided Buffett's views on one of the most turbulent and extraordinary years for the financial markets in recent memory. Q4 2020 hedge fund letters, conferences and more Read More
So how is this nation investing to shore up food resources for both human and livestock consumption? China has begun to look outward for resource reservoirs and cultivable land to dodge a true global food crisis. Pursuing acquisitions in food production from Finland to Brazil, purchasing vast tracts of land in Mozambique, and importing tons of soy and corn from the United States, China is already engaging the globalized food chain to secure resources beyond its own capacity.
President Jinping Looks Outward
China is no stranger to mass agricultural reform. Mao Zedong and the Communist Party of China implemented the Great Leap Forward in the 1950s to jolt China's agrarian economy into its modern, industrialized prototype. The economic campaign failed bitterly and many attribute around 30 million deaths by starvation to the heavy grain taxation and rationing imposed on smallholder farmers.
Given the historical context, China's President Xi Jinping has tread a careful path, drafting land and agricultural reforms to mitigate the current food crisis. His approach is four-pronged: using market controls, improving farm efficiency, curbing land loss, and increasing foreign imports. Such reforms suggest a new era for China and take a decisive step away from its days of low-profile, Sleeping Giant diplomacy. With Jinping poised to assume another five-year term as President, we can expect that his global agenda will continue in the form of foreign trade and acquisitions.
Building a Global Food Bank through Acquisition
Public and private deals have been a vehicle for the modernization of China's food industry. Last year, China notched an unprecedented investment spree totaling $250 billion. Landmark transactions include the acquisition of Smithfield Foods Inc. by Hong-Kong based investment firm, WH Group and ChemChina's 2017 acquisition of pesticide giant, Syngenta. Smithfield Foods represents a boon to China's capacity for meat production, making WH Group the largest pork provider in the world. The $43 billion Syngenta purchase represents China's largest foreign takeover to date by a state-owned enterprise.
Using M&A Screening on FactSet to run a volume total of state-led Chinese transactions in the Process Industries sector, Agricultural Chemicals tops the list in both number of transactions and aggregate transaction value.
| | | | | |
| --- | --- | --- | --- | --- |
| #  OF TRANSACTIONS | Target FactSet industry | Transaction Value (MM) | % of Total | Rank |
| 6 | Chemicals: Agriculture | 46,219.33 | 92.60 | 6 |
| 4 | Chemicals: Specialty | 77.80 | 0.16 | 4 |
| 3 | Agricultural Commodities | 2,199.70 | 4.41 | 2 |
| 3 | Containers and Packaging | 1,353.70 | 2.71 | 3 |
| 1 | Pulp and Paper | 23.43 | 0.05 | 6 |
| 1 | Textiles | 39.80 | 0.08 | 5 |
Based on this analysis, it appears the government is actively pursuing food production and processing organizations. We can conclude that China's foreign direct investment levels have risen steadily since 2008.
China's New Appetite for Meat
In the midst of this acquisition flurry, an increased appetite for meat in mainland China has opened up a distinct market opportunity. The increase in per capita consumption of meat and poultry mirrors wage growth; the average Chinese citizens now eats 63 kg of meat per year.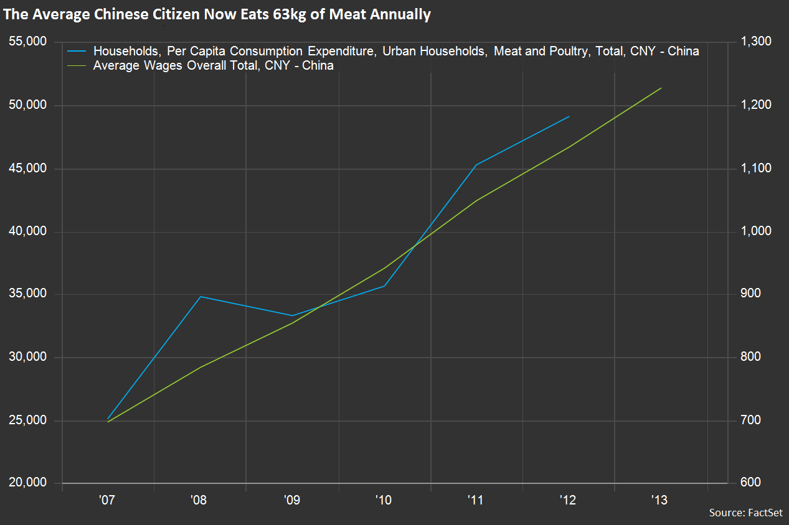 With greater purchasing power and the rise of a Chinese middle class, the appetite for beef, pork, and poultry has expanded beyond the top tier of society. It is China's intention to serve those needs through acquisitions like Smithfield Foods and by diversifying bilateral trade relationships with partners like Brazil and the United States.
Policy Changes Create Opportunity
Brazil has historically been China's top beef trade partner. From a food safety perspective, however, China is keen on diversifying its sources of perishable imports at risk of infection like meat, fish, and poultry. China's trade relationship with U.S. beef has been a complicated one. In 2003, China blocked imports of American beef after detecting mad cow disease in a herd of cattle from Washington State. In June 2017, the two countries reached an agreement to reopen beef trade between them, creating an attractive new market for U.S. exports. For American beef providers or distributors, these policy shifts create a favorable market landscape.
Furthermore, the One Belt One Road initiative pledges massive infrastructural investments along the ancient Silk Road route to maximize trade capacity and flow of goods between Central Asia, West Asia, the Middle East, and Europe. The sustainability of China's "cold chain" or temperature-controlled supply chain for non-durable goods like meat and dairy relies on this infrastructural network. Associated investments are estimated at around $85 billion over the next 10 years.
China has responded to its food crisis loaded for bear. Bucking the nationalist winds that are shaping international relations today, China is distinguishing itself through far-flung deals and foreign trade relationships as a source of food for its growing population and a catalyst for global primacy.
Article by Avery Pagan, FactSet