The last time we saw a business model as fundamentally flawed as TrueCar (TRUE: $17/share) was four years ago, when we put Angie's List (ANGI) in the Danger Zone. In fact, TrueCar today looks very similar to Angie's List in the summer of 2013, just before the stock plummeted over 50%.
Just like ANGI in 2013, TRUE has no history of profitability.
TRUE faces a similar declining return on its marketing spending.
The competition from Amazon that hurt ANGI looks to be coming for TRUE as well.
Most importantly, TrueCar shares the same fatal flaw that sunk Angie's List. As a middleman, it has to appeal to consumers while remaining valuable to its actual customers, car dealers. In trying to balance the needs of these two opposing sides, TrueCar is conflicted and struggles to provide value to either.
Scrambling Back And Forth On The See-Saw
No one can serve two masters. Either you will hate the one and love the other, or you will be devoted to the one and despise the other.                                                                                                                         -Matthew 6:24
TrueCar operates a consumer-facing website that promises to help car buyers find the best price. However, it gets substantially all its revenue from car dealers. TrueCar only gets paid if it's good for the dealers' bottom line.
This dichotomy has caused numerous headaches for TrueCar in the past. Early on, the company positioned itself firmly on the side of consumers. Car buyers could easily find the lowest price on TrueCar, and the company ran ads that promoted the stereotype of the sleazy, greedy car dealer.
As a result, the dealers revolted and dropped TrueCar en masse. Founder Scott Painter made an effort to find a balance between consumers and dealers, going so far as to install a giant seesaw in the office with Consumer written on one end and Dealer on the other. Employees would stand on both sides and try to find a balance.
Painter was never able to strike that balance, and in 2015, industry veteran Chip Perry replaced him as CEO. As Figure 1 shows, Perry has heavily prioritized dealers over consumers so far during his tenure.
Figure 1: Number of Times The Words "Dealer" And "Consumer" Have Been Said On Each Earnings Call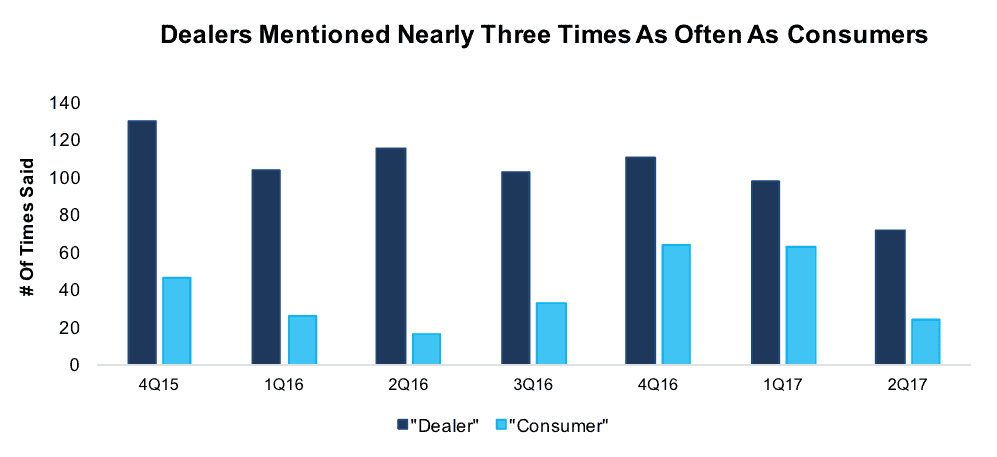 Sources: Seeking Alpha Earnings Call Transcripts
In the seven earnings calls Perry has participated in since becoming CEO, executives and analysts on the calls have said the word "dealer" 733 times, nearly three times as often as the word "consumer". Perry has worked hard to regain the trust of dealers, even at the expense of serving consumers.
"We're doing that (displaying cars on the website) in a way that enables the dealers to price in a way they can still make money," Perry said at the National Automobile Dealers Association Convention earlier this year. "We want them to know that you don't have to be the lowest price, and we're not promoting the lowest price on TrueCar."
Under Perry, TrueCar has moved all the way to the dealer side of the seesaw, and it risks leaving consumers high and dry. If TrueCar cannot engage consumers, then how will it add any value to dealers?
Diminishing Value To Consumers
TrueCar made a name for itself by promising to get car buyers the best possible price, which made it an extremely attractive service. Now that the company is more focused on the dealer's bottom line, it offers significantly less value to consumers.
A quick Google search turns up numerous accounts of consumers who were able to significantly beat the TrueCar price on their own. For instance, one account from April of this year describes the consumer finding a Jeep Cherokee for almost $3,000 cheaper than the TrueCar price at a dealer outside the TrueCar network.
TrueCar still offers a great deal of convenience to car buyers, but it's hard to imagine that convenience is worth $3,000, especially when consumers can get similar services from competitors such as Kelly Blue Book and Edmunds.com.
Figure 2 shows that as the site becomes less valuable to consumers, TrueCar has to spend more on marketing to keep driving new users and transactions. If the trend of rising marketing costs continues, TrueCar's path to profitability will only grow more difficult.
Figure 2: Rising Marketing Costs Per Visitor And Unit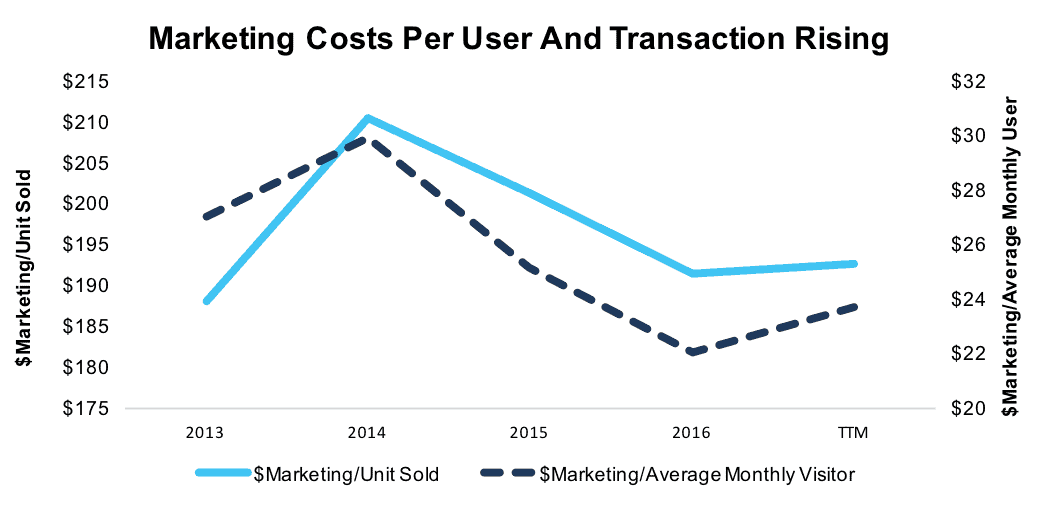 Sources: New Constructs, LLC and company filings.
Non-GAAP Metrics Mislead Investors
As with many other tech firms, TrueCar uses non-GAAP metrics to create the illusion that it's already a profitable business. The company promotes its Adjusted EPS and Adjusted EBITDA metrics to investors, both of which fail to tell the whole story.
The Adjusted EBITDA number is especially concerning, as it allows the company to exclude real costs such as depreciation and amortization and stock-based compensation. Over the past twelve months, the entirety of TrueCar's $25 million in Adjusted EBITDA would be wiped out just by adding back stock-based compensation.
Figure 3 shows just how much Adjusted EBITDA overstates the company's profitability. Since 2014, the company has consistently reported positive Adjusted EBITDA despite its negative GAAP net income and economic earnings.
Figure 3: Adjusted EBITDA Creates False Profits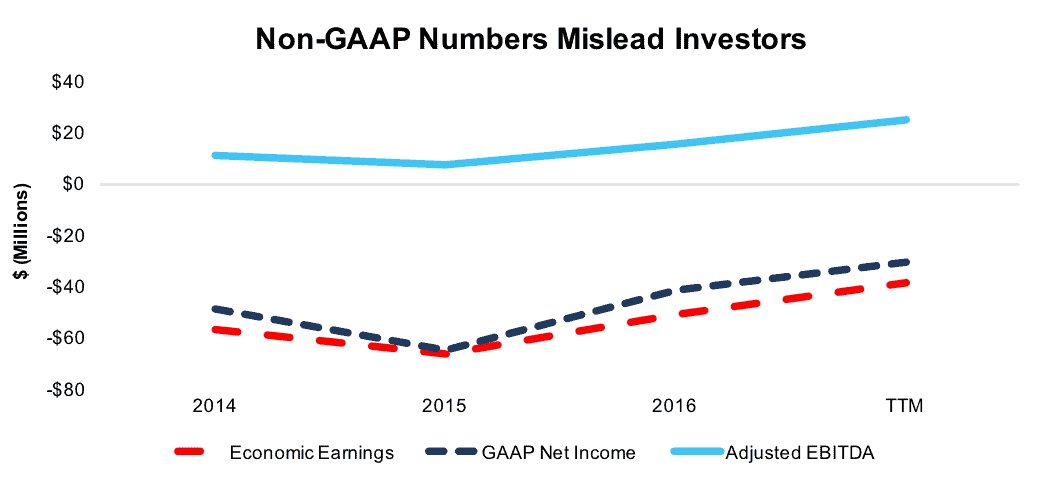 Sources: New Constructs, LLC and company filings.
Making matters worse, the company ties a significant portion of short-term executive bonuses to Adjusted EBITDA and revenue growth. These bonus targets incentivize excessive stock compensation and wasteful capital allocation. As we've shown in numerous case studies, ROIC, not adjusted EBITDA or revenue, is the primary driver of shareholder value creation. Without major changes to this compensation plan (e.g. emphasizing ROIC), investors should expect continued value destruction.
Competitive Landscape Weakens TrueCar's Potential
TrueCar operates in a crowded and highly-fragmented industry. The company receives outsized attention due to its status as one of the only public companies in the online automotive retail industry. In truth, TrueCar is one of the smallest companies in the market. Figure 4 shows that, among the websites TrueCar lists as direct competitors in its most recent 10-K, all but one rank above it in terms of page views.
Figure 4: TrueCar Ranks Near The Bottom On Page Views

Sources: Alexa.com
A large portion of TrueCar's user traffic comes from its affinity groups. Large institutions, such as USAA, Consumer Reports, and American Express, partner with TrueCar to run their car buying services. In 2016, TrueCar's affinity partnership with USAA represented 32% of its unit sales.
Lately, competitors have been encroaching on this key segment. Edmunds.com announced its first affinity relationship with insurance giant State Farm back in March. If these other, more popular, websites make inroads with TrueCar's affinity group relationships, the company's growth trajectory will stall out quickly.
Threat From Amazon Looms Large and Diminishes Bull Case
As TrueCar struggles to strike a balance between