The market cap of FAANG (Facebook, Amazon, Apple, Netflix and Google) are up $260 billion since March 1. Meanwhile, the market cap of the other 495 companies in the S&P 500 are down $260 billion.
This is a textbook example of unsustainable growth, yet it has largely fallen on deaf ears for many investors.
Speaking at the Mauldin Economics' Strategic Investment Conference, Mark Yusko, Founder and CIO of Morgan Creek Capital Management, dissected this and the other biggest risks—along with opportunities—in financial markets today.
SALT New York 2021: Wences Casares And Peter Briger On The Macro Case For Bitcoin
At this year's SALT New York conference, Wences Casares, the chairman of XAPO, and Peter Briger, the principal and co-chief executive officer of Fortress Investment Group discussed the macro case for Bitcoin. Q2 2021 hedge fund letters, conferences and more XAPO describes itself as the first digital bank of its kind, which offers the "convenience" Read More
Is Gold Really a Good Investment Over the Long Term?
Warren Buffet, Highest Cash Position Since 2007
When asked what investors should be doing in today's markets, Yusko responded, "cash is king. What cash does is it gives you optionality, it allows you to buy things when they go on sale."
"If you look at the world's greatest investors…. Warren Buffet, Seth Klarman, George Soros… every cycle you'll see their cash [holdings] go up."
"Buffet has the highest cash [position] he's ever had today, in dollars… in percent he had a little more in '07, and what did he do in '09? Bought the stuff that was on sale."
Today, Buffet's Berkshire Hathaway has around $95 billion in cash, the highest position since 2007.
Source: Bloomberg
It's Time to Hedge
Yusko kicked off his SIC 2017 presentation by saying, "you're going to disagree with most of my presentation… that's the whole point… It's anti-consensus, if these happen, you can make a lot of money.'"
And with several contrarian calls, he didn't disappoint.
"Nobody wants to be hedged today because hedge funds have underperformed for seven years… but there's a cyclicality to active/passive. When things are highly valued, it's a good time to increase your hedges."
Analyzing the flows into active and passive funds since 2009, active looks like the perfect contrarian call today.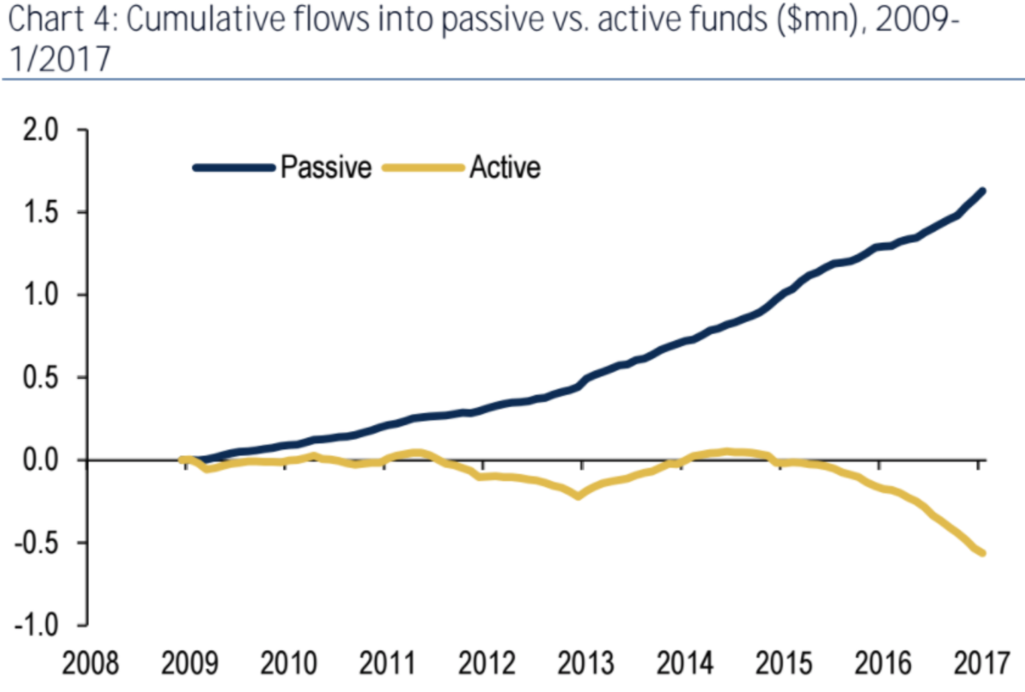 Source: Bank of America Merrill Lynch
The Market Will Drop at Least 30%—with Technology at the Forefront
Yusko thinks the market will drop "at least 30%" in the next recession. But some sectors will take a harder hit than others.
"I worry a lot about technology… I look at the FAANG [stocks], those companies have high double-digit price-to-earnings ratios, they are very vulnerable."
In fact, the five FAANG stocks have accounted for almost 40% of the S&P 500's gain since the beginning of 2017.
"If you're in these low-volatility ETFs or index funds that are overweight technology, lighten up on that. If you own them, you've done really well, now is the time to rebalance."
The Dollar Hegemony Is Over
The dollar skyrocketed in the wake of the US election. However, it has taken a downturn since then and Yusko thinks the days of the dollar hegemony are numbered.
"The days of the dollar hegemony are gone, we're in a secular decline that started in the 1970's. We've had three cyclical peaks, the last one came when the Fed started this tightening cycle [in December 2015]."
This chart of the US Dollar Index (DXY) shows the three cyclical peaks since the early 1980s.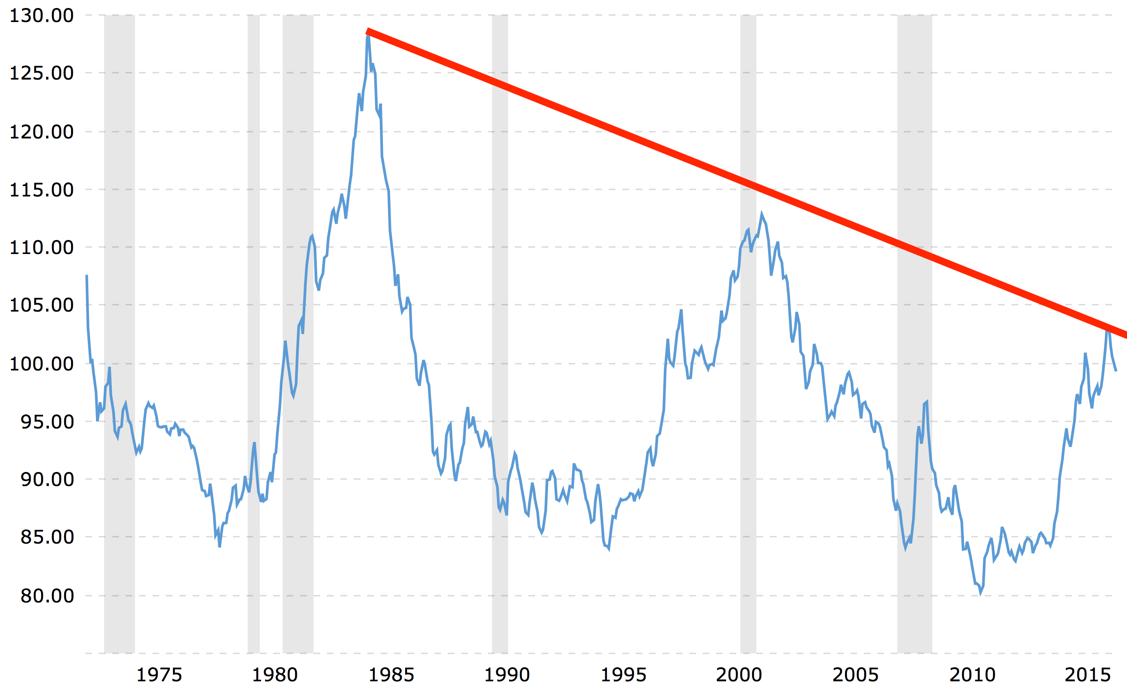 Where Should Investors Be Deploying Capital Today?
For Mark Yusko's thoughts on where investors can find value in today's markets, the biggest threats facing the US economy, and more—watch the full interview below.
Download a Bundle of Exclusive Content from the Sold-Out 2017 Strategic Investment Conference
Get access to exclusive interviews with top asset managers Raoul Pal and Louis Gave from SIC, an ebook from renowned geopolitical expert George Friedman, and bonus SIC 2017 content…
Claim your SIC 2017 bundle now!
Updated on