As Grupo Palmas, including Palmas del Espino and subsidiaries, is specialized in the cultivation and processing of palm oil in the Peruvian Amazon. Grupo Palmas is 100 percent owned by the Peruvian conglomerate Grupo Romero. Grupo Palmas is Peru's largest producer, refiner and exporter of palm oil.
After past controversies, Grupo Palmas is now shifting to a zero-deforestation approach. On April 4, 2017 Grupo Palmas published its No Deforestation, No Peat, No Exploitation (NDPE) policy that covers palm oil and cocoa. This creates new business opportunities, while also stranding its past expansion plans. These undeveloped concessions would be financially risky to develop.
Key Findings
Grupo Palmas is working towards a zero-deforestation supply chain. RSPO certification processes are underway, and it recently joined The Forest Trust. Grupo Palmas published its NDPE policy April 4, 2017. It also says it is pursuing growth strategies based on smallholder engagement.
The adoption of a NDPE policy gives Grupo Palmas a competitive advantage over its main competitors by becoming the market leader for zero-deforestation in Peru. Benefits include maintaining and expanding an international customer base, strengthening relationships with smallholders and improving brand reputation.
Given Grupo Palmas' published NDPE policy and current market conditions, four planned projects with a total landbank of 25,000 ha are no longer feasible for development of large-scale palm oil plantations. This land can be considered stranded, and the company needs to pursue alternative ways to create value that does not require any land clearing.
If, at any point in the future, Grupo Palmas does proceed with the development of any of the four planned projects, it could expose itself to a number of business risks. This could result in loss of clients, significant reputational damage and exposure to regulatory measures. The first can reduce margins, and the second can increase debt costs, and both can lead to a solvency and liquidity crisis in the company as debt and debt service are both high.
Grupo Palmas has a Net Debt to EBITDA ratio of 7x, and so the company needs to generate cash flow and growth to meet their financial requirements. To generate the sufficient cash flow Palmas should work in keeping their client base, both in Peru and internationally, and if possible work to expand it. The growth should be achieved while taking sustainability policies into account. Expanding the agriculture frontier, without taking deforestation into account can create reputational risks and loss of clients, amplifying Grupo Palmas financial problems.
This article was published by Chain Reaction Research and written by Tim Steinweg, Aidenvironment, Bruna Tomaidis Lima, Profundo and Gabriel Thoumi, CFA, FRM, Climate Advisers.
Grupo Palmas: Business Lines and Segments
Grupo Palmas has two business segments.
The Plantations segment includes the palm oil and cocoa plantations. In FY2015, the group had 23,346 ha of planted area with 21,420 ha of oil palm and 1,926 ha of cocoa.
The Industrial segment includes palm oil mills and refineries, a chocolate frosting factory, production and marketing of cooking oils, margarine and other products. All output of the Plantations segment is processed in the Industrial segment mills and refineries. In addition, input is purchased from smallholders. Smallholders represent 10 percent of the total supply of Fresh Fruit Bunches (FFB) to mills and refineries.
In FY2015, Grupo Palmas' total revenues were USD 136 million (PEN 462 million). Its operating income margin was 12 percent. Grupo Palmas reported a net loss of USD 24 million (PEN 82 million) based on operating income of USD 16 million (PEN 56 million). Its USD 14 million (PEN 48 million) currency exposure loss and its 40 percent increase in financial costs from debt servicing drove this loss.
65 percent of Grupo Palmas' sales are of consumer goods. 20 percent of sale are from CPO sales. 15 percent of sales are from industrial goods' sales. Grupo Palmas accounts for almost all Peruvian palm oil exports. Its three cooking oil brands – Tondero, Soi and Pamerola – have a combined 12 percent domestic market share. Its two margarines brands – Tropical and Manpan – have a combined 24 percent domestic market share. Grupo Palmas sells Popeye laundry soap and Spa personal care soap. They have a 14 percent and 6 percent domestic market share respectively.
Consumer goods company Alicorp is the Peruvian market leader in all these segments. They control 51 percent of the cooking oils market, 66 percent of the margarine market and 82 percent of the laundry soap market. Grupo Romero also owns 46 percent of Alicorp. This makes Alicorp both a competitor and affiliate of Grupo Palmas.
Grupo Palmas: Structure and Governance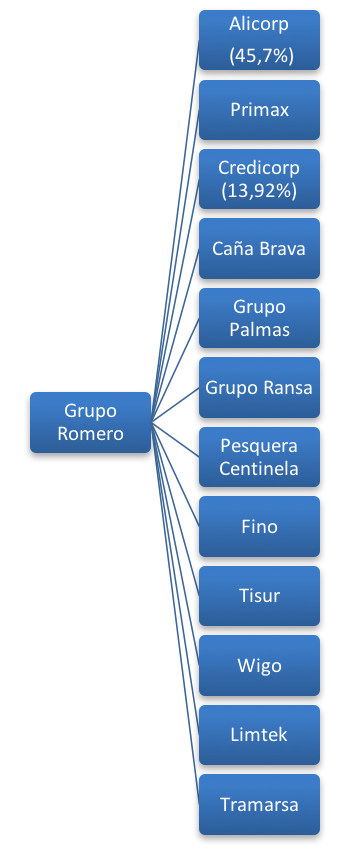 Family-owned Grupo Romero owns 100 percent of Grupo Palmas. In 1979, Grupo Palmas established Palmas del Espino in Uchiza, San Martín, as a cocoa and palm oil plantation company. In 1992, Grupo Palmas established Industrias del Espino to extract and process CPO.
In 2006, Palmas del Espino invested USD 39.8 million to establish the Shanusi project to increase oil palm cultivation in San Martin and Loreto. Palmas del Espino also invested USD 11.5 million in a palm oil biodiesel refinery. In 2012, Grupo Palmas invested USD 18 million in the first stage of developing the Industrias del Shanusi palm oil extraction plant. In 2015, they financed the construction of both a special oils refinery and a biogas electricity generation plant. The financiers of these projects are unknown.
In 2014, new senior management entered Grupo Palmas. This resulted in a new sustainability value proposition within the company. Grupo Palmas's April 4, 2017 NDPE policy is a culmination of these efforts.Some of its subsidiaries are also obtaining RSPO certification, while the company also recently joined The Forest Trust.
Grupo Palmas has interlocking executives with Alicorp, the consumer goods company that is both an affiliate and a direct competitor for B2B customers:
Dionisio Romero is the Chairman on the Board of Directors of Grupo Palmas and Alicorp.
José Antonio Onrubia is on the Board of Directors of Grupo Palmas and Alicorp.
Calixto Romero is on the Board of Directors of Grupo Palmas and Alicorp.
Javier Onrubia was a director at Alicorp until 2001, when he became a Palmas del Espino director.
Ángel Irazola Arribas is on the Board of Directors of Grupo Plamas and Grupo Chira. Grupo Chira is a former subsidiary of Grupo Palmas that is still 100 percent owned by Grupo Romero.
Grupo Palmas: Deforestation Risks and NDPE Opportunities
Past Deforestation Allegations
In 2015, the Environmental Investigation Agency (EIA) documented how Grupo Palmas' palm oil expansion threatened the Peruvian Amazon. EIA showed that Grupo Palmas' two existing plantations Palmas del Shanusi and Palmas del Oriente caused deforestation and created land disputes.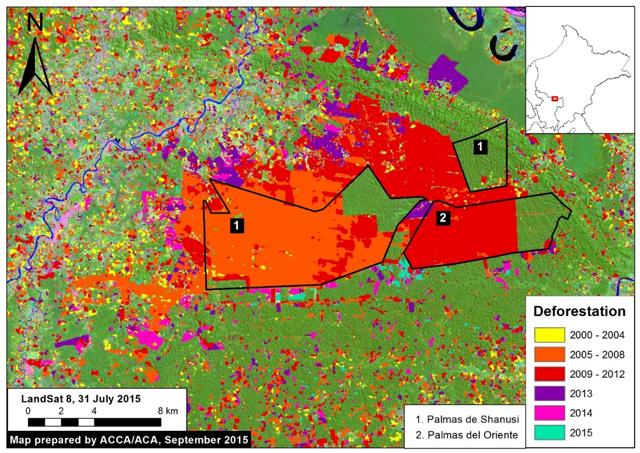 Figure 1: Deforestation at and around Palmas del Shanusi and Palmas del Oriente. Source: Finer & Novoa (2015).
As shown above in Figure 2, the Monitoring of the Andean Amazon Project (MAAP) reported that between 2006 and 2011, 16,800 ha of primary forest was cleared in and around Palmas del Shanusi and Palmas del Oriente. Local communities, civil society and various government agencies contested these deforestation activities. Both Grupo Palmas' projects faced community protests, regional