---
Disclaimer:
This example was created on January 16, 2017. This is NOT a valuation, forecast, rating, or recommendation; rather, it is a teaching example. What follows is NOT investment advice; rather, it is a teaching example. It is intended only as academic information to those who want to learn about valuation. It should not be construed as the basis for any valuation or investment. The information in this presentation came from various sources which we believe are reliable, though we do not guarantee the accuracy, adequacy or completeness of such information. We hope you enjoy learning about valuation as much as we do!
Background
Zhongsheng Group Holdings Limited is a leading automobile retailer in China. The group distributes luxury and mid-tier automobiles from popular brands.
The company has more than 200 dealerships in 70 cities across 20 provinces. It was the first to have dealership rights for Toyota and one of the first dealerships for Lexus and Audi in China.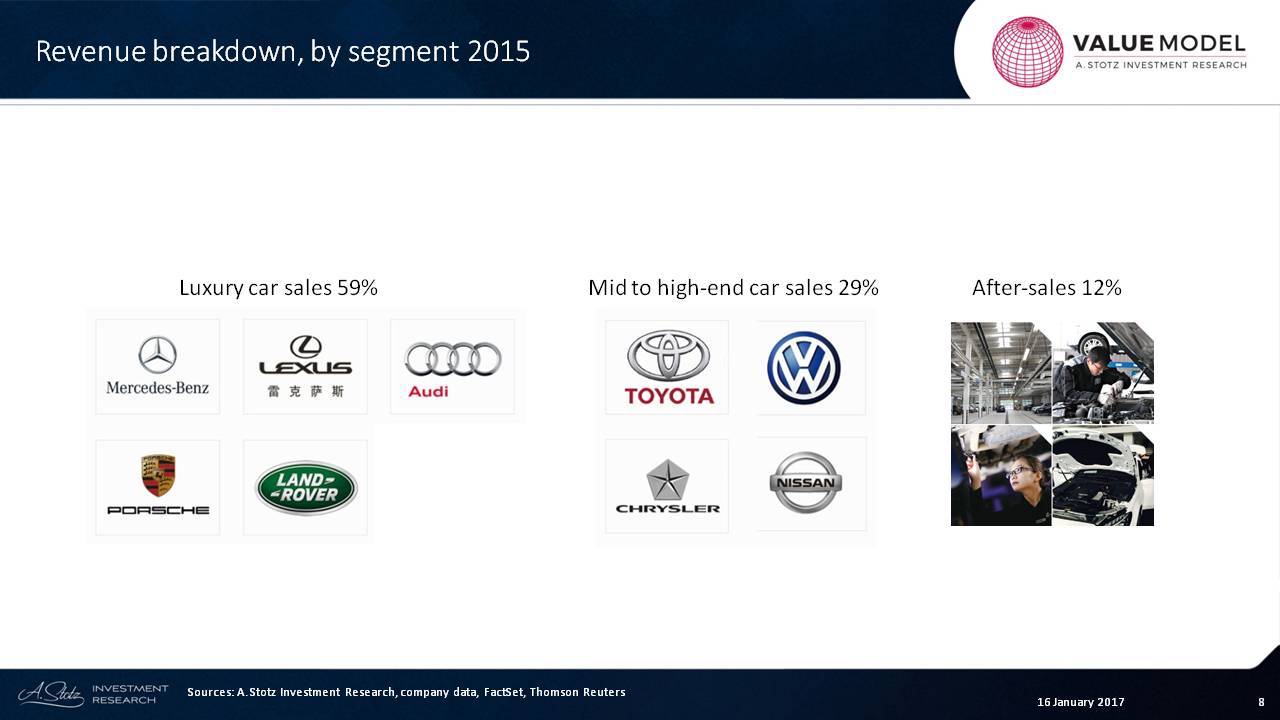 Mercedes-Benz's launch of the new E class is expected to increase margins due to its high retail price.
Business plan for stores to standardize operations and reduce average inventory days (-32% YoY in the first half of 2016) start to show results, as finance costs fell 20% YoY in 1H16.
First, let's look at the revenue breakdown of the company.
We can see that luxury sales account for over 59% and mid-tier sales bring in 29%. After-sales servicing then bring in the remaining 12%.
Forecast
As I always say, valuation is about 90% forecast and 10% valuation.
Below, we can see preliminary results from the company. I am going to highlight a few things right here.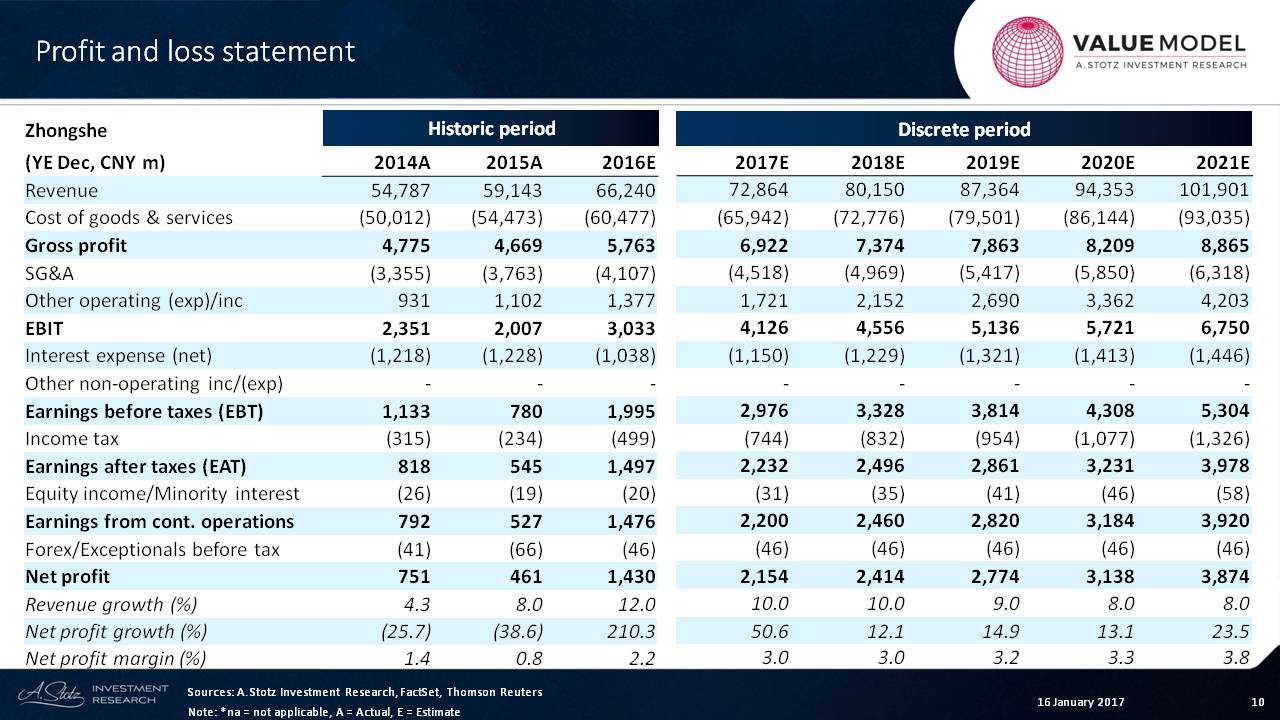 The first thing is that we can see revenue continuing to grow, although it's not particularly fast. But if we look back, we see that the company's revenue growth has been accelerating.
But will that trend continue?
It's hard to tell at this point. But that brings us to the next feature, which is the net profit growth. So far it has been pretty volatile and large. And we can see the negative period of time that stems from a tough time in the domestic Chinese market.
And then, what I'm going to forecast is that net margin recovers to between 3% and 3.8%.
It's not overly optimistic, but it is sanguine about things getting better for the company.
Assets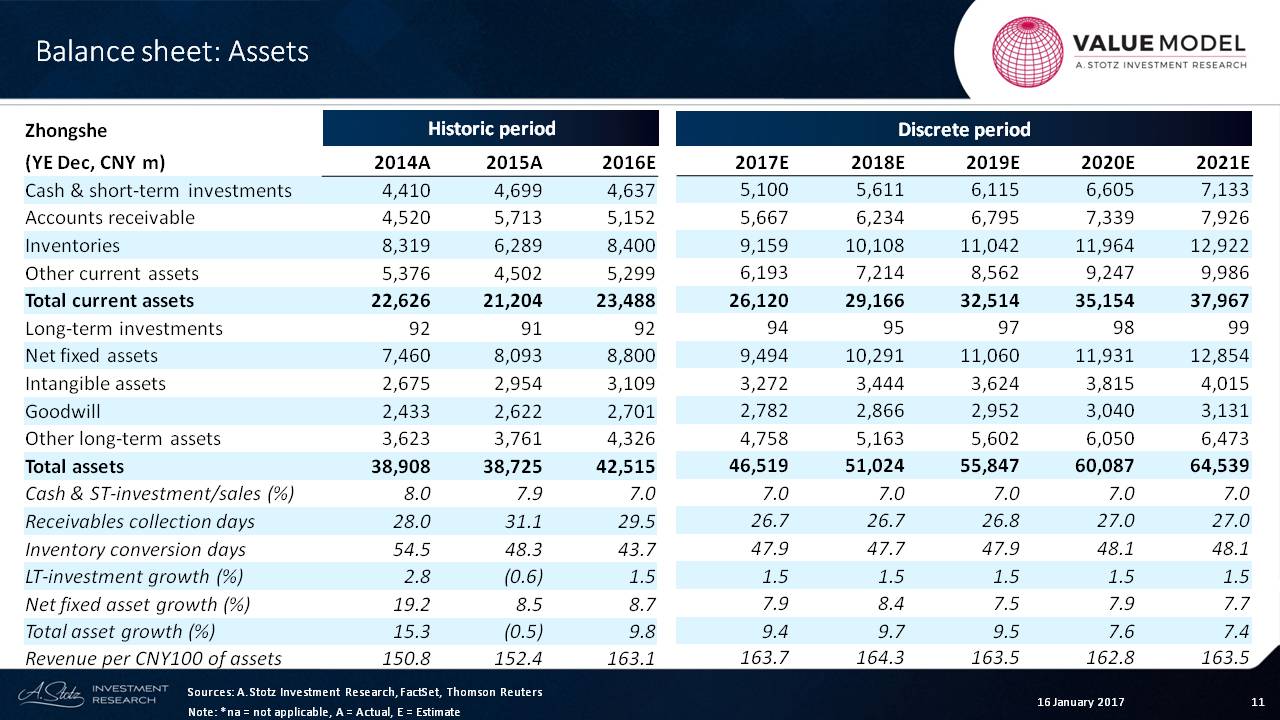 Now, let's take a look at the assets of the company and understand a little bit about what's going on.
First of all, I'm expecting that they'll slightly tighten their receivables collections. The company is trying to reduce the number of days that it takes for them to convert the inventory to sales.
They've already brought it from 54.5 down to 43.7, so I'm going to be a little bit pessimistic and say that it's going to rise slightly.
We can also see the growth in total assets, which starts at about 10% and then trails down to about 7% or so.
I like to look at my growth and my revenue relative to the growth of my assets.
The company generally has more revenue per assets in place, and I expect it to basically stay flat from where it is right now.
Liabilities and Equity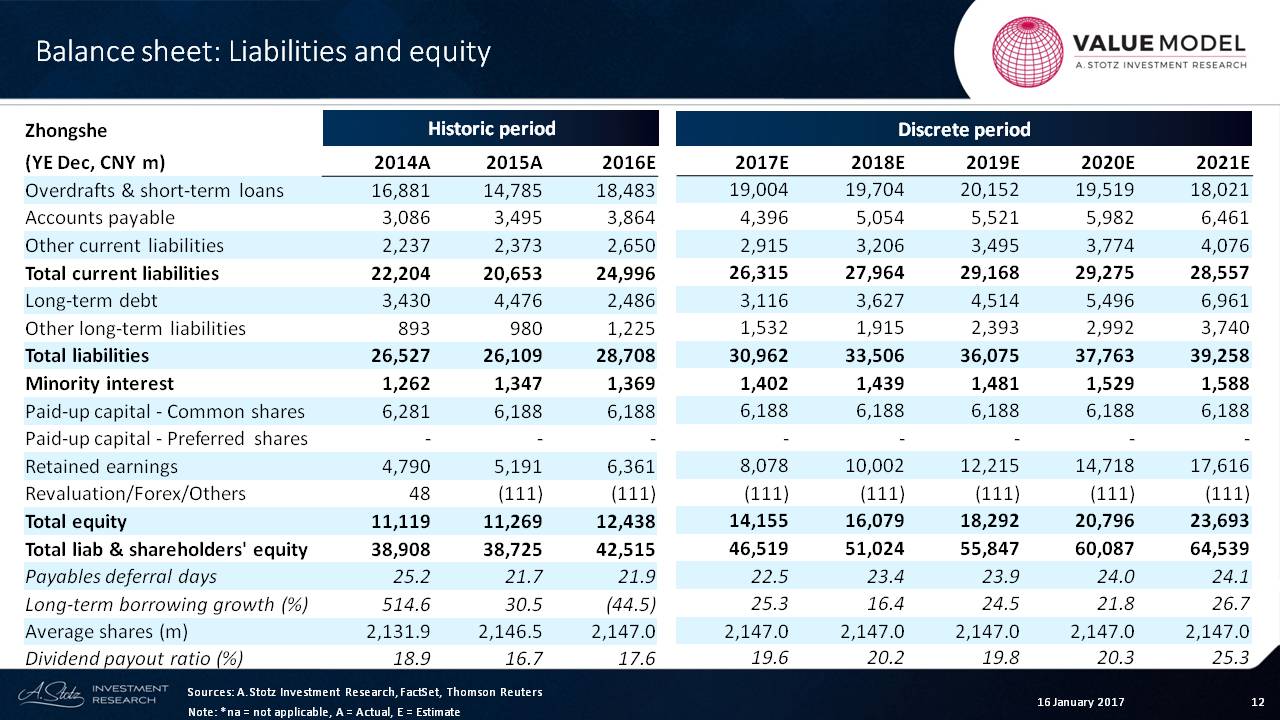 One of the things we can see on the liability side is that they do have a lot of short-term borrowing, and I think that's going to remain the case. In fact, the company doesn't do a lot of long-term borrowing, and that may be something that changes over time, depending on what's happening with interest rates at that time.
What we can also see is that the company's dividend payout ratio has been between 15% t0 20% up until now, and I'm going to bring it up to 25% by that period of time.
Cash Flow
The thing that I look at very carefully in cash flow is what's happening with the net working capital. And when you're forecasting for any company, net working capital is really an outcome of your forecast. Sometimes, it can be a bit strange, so you want to make sure that it's usually negative. The point is that this is an investment for growth.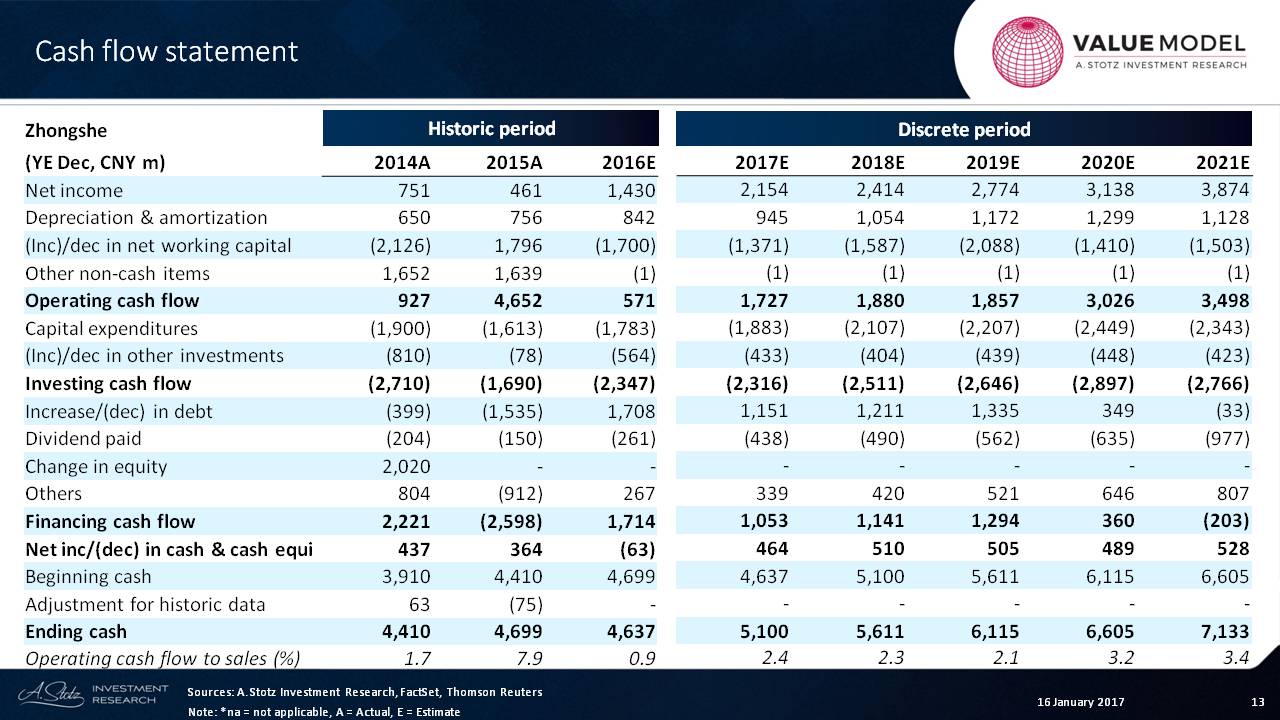 And then, you've got CAPEX, which you can see increasing steadily over time.
Free Cash Flow
So we want to take those forecasts and then produce a free cash flow output.
With free cash flow, the things that I look at are the CAPEX and the change in the working capital.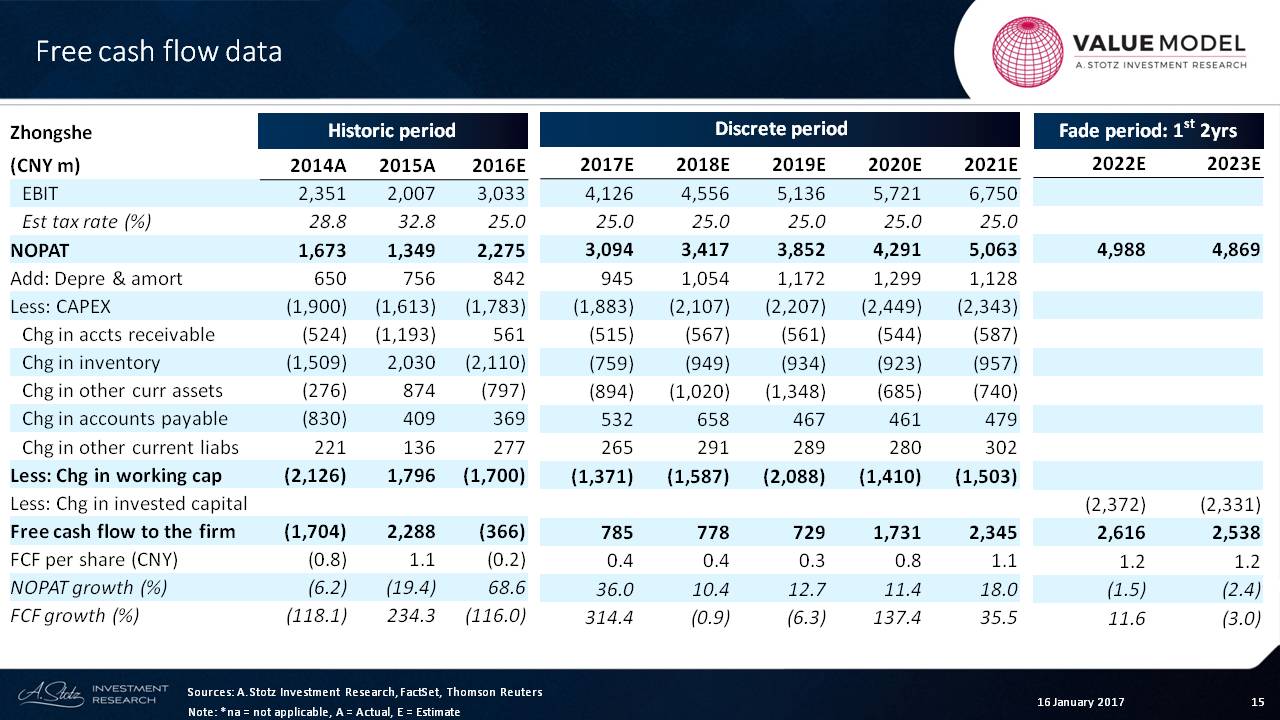 The result of those two items, plus NOPAT, in adding back the depreciation, gives us free cash flow to the firm.
And then in my model, I'm always looking at a fade period of about five to ten years ? and this is just showing the first two years of that fade period ? so we can understand what's happening with the free cash flow over that timeline.
Invested Capital
The company has seen a recovery in the return on invested capital, and I think that that's going to continue. That's what we're forecasting here.
We can see the amount of invested capital that's in the company.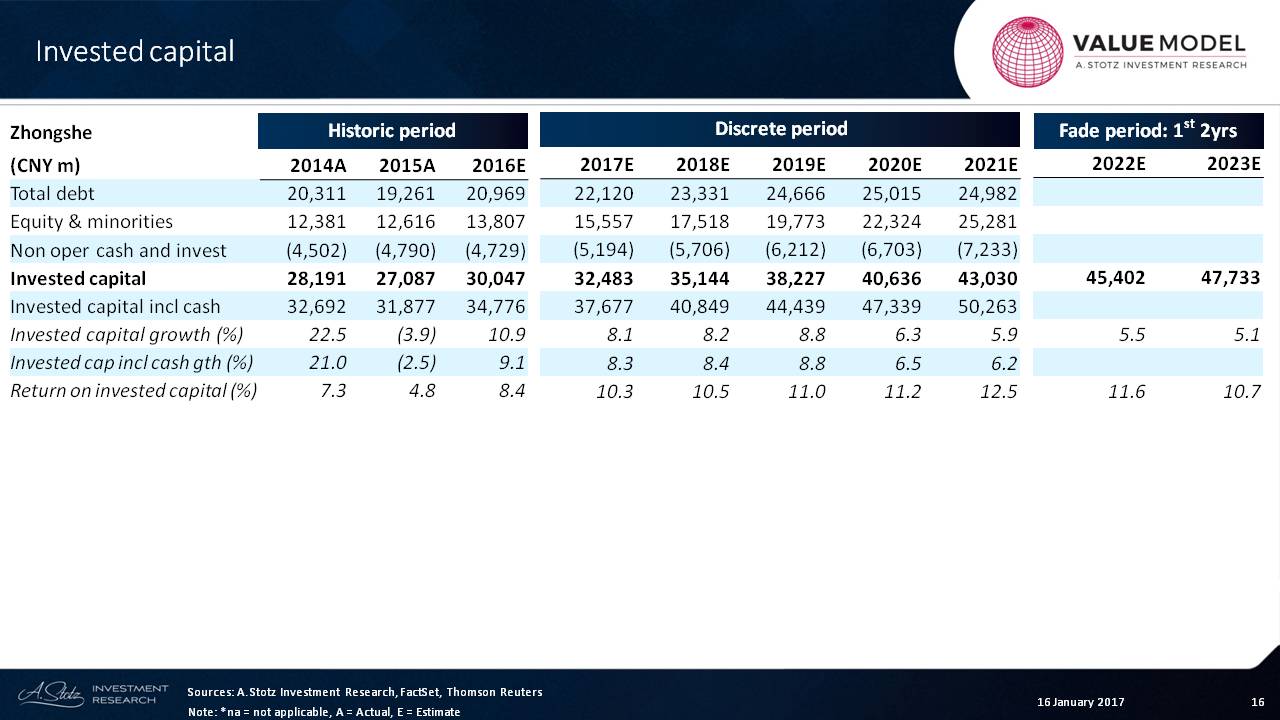 Per Share Data
The earnings per share is going to grow at, let's say, 49%, 11%, and 15%. Because dividend payout ratio is going to rise slightly in 2021, the amount of growth in dividend per share is very high.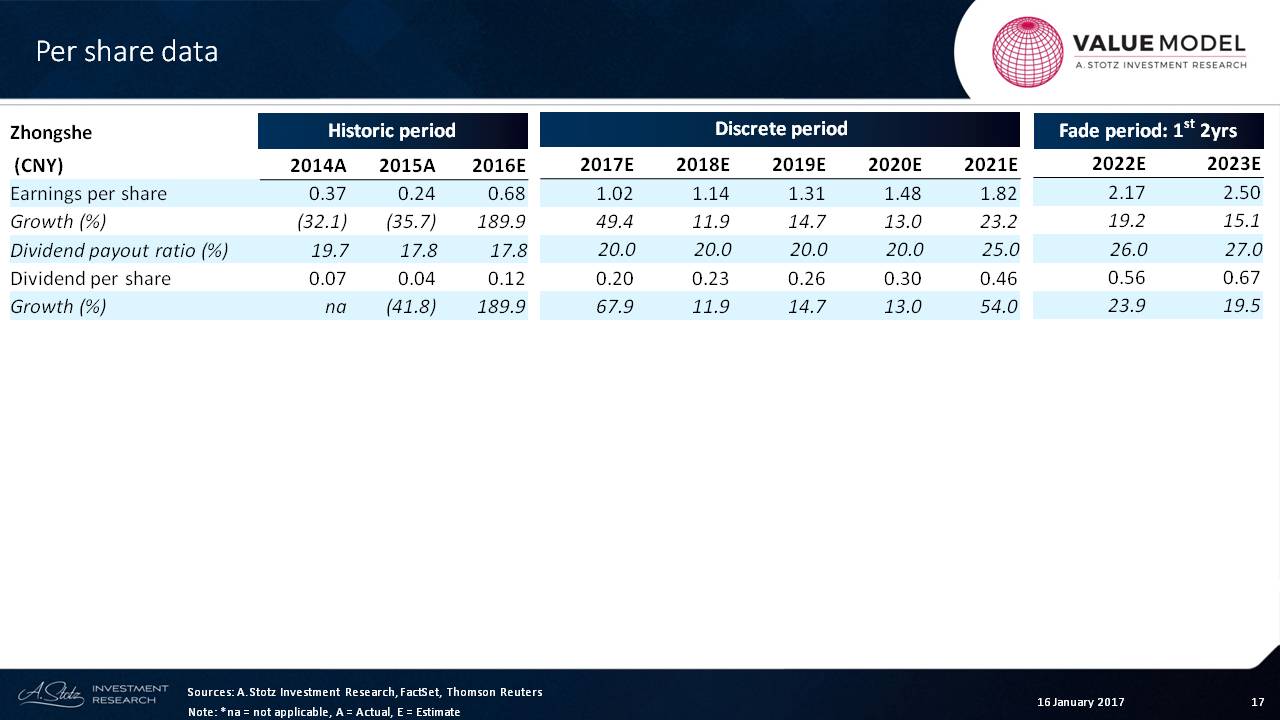 We always want to be careful when we're increasing our dividend payout ratio. It must be done gradually. Otherwise, you get these massive jumps that may or may not really make sense.
My gosh, who really knows anything about what's going to happen in 2021, anyways!
Cost of Capital
Let's move on to the cost of capital assumptions. Here I'm going to use the Hong Kong market return, because that's where the company is listed. And what we can see is that the market risk-free rate has been about 1.5% to 2%, but I think that's going to go up, since it's been