The most important thing an equity research analyst needs to have is his or her brain.
But apart from that, I thought it would be helpful to put together a list of things that help analysts do their jobs well and make their lives easier.
To come up with this list I looked around at my own desk, looked at my own life, observed colleagues, and spoke with equity research analysts at various companies.
I think any of these items would make a great gift for the equity research analyst or value investor in your life, especially with Christmas coming up. Or just buy a gift for yourself!
1. Financial Calculator
A good equity research analyst should never leave home with his or her calculator.
The HP 10bII+ was the first financial calculator I ever owned. It's an entry level one ($25 on Amazon) and it's permitted for use on the CFP Certification Exam – but not on the CFA Exams.
The HP 10bII+ is the smart choice for business and finance needs.
You'll be able to work quicker and more efficiently with over 100 time-saving, easily-accessible business functions.
Easily calculate loan payments, interest rates and conversions, standard deviation, percent, TVM, NPV, IRR, cash flows, and more.
With so many useful features, and an affordable price, the HP 10bII adds up to a wise investment. Permitted for use on the CFP Certification Exam.
The HP 12CP is a classic financial calculator, used by many old school bankers and finance gurus.
It's permitted for use on the CFA Exams. However, the horizontal layout may take some getting used to.
High Quality and Durable
Portable Design
Energy Star Certified
Robust and versatile financial calculator
Over 120 built-in functions for business, finance, mathematics, and statistics, including date calculations
Efficient data entry using RPN
Small size; easy to take anywhere
Long battery life
The Texas Instruments BA II Plus – and in particular its bigger brother, the Texas Instruments BA II Plus Pro – are the best financial calculators around. The BA II Plus has 1,700 customer reviews and an average 4.4 star rating on Amazon. The
BA II Plus is diffinately great value, but if you want something that looks a little fancier, the BA II Plus comes with a nice high quality silver/metallic finish. Both calculators are permitted for use on the CFA Exams.
Performs common math as well as various financial functions
Worksheet mode includes tables for amortization, bond, depreciation, and compound interest
Built-in memory for storage of previous worksheets
Can perform cash-flow analysis and advanced list-based statistics
Slide-case included to protect screen
2. Notebook
Equity research analysts take a lot of notes, whether it's during internal discussions, management meetings, or investor calls. A lot of notes equals a lot of paper, so having a good notebook is essential.
The Mead Spiral Notebook is the classic notebook. They're ubiquitous in grade school, high school, and college. There's no reason you can't use them as an equity research analyst, too. Get the black ones to look more professional or get different colors to categorize based on different companies/projects/deals.
Includes twelve, 1-subject, spiral bound notebooks with assorted color covers; colors received may vary
70 sheets of double-sided college ruled paper
Spiral bound with spiral lock to prevent snags.
The Black n' Red Business Notebook gives a lot of bang for your buck. It's a very stylish looking notebook but for less than what the premium noteboo brands charge. Options include soft cover wirebound (pictured on the right), hard cover wirebound or casebound.
Business notebook with durable poly covers easily wipe clean, while the elastic strap provides secure closure; 70 sheets, ruled
Twinwire binding allows the notebook to lie flat or be folded back, to suit your writing style
With high quality, smooth 90gsm Optik Paper that reduces ink bleed to write on both sides of the page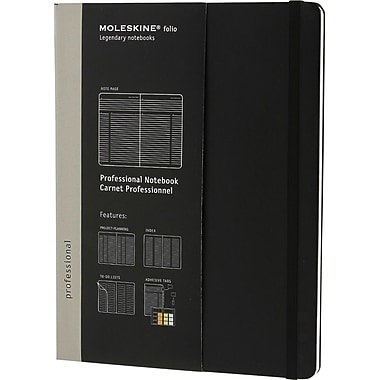 Moleskine definitely has the most professional-looking notebooks around.
Layout: Ruled Paper
Dimensions: 8-1/4? x 11-3/4?
Hard Cover with elastic closure and bookmark ribbon.
Color: Black
Pages: 176
Internal Pocket
Paper Weight: 100 gsm/68 lb.; FSC Certified Paper; Acid-Free (pH Neutral)
3. Pens
Got your notebook? Great! Now you're gonna need a pen.
Good: Pilot G2 Retractable Premium Gel Ink Roller Ball Pens
The Pilot G2 Pens are great. Try them out just once and you'll get addicted to how smoothly they write.
G2 writes longer than the average of the top branded gel ink pens.**
Contoured rubber grip for writing comfort
Box of 12 extra fine point pens with black ink
Dynamic Gel Ink Formula that's smooth writing and smear-proof – Retractable and refillable.
If you're looking for something a little more stylish, the Zebra F-701 is a beautiful yet inexpensive pen made out of stainless steel.
F-701 Retractable Ballpoint Pen is made of professional-grade stainless steel from tip to clip
Designed to prevent corrosion
Easy-to-hold knurled metal grip provides writing stability
The Parker Urban Black and Gold Fountain Pen is the Cadillac of pens. You'll definitely be turning heads when you pull this baby out during a meeting.
Urban's dynamic curved design offers a bold modern look that dares to be noticed.