"The Hunted" May Become "The Hunter" by Global Slant
It was a little over two years ago that Rupert Murdoch's Twenty First Century Fox [FOXA] proposed a buyout of Time Warner [TWX].
Naturally, TWX stock soared on news of the proposal while FOXA shares simultaneously tanked as Rupert Murdoch's penchant for over-paying [i.e. Dow Jones] was on full display [see below chart]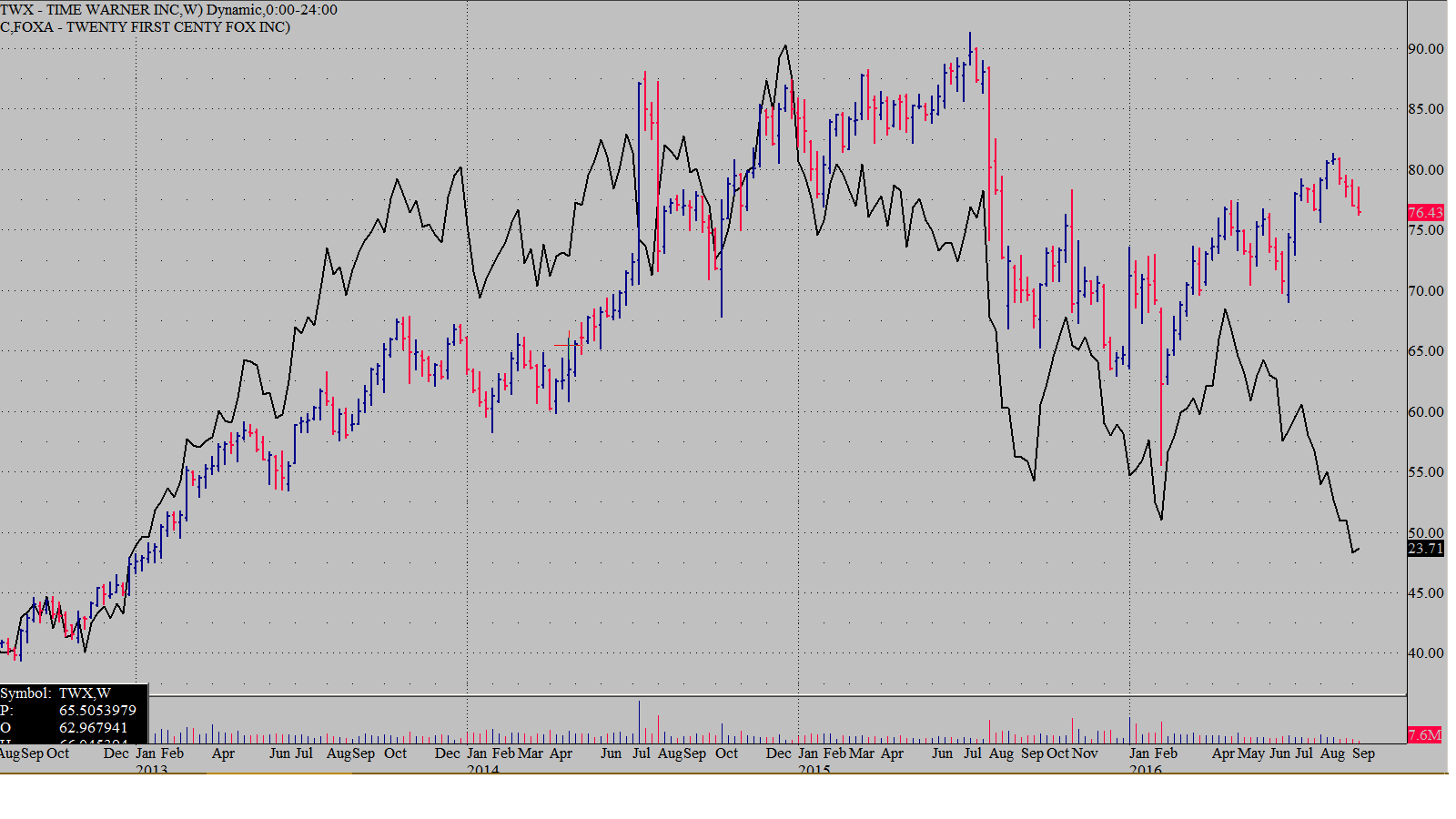 Furthermore, the stock + cash deal had a nasty little detail. That is, the FOXA shares [to be used as equity currency] were non-voting. So, if a deal were to be completed, TWX shareholders would have no voice in the combined companies affairs.
[drizzle]"Adios Rupert" was the blunt message from TWX's Board of Directors.  A harsh reference to a lack of confidence in FOXA's management team to effectively steer the combined enterprise was also communicated [see below]:
"There is significant risk and uncertainty as to the valuation of Twenty-First Century Fox's non-voting stock and Twenty-First Century Fox's ability to govern and manage a combination of the size and scale of Twenty-First Century Fox and Time Warner;"
************************************************************
Murdoch quickly "cut and ran"…dropping the bid after being advised that a deal could only be achieved with significant dilution to FOXA shareholders.
In the past this disregard for shareholders might not have deterred him but he had obviously met his intellectual and strategic match in TWX. He had also, unwisely, spent all of his financial payload with his first and only bid.
Surprising many he quickly reversed course and, not only did Murdoch drop the bid, he initiated a multi-year share repurchase program that will conclude shortly at $9B.
A manic, but welcomed, flip-flop for shareholders. But manic once…likely to be manic again…which is a serial concern for FOX stakeholders.
************************************************************
And to be sure…there was no way that TWX, with its legacy of strong business', would EVER sell-out to "relative" upstart Murdoch…not to say that the FOX asset base is not attractive.
It absolutely is…but it is being managed by an unproven senior level executive team…that is, Murdoch's two "forty-something" sons.
This explains the "2-turn" EBITDA discount  [ex: SKY valuation] to its peers.
Murdoch's progeny, in time, may overcome this reduced valuation metric if they are consistently credibility…or not.  But existing shareholders are not too keen on the phrase "in time".  For them the time = NOW…not the future.
And, ironically, NOW may be the time for TWX to make a very bold move to acquire FOX…and Mr. Market seems to be encouraging them…as both the data below and price chart above illustrate.
Furthermore, though the visual chart arbitrage has recently and quite clearly bulged, a slow motion [two year] EV arbitrage process has also become quite dramatic.  The absolute EV metrics have completely flipped in TWX's favor.
Frankly, the market is offering [via a valuation disparity to FOX] TWX management the opportunity [for now] to make a strategically bold move to acquire FOX while maintaining majority voting control of the combined enterprise.
************************************************************
July 2014
Equity Cap + Net Debt = Enterprise Value [EV]
FOXA: 79.09 + 13.64 = 92.73
TWX: 75.25 + 15.42 = 90.67
Sept 2016
Equity Cap + Net Debt = Enterprise Value [EV]
FOXA: 44.48 + 15.93 = 60.41
TWX: 62.01 + 19.33 = 81.34
************************************************************
Is TWX  management actually tempted, with its premium valuation, to acquire FOX?  Maybe…Maybe Not.  But TWX CEO Bewkes must, at least, be considering it.  With the financial metrics now inverted, from two years ago, he may even be salivating over the possibility.
An opportunity to swipe Murdoch's precious media gem, with Wall Street's valuation endorsement, after Fox's both unsolicited and unsuccessful "push" to merge…that may be too good to "pass up".
Recall that Murdoch was proposing a merging of assets but not of senior management. The non-voting equity was effectively a "persona non grata" to TWX executive management.  The not so subtle insult is likely still not forgotten by Bewkes et al.
************************************************************
Nevertheless a deal only gets done if FOX acquiesces …given Murdoch's stranglehold over FOX's voting rights.
But that does not necessarily mean that a deal cannot occur.
It simply requires a fair amount of legal bribery [in the form of a richly valued offer …which TWX can clearly afford]. FOXA [non-voting] shareholders can then use the offer as a stump to argue their case to Mr. Murdoch…given the massive under performance of the equity over the past 24 months.
Even then Murdoch has the legal right to JUST SAY NO. However, FOX's Board of Directors,  do have an obligation to examine any legitimate offer.  And an offer from TWX would definitely qualify as legitimate…especially since Murdoch attempted to piece together the two companies just 26 months ago.
It is interesting to note, also, that activist investor Jeff Ubben of ValueAct now sits on Fox's board [unlike two years ago]…while his firm owns, at least, 47.3M shares…currently valued at just over $1B. The cost basis, though, appears to be much higher. You think he wouldn't be interested in striking a deal?
Finally, there is no possible scenario where FOX can rationalize a defensive "Pac-Man" re-acquisition attempt. It's equity is trading at/near a 52 week low and its EV [Enterprise Value] = 25.73% less than TWX's….and as previously mentioned…two full turns lower EV/EBITDA multiple.
So it is not as easy of a "slam dunk" NO for Murdoch as it initially appears to be.
************************************************************
Moreover, the strategic rationale for a business combination between these two companies is even stronger than it was, two years prior, as the global media landscape  evolves with even greater opportunities and challenges…particularly for these two premier content providers.
To start off, the synergies between the two film studios [20th Century Fox + Warner Brothers] and cable operations [primarily Fox News + CNN] are considerable while the negotiating clout [with global distributors], due to the aggregated content density, would be tough to counter.
Plus, the non-overlapping businesses [TWX's HBO/Cinemax + FOX's international operations in Sky Europe + Star India] could immediately lever each other.
FOX's domestic television network  content could also recycle its content on TWX's Turner assets [TNT/TBS].
The combined network/cable sports aggregation [domestic + international] would be newly formidable…severely narrowing the gap versus Disney's ESPN.
************************************************************
Over the years both companies have smartly shed non-core assets to focus on video content creation as TWX divested Time Inc's magazine assets + Time Warner Cable while FOXA spun off it's slower growth newspaper and book publishing assets etc. into News Corp [NWS].
Also, the combined company would immediately match Disney's [DIS] $58B in annual revenues and actually exceed it in EV.  And, in this particular business, BIGGER = BETTER as the global market opportunity requires substantial capital.
Financially, aggregated annual EBITDA [before synergies] > $14B.   And both firm's are already FCF positive with investment grade credit ratings.
************************************************************
Although it might be difficult to envision Murdoch completely selling out to TWX he might be willing to cede some control…given the successor powerhouse company that could immediately be created…rather than slowly grinding, potentially, toward that same goal…so far into future that it would likely exceed this octogenarian's life span.
Obviously, the EGOS = HUGE…on both sides of this entertainment equation.  But what better than creating the globe's most influential  entertainment + televised news conglomerate?
Talented managers, from both companies, would likely stay engaged as the volume of current work + future opportunity = MASSIVE.
And together, considering the