Connecting The Dots: NagaCorp – An Undiscovered Cambodian Gold Mine By Tony Sagami, Mauldin Economics
Are you a gold bug? If yes, do I have a gold mine for you.
Not a hole in the ground that produces the yellow precious metal, but a proverbial goldmine of a business that throws off profits with incredible regularity.
CIO Of One Of The World's Most Successful Hedge Funds Presents His Top Long And Short
Egerton Capital was co-founded in 1994 by John Armitage. Since then, the firm has yielded huge profits for its investors. Some estimates put the total value of investing earnings at over $20 billion, making it one of the most profitable hedge funds of all time. Q3 2020 hedge fund letters, conferences and more SORRY! This Read More
I'm talking about one of the most consistently profitable casinos in the world tucked away in a remote part of Asia. It's called NagaWorld and is located in Phnom Penh, Cambodia.
Cambodia? Really?
Few Americans, including those on Wall Street, have ever heard of this undiscovered goldmine. Don't let the Cambodian location bother you, because the company, NagaCorp (NGCRF.PK), is traded right here in the USA.
Cambodia had always been on my travel bucket list because I wanted to see Angkor Wat, the ancient temples of the Khmer civilization and the largest religious structure in the world.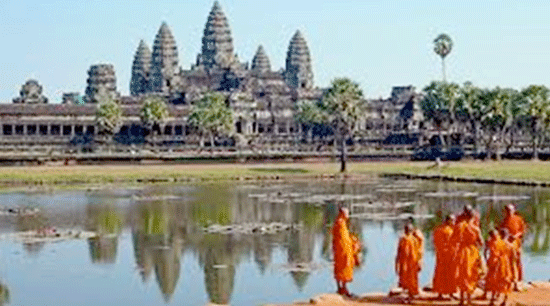 I finally had a reason to visit Cambodia when the Cambodian Stock Exchange opened its doors for business. Cambodia is one of the last Southeast Asian nations to open a stock exchange, trailing neighboring Laos, which opened in 2011.
I did get to tour Angkor Wat, and it was one of the most amazing man-made sights I have ever seen in my life. I highly recommend you see it for yourself.
However, as magnificent as Angkor Wat is, I was also interested in learning more about the Cambodian economy and checking out a promising Cambodian company.
Cambodia: Asia's Hidden Investment Gem
Cambodia, a nation of 15 million people, may be one of the last places investors think of when looking for a place to invest money.
Americans may know Cambodia best for the brutal rule of Pol Pot and the Khmer Rouge government in the 1970s, during which an estimated 2 million people died from starvation, exhaustion, torture, and genocide.
Pol Pot not only murdered his own people, he also killed Cambodia's economy. His warped vision of communism was to turn Cambodia into an egalitarian and self-reliant agrarian society. To do so, he and his Khmer Rouge set out to eradicate capitalism: closing businesses, shutting down all the banks, phone lines, and post offices. He banned property ownership as well as religion and eliminated the currency.
Since the fall of the Khmer Rouge almost 40 years ago, Cambodia has been coming back and is now one of the world's fastest-developing nations, with rapidly improving infrastructure development and growing affluence.
Cambodia established democratic elections, joined ASEAN in 1999, became a member of the World Trade Organization in 2004, and now has bilateral agreements with 22 countries to promote trade and cross-border investment.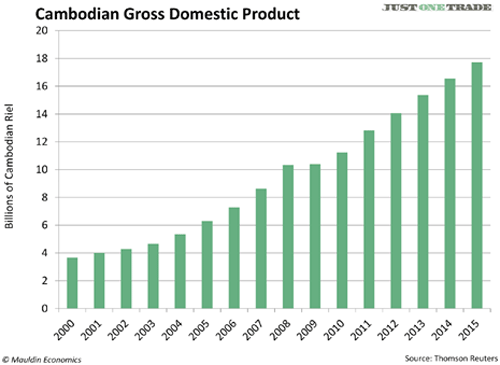 Cambodia's economic growth has been one of the fastest among Asia's developing economies in recent years, driven by manufacturing, real estate, agriculture, and tourism.
The country's economy is expected to grow 7.2% in 2016, according to the International Monetary Fund (IMF).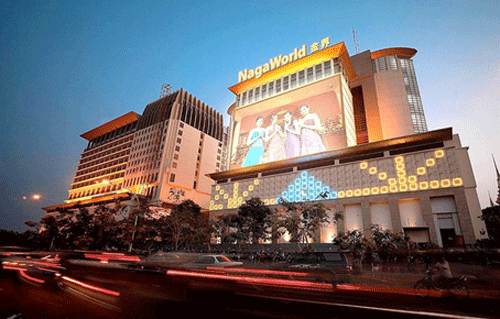 The government has identified tourism as one of the top priorities in Cambodia's economic development, and that is where we find our opportunity to make a bundle of money.
NagaCorp: Hitting the Cambodian Jackpot
NagaCorp is a casino and hotel operator, but not like any you and I have ever seen.
NagaCorp has been listed on the Hong Kong Stock Exchange since 2006. In fact, it became the first publicly traded Cambodian company as well as the first gaming-related company to be traded on the Hong Kong Stock Exchange. Its shares are also traded on the US over-the-counter market.
NagaCorp operates one casino, NagaWorld, which is a 12-story entertainment complex in the heart of Phnom Penh and on the bank of where the scenic Mekong and Tonle Sap rivers converge.
NagaWorld is a one-million-square-foot facility with 700 hotel rooms, a luxury shopping gallery, 19 restaurants, the largest convention space in Cambodia, 169 gaming tables, and 1,544 electronic gaming machines.
Most importantly, it's the only casino in Phnom Penh, the Cambodian capital of 1.6 million people, which explains why it was so packed every time I visited it.
10:00 in the morning: PACKED.
3:00 in the afternoon: PACKED.
8:00 at night: EVEN MORE PACKED.
1:00 in the morning: SO PACKED I COULDN'T FIND A PLACE TO SIT.
It didn't matter what day of the week it was either. Tuesday was almost as busy as Saturday and Sunday. And I was there during the "slow" tourist season.
All the dealers, waitresses, tuk-tuk taxi drivers, and locals I talked to confirmed that NagaWorld stays busy all year long. Let me tell you, any casino with that much business has got to be making a mountain of money.
4 Reasons to Invest in NagaCorp
Reason #1: You Gotta Love Monopolies.
NagaWorld opened in 1995 and was granted a 70-year casino license that runs until 2065. That's very good, but get this: the Cambodian government awarded NagaCorp a 41-year monopoly within a 200-kilometer radius of Phnom Penh until 2035.
Yup, a monopoly that guarantees that NagaWorld will be the only casino in Phnom Penh. You just couldn't ask for a sweeter deal than that.
If that isn't juicy enough for you, the Cambodian government sweetened that already unbelievable deal by granting NagaCorp a super-special tax advantage. The company pays a very favorable fixed license fee of $365,322 per month on gaming operations and $214,338 per month on non-gaming earnings. The result is that NagaCorp paid just $6.9 million in taxes in 2015, a measly 2% tax rate!
That percentage will shrink as NagaCorp's revenues/profits increase.
Reason #2: Profits on Fire!
NagaCorp recently reported its full-year 2015 profits, and they were excellent; $172.6 million in 2015, a 27% increase over the previous year, on revenues of $480.6 million, a 26% year-over-year increase.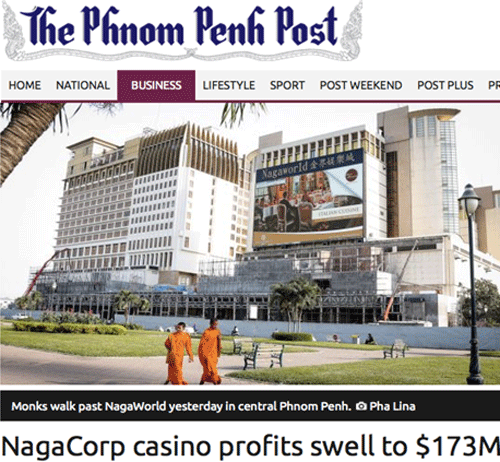 Both the mass market (regular people like you and me) and VIP market showed strong growth:
Mass Market: $257.7 million, a 33.4% year-over-year growth
VIP Market: $229.9 million, a 18.5% year-over-year growth
Interestingly, some of NagaCorp's VIP growth is coming from China.
The Chinese government has been waging a two-year-old anti-corruption campaign, which has killed the Macau gambling market. Instead, wealthy Chinese gamblers travel abroad to do their gambling now.
In June, NagaCorp cut a deal with a large VIP gambling junket operator, Hong Kong-listed Jimei International Entertainment Group, to fill and operate seven VIP gaming tables at NagaWorld.
2016 is looking good: NagaCity Walk, a high-end shopping complex next to the casino, is scheduled to open this summer, which should provide an immediate boost to sales and profits.
Reason #3: Cambodia's Booming Tourist Traffic.
In the first nine months of 2015, a total of 3.3 million international tourists visited Cambodia, which is up 4.6% from the same period in 2014 and a gigantic jump from just 500,000 in 2000.
Many of those tourists are there to see Angkor Wat, but a big chunk of them find their way to NagaWorld. NagaWorld has become one of the most-visited sites in Cambodia, and the increased traffic translates into greater business volume.
NagaCorp is as much of a play on the growth of Cambodian tourism as it is a casino stock. As long as the number of tourists flowing into Cambodia increases, NagaCorp is going to continue to deliver growing sales/profits.
Reason #4: Fat Dividends.
Compared to US stocks, many Asian companies—including NagaCorp—pay out a higher portion of their profits to shareholders in the form of a dividend.
That dividend, however, is variable and fluctuates up and down with profits. Given its booming business, I think it is very reasonable to expect NagaCorp's dividend to increase over time.

In 2014, NagaCorp paid 4.5 cents per share in dividends and another 4.8 cents in 2015.
I know 4.8 cents doesn't sound like much, but it is very juicy when you consider that NagaCorp is roughly a 60-cent stock. Yup… 60 cents… so we are talking about an 8% dividend yield based on the 2015 dividend and current prices.
NagaCorp pays out two dividends each year, one in the spring and one in the fall, so you'll have to wait until April to collect your first dividend check.
And in case you're still skeptical about the financial stability of NagaCorp… don't be. The company has a pristine balance sheet with zero debt and US$226 million of cash in the bank.
Here is a free, 6-minute Bloomberg interview with CEO Timothy McNally that is worth viewing.
As I said above, NagaCorp is as much of an investment in the Cambodian economy as it is a casino stock. Cambodia is growing like crazy, and NagaCorp is going to be one of the biggest beneficiaries from that economic growth.
Secondly, you can almost think of it as a quasi-single-country ETF. If there were a Cambodian ETF, I would recommend it instead.
Lastly, NagaCorp is really the only option for US investors to invest in Cambodia—and it's a good one.
Plus, NagaCorp is traded right here on the US over-the-counter market, which means you don't have to open an account in Cambodia to buy its stock.
Some of you may not have bought an over-the-counter stock before, so here is a little background.
The Ins and Outs of the OTC or Pink Sheets Market
The over-the-counter market is also referred to as the "Pink Sheets."
Unlike companies on a stock exchange, companies quoted on the pink-sheets system do not need to meet minimum requirements or file with the SEC. The name "Pink Sheets" comes from the color of paper quotes were historically printed on.
Any stock that trades on the Pink Sheets falls into one of these two categories: (1) companies that don't meet the listing requirements of the New York, American, or Nasdaq stock exchanges; or (2) companies unwilling to jump through the regulatory hoops and filings that accompany a listing on the major exchanges.
Many foreign companies—such as Volkswagen, Nintendo, Nestlé, and Bayer—see no reason to go through the expense and trouble of opening/maintaining a US accounting department and a US legal department to meet the listing requirements of the US exchanges.
These established foreign blue-chip companies already meet all the listing and reporting requirements of their home country and simply make their shares available on the over-the-counter market for US investors.
The over-the-counter market is the easiest way for US investors to buy NagaCorp (NGCRF.PK).
Now, I'm not suggesting you rush out and buy NagaCorp tomorrow morning. As always, timing is everything and you should always do your own research before making any investment.
However, I believe that NagaCorp is one of the most compelling values you'll find, which is why my Just One Trade subscribers already own it. Yes, I am guilty of "talking up" my own book, but I wouldn't tell you about NagaCorp unless I truly thought it was a fantastic company.


Tony Sagami
30-year market expert Tony Sagami leads the Yield Shark and Rational Bear advisories at Mauldin Economics. To learn more about Yield Shark and how it helps you maximize dividend income, click here. To learn more about Rational Bear and how you can use it to benefit from falling stocks and sectors, click here.
Sign Up For Our Free Newsletter