If Straight Path Has A Problem, IDT Might Have A Bigger One GeoInvesting, LLC
Summary
We researched 37 sites listed on IDT's 2011 39Ghz FCC licenses and found that almost nobody had heard of IDT and that no one, to their knowledge, houses their equipment.
IDT was the company that housed Straight Path's 39Ghz licenses prior to a spin off.
Straight Path's spectrum quality, often touted as the selling point for the company as cell phones look toward "5G", has been called into question by Kerrisdale Capital and Sinclair Upton.
Sinclair Upton Research alleged that 39GHz radio installations necessary to receive license renewal in 2011 never happened and thus, renewal was granted under fraudulent pretenses.
Straight Path may have now actually admitted as much in a recent 8-K, stating that, upon its investigation, a "significant amount of equipment" is "no longer present at original locations".
The Next Chapter in the Straight Path Saga is IDT
By now, investors are probably already aware of the criticisms that have been launched against Straight Path Communications (NYSEMKT:STRP) and its portfolio of 39 GHz spectrum that has ostensibly been the enticing asset for investors who are interested in investing in the next wave of "5G" communications. The arguments as to why this may be misleading have been expounded upon in depth by Kerrisdale Capital in a recent presentation. While most people are familiar with the Straight Path story, few look into the parent corporation, IDT Corporation (NYSE:IDT), which spun off Straight Path and bestowed upon it the licenses that comprise most of Straight Path's assets.
We know that Kerrisdale Capital has been overtly critical of Straight Path and we have also seen criticisms in two reports by Sinclair Upton Research. In these reports, Sinclair Upton alleges that IDT may not have set up the necessary infrastructure in order to properly receive its 39Ghz license renewals from the FCC in 2011. As part of the renewal process, the FCC requires that infrastructure, including the type necessary to theoretically operate a network, be set up when applying for licenses (ostensibly so that people can't just buy up wireless spectrum and hoard it).
You can read all of these previous critical reports by using these links:
Kerrisdale Capital critical report on Straight Path Communications, issued October 2015
Sinclair Upton critical report on Straight Path Communications, issued November 2015
Sinclair Upton update report, issued on December 3, 2015
While these reports have had a clear effect on Straight Path's share price, none of them seem to have had an effect on IDT's share price, which has been in a steady decline for the last 12 month period on its own.
[drizzle]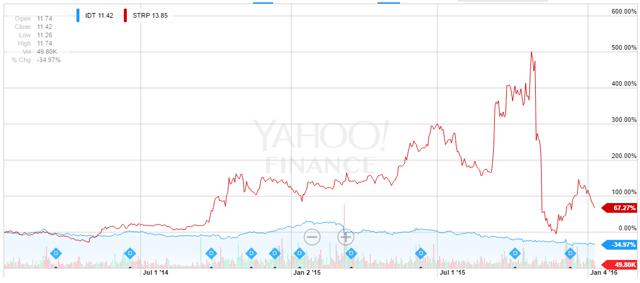 Again, IDT is the company that spun off of STRP as a housing vehicle for its 39 GHz licenses.
Sinclair Upton's research alleges that there is "overwhelming evidence that the vast majority of Straight Path Communications' 39GHz spectrum licenses' Required Notification of Construction /Coverage applications were obtained under fraudulent misrepresentation because the systems were never built on the sites as specified in the filings."
The Sinclair report is alleging that 39GHz radios and other equipment that needed to be deployed in order for IDT to receive license renewals were never set up and that IDT lied to the Federal Communications Commission, which could constitute fraud. We believe that if this is found to be true, this could get back to not just Straight Path, but IDT as well.
Sinclair also claims in their report that "almost all of the 39GHz systems that are claimed to be 'constructed' by IDT to provide Substantial Service as required for their 39 GHz license renewals in 2011-2012, cannot possibly have been able to meet their performance specifications, as their purported systems defy the laws of physics, geometry, economics and commons sense. Readers, investors, and the FCC can easily verify for themselves that IDT's systems were never built or operating at the time of renewal."
These allegations seemed suspicious enough that we wanted to give it a look.
Like with all of our projects, we conduct our own due diligence instead of relying on the research of others. Knowing that there were well over 100 of these applications/sites filed in 2011, we wanted to take a larger cross section than Sinclair's three sites and reach out to property managers of the locations in question. Our intention was to try and determine if other antennae/radios had been placed, or if Sinclair's three location cross section may have led it to erroneous conclusions.
In this article, we review our results, which corroborate previous allegations that little or no equipment was set up, or remains set up. We believe our findings may culminate in a regulatory situation that may have backlash for not only Straight Path's investors, but also IDT's investors as well.
The Company Admits It Has Found Irregularities
In Sinclair's original analysis, they examine three different examples:
North Platte, NE – Sinclair claims that "all buildings in the area are 1 story tall and that there are no cell phone towers or tall structures in the vicinity"
Twin Falls, ID – Sinclair claims that "there are no buildings around higher than 5 stories tall, no cell phone towers or large structures to place an antenna"
NY/NJ/LI – Sinclair claims that copied and pasted applications for this area erroneously reference the "San Francisco-Oakland-San Jose" market despite the application not being for that area
After these allegations came to light, Straight Path on December 1st, filed the following 8-K, stating:
The preliminary results of our investigation into the renewal allegations indicate that a significant amount of the equipment that had been installed in connection with the substantial service showings is no longer present at the original locations. We have informed the FCC about the status of our investigation. We have arranged for replacement equipment to be procured and deployed, as we continue to prepare to deploy upgraded equipment later in fiscal 2016 for point-to-multipoint (PMP) applications at 39GHz, while pursuing our long-term plans for providing 5G mobility services using our licensed spectrum. The point-to-multipoint equipment is being produced by Cambridge Broadband Networks Ltd., a leader in development of PMP technology. To date, we have invested $1 million to expedite Cambridge's production of a PMP product for 39 GHz spectrum.

We cannot, at this time, give any assurance as to how the FCC may proceed in this matter. If the FCC were to disagree that we have complied with its rules, it may impose fines and/or additional reporting or operational requirements, revoke or condition our licenses, or take other action.
Could the lack of equipment at original locations be because it was never there to begin with?
And if it was never there to begin with, what are the implications for IDT, the company that was in charge of filing the renewals back in 2011, before it spun off the licenses