Below is a portion of my article published on Seeking Alpha on Suncor's bid on Canadian Oil Sands. I got a few questions regarding the bid so I decided to write a post to address some of the concerns. Full article at Seeking Alpha (free one).
---
Summary
Suncor Energy looks opportunistic. The 43% "premium" sounds generous but is much lower than most investor's average price.
Suncor Energy is a much better company than Canadian Oil Sands. It's Suncor's low offer that seems to be the issue, not the share exchange.
The current market price of COS expects a better offer from Suncor or a rival bid.
Investors seem very split. This article is a provide guidance and a break down of the offer.
Canadian Oil Sands : OTCQX:COSWF, TSX:COS
Note: Dollar amounts are in Canadian $ unless mentioned otherwise. USD-CAD 1.3047 Price of 1 USD in CAD as of October 6, 2015.
I woke up Monday morning with a Bloomberg notification saying that Suncor has made a hostile takeover bid on Canadian Oil Sands. The offer came in as a surprise and caught everyone off guard. Let's just say it's not very "Canadian" to go hostile, especially in the oil sands close circle. Then my phone started to ring and my inbox filled up with questions from investors on what they should do. People seemed more stressed than usual. I believe the source of stress is due to people feeling pressured to make a decision and since it's related to money they want to make the right one. Another layer of stress is that most investors are likely losing money on their position on COS, which is a painful position to be in. Accept the offer and lose less money, or don't accept and lose more money while hoping that oil prices recover one day, or sell when the stock is trading at a premium to the offer. One only needs to read the comment question of news article to see how emotional, opinionated, and split investors are regarding the bid.
First you can relax because you have until December 4, 2015 5:00 pm to make a decision. A lot can happen until then. I would also suggest you read the Take-Over Bid Circular. It lays out the offer and a lot of details. It's a very legal boring document to read but there's section that covers the essential. Plus reading it will make you a more informed investor.
People were quick to react on the little information they knew. A lot of the questions seemed to surround what they should do, whether to sell or not, or if the offer was fair, or they simply didn't understand the offer. There are things I can answer and others that I can't or will need to wait. The objective of this article is to help investors guide themselves. The following text is of general nature and does not constitute to be legal advice. For disclosure reasons I do not own any shares in COS. I own a little bit of Suncor and it's not a significant position in my portfolio. Here's what I gathered so far.
What happened?
Low energy prices have brought havoc to Canadian Oil Sands' share price. Below of is a chart of COS, Suncor over the last two years:
(click to enlarge)Source: Google Finance. Over the last two years COS lost -53.8% of its value vs –6.55% for Suncor.
Suncor has about $5 billion in cash and decided to do something about it. Suncor is making an unsolicited offer to acquire all of the outstanding shares of Canadian Oil Sands. Unsolicited means that COS wasn't seeking a buyer. Unsolicited bids are also known as hostile bids. Suncor tried twice to buy COS and the Board rejected. Suncor's offer was $11.84 on April 9, 2015(based on March 31, 2015 closing price, 0.32 Suncor/COS shares), much higher than Suncor's current offer of $8.84 (based on October 2, 2015 SU's closing price) and higher than COS's current trading price. Suncor made another offer in April and was again rebuffed. Suncor said that the latest offer reflects the 17% drop in crude oil prices since its friendly approach. It looks like Suncor really wants this company and is now going directly to shareholders. Suncor needs 66.6% (two-thirds) of the outstanding shares of COS to be tendered by December 4 2015 to have the deal to be approved. This should be an interesting vote since COS is a widely held company.
Suncor and Canadian Oil Sands have links to each other. They are both partners in the Syncrude Project. Syncrude is the largest producer of light, sweet synthetic oil from Canada's oil sands. COS has a 36.74% interest in Syncrude but it doesn't operate the project, its role is to manage the investment and its shareholders. Suncor has a 12% stake, meaning Suncor would own just under half of Syncrude if it successfully buys COS. Other Syncrude partners are: Imperial Oil with 25%, Sinopec 9%, Nexen 7%, Murphy Oil and Mocal Energy with 5% each.
The Offer
Here's a breakdown of the offer.
Suncor is offering $4.3 billion in its own stock and would take on about $2.3 billion of COS debt, bringing the total price tag to $6.6 billion. The offer is a 43% premium over the COS's closing price on October 2, 2015 and a 35% premium over the volume weighted average trading price of the shares for the 30 trading days.
Under this offer you don't get paid cash. Instead you become a shareholder of Suncor, which includes the Petro-Canada chain of fuel stations as well as its own oil & gas production and refining operations. Suncor is offering of 0.25 of a common share of Suncor for each common share of COS. This sounds simple but was the source of many questions. This is how you interpret this offer: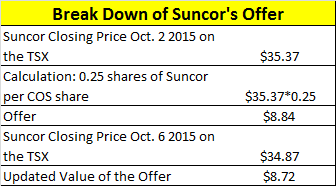 This means that the value of the offer fluctuates. If Suncor's stock price goes up, so does the offer. The opposite is also true. As a COS shareholder, you are switching your equity into Suncor.
Full article at Seeking Alpha (free one).