Applied DNA: -92.69% Downside On Fraud Partners, Opaque UK Shell Deal And Paid Stock Promotion. Strong Sell. by The Pump Stopper
Summary
Applied DNA partnered with multiple people facing jail time, fraud allegations or shut down by regulatory agencies. Tellingly, APDN has spent 6.6x more on insider compensation than R&D.
APDN's much-hyped DLA deal has now failed as APDN set to lose -61.2% of revenue next year. With just ~6 months of cash APDN is now facing imminent insolvency.
Registry docs show APDN hyped UK Petronus is opaque Limited Partnership apparently started by "directors for hire," no website and no material financials. Is this "Valeant-esque"?
APDN's 1999 era Chinese technology hopelessly obsolete as superior Synthetic DNA and competitors dominate pharma, cotton and banking. APDN endless dilution is egregious, with shares outstanding +6,600% so far.
Valuation temporarily inflated with paid stock promotion to obviously unsustainable 48x revenue level while superior peer companies trade for 1.5x. Imminent -92.62% downside in "best case" scenario.
"The Truth Will Set You Free"
I believe Applied DNA Sciences (NASDAQ:APDN) is one of the worst retail-shareholder wipeout machines I have ever seen, with insolvency risk and immediate -92.62% downside. APDN is involved with penny stock wipeout artists including Robert DePalo, indicted for defrauding investors out of $6.5m which DePalo spent on Bentleys and a $22k lawn jockey statue. APDN co-founder Richard H. Langley Jr. was charged with "conspiracy to commit securities fraud" in a nationwide FBI stock fraud sting. APDN CEO James Hayward also associated and partnered with Michael Morris and Ronald Heineman, who were barred by FINRA in October for engineering a "fraudulent scheme", among many other questionable insiders.
(picture credit to APDN)
Einhorn's FOF Re-positions Portfolio, Makes New Seed Investment In Year Marked By "Speculative Exuberance"
It has not just been rough year for David Einhorn's own fund. Einhorn's Greenlight Masters fund of hedge funds was down 3% net for the first half of 2020, matching the S&P 500's return for those six months. In his August letter to investors, which was reviewed by ValueWalk, the Greenlight Masters team noted that Read More
With a recent "Valeant-esque" relationship with questionably opaque UK entity "Patronus" full of red flags, Applied DNA faces serious accounting and financial integrity questions with confusing CFO and auditor turnover, as their latest auditor w found to have "audit deficiencies". Perhaps clarifying APDN's true reason for existence, APDN insiders have cumulatively paid themselves $33.36m which, is 6.6x total amount invested in R&D while consistent cash burn has been funded with endless dilution as shares outstanding have ballooned 6,600%. Concerning related party transactions abound where APDN CEO loaned money to his own company and then converted it into stock 2 months later at ridiculously favorable terms, turning a swift $1.41m profit for himself while apparently also deciding to have APDN acquire assets from a company he and another APDN board member were investors in.
Further research shows APDN's 1999 era Chinese product, acquired for stock over 10 years ago, is hopelessly obsolete in the face of superior competitors with modern Synthetic DNA and integrated nanotech products already established with pharma, cotton and cash customers.
Meanwhile Applied DNA's primarily retail shareholder base is missing APDN's desperate financial situation. With less than 6 months of cash burn left, APDN is now imminently facing near term insolvency as business results are set to implode. The one time nature of two non-recurring US government grants, apparently mostly pulled forward into 2015, and the failed DLA contract imploding, means APDN will lose ~61.2% of their revenue in year 2016 with no legitimate way of making it up I can find.
As a result of paid stock promotion alongside unfounded DLA, Pharma market, Textiles and "Patronus" hype, APDN stock has temporarily inflated to the valuation of 48x forecasted sales, which is clearly ridiculous for an obsolete reverse merger based on old Chinese technology lead by a group of self-enriching wipeout artists. Even assuming APDN is a "real" company and using optimistic estimates, APDN stock has immediate -92.62% downside similar to CEO James Howards other company Q-RNA.
A Brief Applied DNA History Lesson: 1999-era Chinese Technology, Reverse-Merged Into Penny Stock Shell
In 2002 APDN was born as a reverse merger into an OTC penny stock with a $2.5m equity raise based on a 15 year licensing deal with Chinese company "Biowell" for a DNA marking and authentication product created in Biowell's lab in 2001. Biowell made an unsuccessful global push to commercialize this product themselves in the 2000s when landed some US government deals while attempting to advance relationships with multibillion dollar Asian companies. While Biowell even seems to have generated some small amount of revenue, with company guidance of $10m in annual revenue back in 2004 on the back of a large scale, international advertising campaign, ultimately Biowell sales appear to have been miniscule at best.

(pic credit google images)
At the time Applied DNA licensed Biowell's technology for limited regions and APDN forecasted a "very conservative" $5m of US revenue in 2004 (reality was $638k) with the CEO stating he expected $500m+ of revenue, with "big markets" in oil/gas, textiles and microchips (sound familiar?). APDN announced lots of supposed pilot programs, partnerships with the USgovernment, including the DOE and Hologram companies, while Biowell announced deals with the USDA. Ultimately though it seems shareholders received repeated failure while APDN insiders used the stock to issue massive amounts of dilutive equity to keep the gravy train going as meaningful revenue never materialized. As one APDN insider apparently put it: APDN had "no product, no sales and no hope of signing any customers".
As Biowell and APND both failing, Biowell decided to give it up and sold the DNA product outright in a stock swap deal to the failing penny stock APDN in 2005. As a result, APDN has been in the business of trying to sell this Chinese, daisy-DNA product to companies as an authentication mark ever since.
The fundamental estimated economics of APDN's tiny business are that it sells a "license" to customers in order for the right to use their DNA marking product and for APDN to create the customer's DNA mark. This license cost has apparently been about $35-49k historically with an extra $500 per additional DNA mark any customer may need. Curiously, this price appears to have possibly increased for the DLA deal with the US government to as muchas $68k for some reason? The ~$50k estimated license ARPU can be further corroborated with the total $1.45m of 2014 DLA revenue APDN disclosed divided by the estimated ~28 DLA customers they had, for another way to estimate arpu of ~$50k. Customer cost for auditing can be another $5-10k per year and there are some modest customer setup/training costs, I estimate to be another ~$5k per initial installation. Since only the tiniest miniscule amount of ink is used per item, there is potentially a very small amount of revenue from ink used per year plus some low margin equipment which I estimate APDN has other companies manufacture and then primarily resells to its customers with minimal profitability. As you can see above, the actual unit economics for Applied DNA depend almost exclusively on up front license revenue, which is based on the number of new customers, as that is the only revenue they have with meaningful margin. I don't think any of the investment banks or retail shareholders have built out their own individual models based on the individual unit economics for each of APDN's products. This is why it is critical you understand these dynamics in order to understand how APDN's business is now imploding, as I will explain later on in this report.
Note that my opinions, research based on publicly available info and estimates are all shared below free for the public good so you can form your own views. But I think the evidence presented here is strong.
Applied DNA Partners and Insiders: Multiple Fraud Allegations and Stock Market Disasters
As with any investment of any kind, we all agree the quality of the management and insiders involved is of paramount importance. Unfortunately with APDN we have perhaps the worst collections of stock market wipeout artists and convicted fraudsters I have seen in quite some time.
I believe this mess started with co-founder and major APDN supporter Richard H. Langley in the ProHealth Medical reverse merger. At the age of 33, Richard H. Langley Jr. was charged with "conspiracy to commit securities fraud" and was a part of "the largest single set of arrests ever made in the securities industry" where he was named as one of "45 penny-stock promoters, brokers, and company officers [that] were charged with securities fraud after a nationwide [FBI] sting" leading to Langley's arrest.
For example, a schedule 13D apparently filed by Langley shows he owned 6% of Swiss Medica, Inc. (OTC:SWME) which has a suspicious looking stock price chart….

(picture credit capiq)
Another schedule 13D filed by Langley shows he owned 3% of Collaborative Financial Network Group Inc. (OTC:CFNF)

(picture credit capiq)
Bad Habits Die Hard: Applied DNA CEO Continues the Penny-Stock Legacy
James A. Hayward is Applied DNA's current Chief Executive Officer and has been at the helm since 2005 where it seems to me he has apparently decided to carry on the Langley legacy with a twist: striking incredibly unfavorable (to shareholders – dilutive) deals with some of Wall Street's worst financiers and convicted fraudsters.
Why is Applied DNA's CEO Associated with These Kind of People?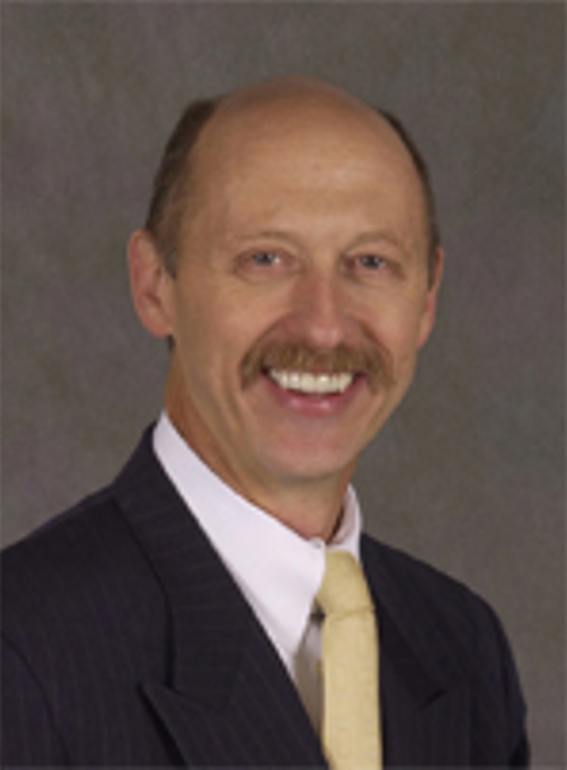 Source: SecuritySolutionsWatch.com
It turns out Hayward also has experience as a penny-stock investor. Hayward is the general partner of the Double D Venture Fund and although I originally had high hopes for this entity, it turns out the "Double D" could have stood for "Double Digit" losses as the Double D Venture Fund invested in a company called Q-RNA which lost nearly all of its value since going public. To make things worse, Hayward was also apparently a Director at the company.

(picture credit capiq)
Hayward's longtime business buddy, Sidney Braginsky was also on the Boardof Q-RNA and serves as the managing director of the Double D Venture Funds LLC. Braginsky's seemingly close business relationship with Hayward is highly concerning for a number of reasons not the least of which is Braginsky's history of also being involved with numerous penny-stock wipeouts and also as color on the quality of Hayward's relationship with the "Double D" entity. Below are a list of not very high quality companies that were blessed with Braginsky's presence:
BigString Corporation (OTCPK:BSGC) – Member of Advisory Board (2006-Present)

(picture credit capiq)
Braginsky was the on the Board of Directors of Response Biomedical Corp. (TSX:RBM)

(picture credit capiq)
Bragisnky was involved with SensiVida Medical Technologies, Inc. (OTC:SVMT)

(picture credit capiq)
Braginsky was on the Board of Directors Mela Sciences, Inc. (NASDAQ:MELA) from 2001 to 2011

(picture credit capiq)
Unfortunately this doesn't conclude the Braginsky saga, as from 1994 to 2000 he served as the President of Olympus America Inc. Olympus lawsuit (Case No. 11-cv-7103) alleged "financial fraud and decades-long cover-up" and Olympus admitted an "accounting fraud going back to the 1990's". TheOlympus Scandal, as it came to be known, was a national disgrace in Japan in a similar scope as Enron or Worldcom in the US, described as "one of the biggest and longest-running loss-hiding arrangements in Japanese corporate history." According to Wikipedia, "Despite Olympus' denials, the matter quickly snowballed into a corporate corruption scandal over concealment of more than 117.7 billion yen ($1.5 billion) of investment losses and other dubious fees and other payments dating back to the late 1980s and suspicion of covert payments to criminal organizations."
Is it more likely that a key executive of the company like Sidney Braginsky (who was, in fact, President during a significant portion of the time period in question), was completely unaware of a large amount of fraud occurring right under his nose or, that he was in some way a part of it? I'll let investors decide. The question here is why does James Hayward feel so compelled to have seemingly close relationships with people like this in the first place?
Applied DNA CEO Strikes Lucrative Deals with Wall Street's Worst Financiers and Fraudsters
In 2007, Applied DNA CEO James Hayward agreed to a ridiculously dilutivefinancing arrangement with Arjent Limited that allowed the bridge loan to be converted into stock. Below are the details of the arrangement:
"The Bridge Loan shall be convertible, at the investor's option, through the first anniversary of issuance, into shares of Common Stock at a price equal to 50% of the average closing price of the 10 days prior to the date of the conversion notice, not to be less than the "automatic conversion" price (30% discount to the average volume, weighted average price of the Common Stock for the ten trading days prior to the closing date of this Bridge Loan…)"
***These terms essentially guaranteed that Arjent Limited would make money at the expense of other shareholders***
Furthermore, Applied DNA made the following payments to Arjent Limited:
"On May 2, 2006, we closed on the first tranche of the Offshore Offering in which we sold 20 units for aggregate gross proceeds of $1,000,000.We paid Arjent Limited $375,000 in commissions, fees and expenses from these gross proceeds. On June 15, 2006, we completed the second tranche of the Offshore Offering in which we sold 59 units for aggregate gross proceeds of $2,950,000. We paid Arjent Limited $442,500 in commissions, fees and expenses from these gross proceeds. Additionally, on July 10, 2006 we issued 2.4 million shares of our common stock to Arjent Limited at $0.001 per share as partial consideration for its services in connection with the Offshore Offering."
Robert DePalo is the Chairman of Arjent Limited. A lawsuit filed in 2015 by the SEC charged Robert DePalo, Joshua Gladtke and Arjent Limited with allegedly employing a sophisticated "scheme to defraud investors." DePalo, Gladtke and Arjent Limited all appear in Applied DNA's filings under the name Vertical Capital Partners, Inc. or other affiliated entities.
Court documents revealed that DePalo transferred millions of dollars of investor funds to his own personal bank account and proceeded to spend the money on 3 Bentleys, a lawn jockey statue worth $22,000, a Rolex watch worth $10,000, thousands of dollars for men's clothing and other lavish personal expenses. Furthermore, Joshua Gladtke, was "charged with grand larceny, money laundering, criminal possession of stolen property".
Robert DePalo – Applied DNA Financial Partner in Court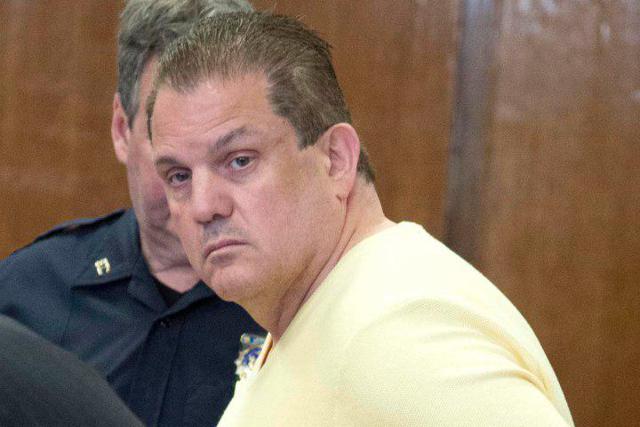 Unfortunately, this does not appear an isolated event for Applied DNA. According to Applied DNA's 10-K, the company has also executed several financing arrangements totaling $15,000,000 with an entity by the name of Crede Capital Group, LLC controlled by former junk bond salesman Terren S. Peizer.
Mr. Peizer seems to have an extensive history in high profile financial debacles and is apparently the protégé of convicted felon Michael Milken
Terren Peizer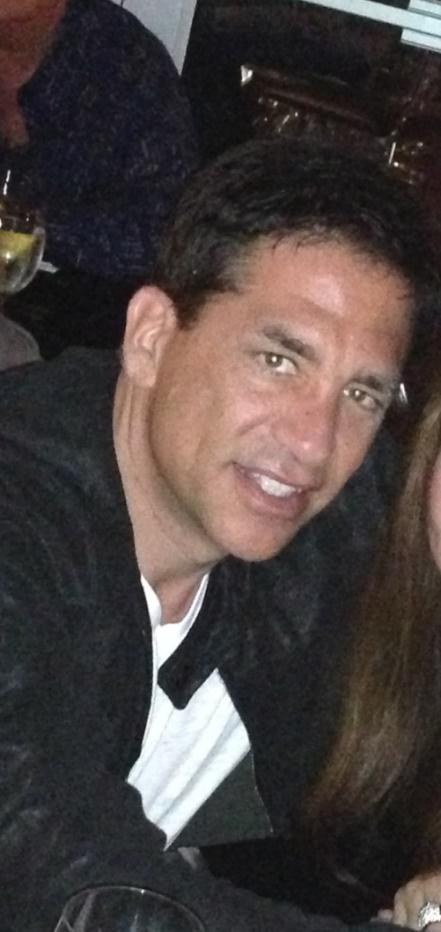 Source: TerrenPeizer.com
In 2003, Peizer founded the Prometa Treatment Program and took the company public through a reverse merger in 2004. According to SEC filings, Peizer was the Chief Executive Officer and significant shareholder of the parent company Hythiam, Inc. Peizer raised $150 million from investors and rushed Prometa to market without the usual medical research and government approvals. One doctor suggested that Peizer had exploited a loophole in the system. CBS News reported that "Terren Peizer is selling hope to the desperate" and others viewed Peizer as "snake oil salesman".
The company claimed that it's cocktail of medications benefitted people who were addicted to methamphetamine. A study apparently paid for by Hythiam touted 80% of patients "experienced a significant clinical benefit" from the treatment but the scientific journal Addiction found that Prometa "is no more effective than a placebo in reducing methamphetamine use".
Medical experts and the media expressed "sharp criticism" and doubt that the treatment worked as advertised alleging that it lacked sufficient scientific evidence. That didn't stop Peizer from being excessively promotional about the enormous plans he had for the company and claiming "the results are positive" in an upcoming study that had not been published. The chart below says it all: Prometa was a wipeout for investors.

(picture credit capiq)
Prior to the Prometa tragedy, Terren Peizer was the president of Hollis-Eden Pharmaceuticals, Inc., another company that came public through a reverse merger. Peizer apparently became some sort of AIDS guru, hyped its anti-AIDS drug (Immunitin) and went as far as to suggest that there might be apartnership deal ahead. It seems that through press releases and hopeful comments, Peizer was able to spin a tale that sparked the imagination of investors who thought this could be a potential cure for AIDS. The stock soared to be worth hundreds of millions of dollars and ultimately the stock collapsed as one doctor rightly pointed out "You can see the pseudoscientific language this is couched in. It's gibberish, gobbledygook." The shares now fetch a fair "gibberish and gobbledygook" price of just $0.09 (now known as Harbor Diversified).

(picture credit capiq)
Closing the Terren Peizer wipeout saga, is his involvement with another small cap stock called Urethane Technologies. Peizer was the Chairman of the company that touted it had a bicycle tire that wouldn't go flat. Peizer acquired 50% of the company and managed to "dump his shares at a profit before the company eventually limped into bankruptcy in 1997?.

(picture credit capiq)
Crede Capital Group shows the recent financings they have been a part of, but as far as I can tell these companies appear to perform terribly over a longer time horizon. Let's review some of Peizer's transactions that are proudly displayed on the company's website.
Transgenomic Inc. (OTCQB:TBIO)
Amedica Corporation (NASDAQ:AMDA)
ZaZa Energy Corporation (NASDAQ:ZAZA)
Net Element, Inc. (NASDAQ:NETE)
Plethora Solutions Holdings PLC (AIM:PLE)
22nd Century Group, Inc. (OTC:XXII)
FreeSeas Inc. (NASDAQ:FREE)
Orbite Technologies Inc. (TSX:ORT)
Aussino Group Ltd. (NYSE:AUO)
Navidea (NYSEMKT:NAVB)
The Terren Peizer story doesn't end here, one of his associates, Michael Wachs, a principal at Crede Capital Group, LLC (formerly known as Socius) is aconvicted felon and apparently a confessed embezzler barred by FINRA in 1998 for "stealing approximately $20,800,000? (direct quote) and served 11 months in federal prison for his crimes. This lawsuit shows Crede/Socius are closely associated with CEOcast, a website "shilling penny stocks in exchange for hundreds of thousands of dollars in cash and shares", according toBarron's.
Another Peizer associate, Richard Josephberg, a "commissioned salesperson" of the Crede/Socius entities was sentenced to prison for 50 months for not paying taxes for 29 years. Josephberg's own children apparently testified against him in court and jury convicted him of all 17 charges.
Two of Applied DNA's financiers while at Arjent, Michael Morris and Ronald Heineman, were barred by FINRA in October of this year for engineering a "fraudulent scheme" involving private placements. Remember that both Michael Morris and Ronald Heineman were employees of Arjent which participated in a private placement with Applied DNA according to Applied DNA's own SEC filings where both of the sanctioned individual's names appear (emphasis mine):
"Arjent, a registered broker-dealer; Michael Morris, Susan Diamond andRonald Heineman, all of whom are employees of VC Arjent, are an "underwriter" as that term is defined under the Securities Act, the Securities Exchange Act of 1934?
And just when things couldn't possibly get any worse, Craig Josephberg, aregistered representative of the company Morris and Heineman are involved with, was named by the SEC as a defendant in a "fraudulent scheme" . According to the Wall Street Journal prosecutors indicted 7 individuals including a Craig Josephberg whom they specifically accused for his participation in engineering $300 million "pump-and-dump" schemes. In my opinion, the following excerpt is especially important in regards to Applied DNA: Prosecutors accused the defendants of using "misleading news releases and hidden and illegal trading to dupe investors into believing companies with essentially no assets or activities were worth hundreds of millions of dollars."*
(As a side note APDN has essentially no assets and is temporarily trading with 9-figures of market cap)
And for the grand finale tying this whole nightmare together the FINRA complaint said the following about fraudulent kickback scheme (emphasis mine):
"In May and July of 2012, Cell Therapeutics issued convertible preferred stock in two private placements that raised $20 million and $15 million, respectively. The investor in each was a fund managed but Los Angeles-based Crede Capital Group LLC, formerly known as Socius Capital Group LLC…[the] deal was coordinated by Michael Wachs, a partner at Socius"
So not only are several Applied DNA financiers who are tied directly to Applied DNA's CEO Hayward being accused and/or convicted of fraudulent wrongdoing but some of them actually join forces? With this many alleged and convicted fraudsters involved with Applied DNA this simply cannot be disregarded and I think at the very least Applied DNA's CEO, James Hayward, owes APDN shareholders a thorough explanation of why he repeatedly chooses to enter into agreements with these individuals over a multi-year time horizon while also engaging in egregious self-enriching related party transactions.
Applied DNA's History of Hiring Questionable Investor Relations Individuals
Over the years, Applied DNA has also engaged several individuals to supposedly provide investor relations services and often times suspiciously appear to be excessively compensated in cash, stock and/or warrants. According to Applied DNA's own filings, it already has several internal employees that are supposedly focused on providing investor relations services. So why would APDN need additional outside investor relations support from these individuals who at best have questionable penny-stock backgrounds and lackluster track records?
Furthermore, why does a company that was recently trading for just pennies per share on the OTC market need 3 investor relations people at all?
In 2009, Applied DNA engaged Crystal Research Associates, LLC to prepare an executive informational overview more commonly known as a research report. For their services, Crystal Research Associates received 200,000 warrants at a price close to the then market price of Applied DNA, a whopping $0.07 per share. Even more bizarre, is the following disclosure contained in Applied DNA's SEC filing:
Crystal Research Associates, LLC v. Applied DNA Sciences, Inc., Docket No.:L-7947-04
"On April 29, 2005, Crystal Research Associates, LLC obtained a default judgment against us for $13,000 in the Superior Court of New Jersey, Middlesex County. We intend to move to vacate the default judgment on various grounds. We dispute the allegations of the complaint and we intend to vigorously defend this matter."
Why would Applied DNA engage Crystal Research Associates to provide services to the company AFTER Crystal Research Associates took them to court a few years prior? Furthermore, Crystal Research Associates, LLC has provided research products for other companies that happened to be "not so great" long term investments:
· XOMA Ltd. (XOMA-NASDAQ)
· Unilife Corporation (UNIS-NASDAQ)
· Provectus Pharmaceuticals, Inc. (PVCT-OTC)
· Advaxis, Inc. (ADXS-OTC)
· Neonode Inc. (NEON-NASDAQ)
Applied DNA also worked with Jeffrey Salzwedel, another investor relations professional that has been fined by NASD for allegedly making "unsuitable" stock recommendation for customers while he headed Salzwedel Financial. Again, why would Applied DNA choose to do business with these types of people and why did Jeffrey Salzwedel receive $630,000 from Applied DNA in 2004? Let's review some of Jeffrey Salzwedel's past associations with penny-stock companies:
Salzwedel Financial Communication, Inc. signed an investor relations agreement with Morgan Beaumont, Inc. in exchange for 1.8 million shares in the publicly traded company.

(picture credit capiq)
Salzwedel Financial Communications, Inc. signed an independent consulting agreement to Public Media Works, Inc., another penny stock company with investor relations services.

(picture credit capiq)
Salzwedel Financial Communications, Inc. also provided investor relations services to iSecureTrac, Corp.
(click to enlarge)

(picture credit capiq)
Salzwedel Financial Communications, Inc. also provided investor relations services to Blink Logic, Inc., another penny stock wipeout.

(picture credit capiq)
APDN Paid Stock Promotion and Questionable Stock Touts
If there is one thing investors need to know it is that they should never everbuy any stock involved in a paid stock promotion campaign or any questionable stock tout circle. Time and time again we have seen these kind of bottom tier stocks end up with violent wipeouts.
Unfortunately APDN is associated with such reputable investment professionals as "FreeHotPennyStocks.com", "PennyStockShark", "RICHSTOCKS" and the very questionable Patrick Cox from SEC sued Agora Financial. For example, we can see FreeHotPennyStocks.com touting Applied DNA as "bringing the potential for100% profit!" but a quick glance into the tiny foot notes show the truth of huge payments for their promotion:
"FreeHotPennyStocks has been compensated one hundred and fifty six thousand dollars for a three month investor awareness campaign"
"PennyStockShark" was also apparently touting APDN in exchange for at least $35k for their shill campaign.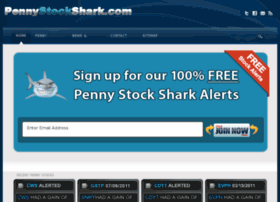 (pic credit)
It also appears "TheMarketCaliberTeam" was paid at least $40k as well as"SuperNovaStockPicks.com" disclosed stock promotion payments of at least $30k, "Penny Stock Money Train" disclosed $30k, Penny Stock Prophet disclosed $40k in compensation, "CoolPennyStocks" apparently was paid $80k, as was "RICHSTOCKS" where we also find another $80k compensation disclosure, along with many many others.

(pic credit)
I don't want to waste your time so I will not go through the horrific track record of these stock promotion outfits but if anyone believes investing alongside paid tout firms is a good idea I can do a follow up article to show how bad they really are.
Patrick Cox has also been touting APDN's potential "life changing gains" from the "most explosive stock opportunity I've found." Patrick Cox is a well-known (among short sellers) newsletter author associated with Agora Financial. What I believe is most amazing about Patrick Cox is he has one of the most uncannily consistent track records of recommending retail investor stock wipeouts I have ever seen. A quick review of his picks include famous retail shareholder wipeouts as STSI, which Patrick Cox touted as "an opportunity to hit the mother lode". Unfortunately STSI's retail holders hit a brick wall and lost -99.13% of their money as STSI stock fell from $123 per share to $0.88,changing its name to Rock Creek Pharma (NASDAQ:RCPI).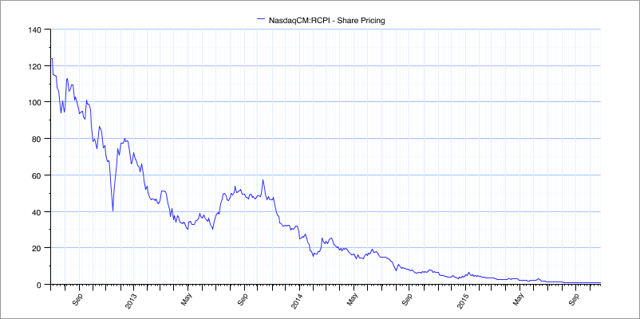 (picture credit capiq)
Or Galectin Therapeutics (NASDAQ:GALT) which was also exposed for curious paid stock tout shenanigans as Patrick Cox touted GALT in "Ideas That Will Change the World". Unfortunately GALT appears to have instead issued large amounts of dilutive equity and "changed" retail shareholder cash into a much smaller amount as GALT stock fell from $18 per share to $2 for a swift -88.8% loss.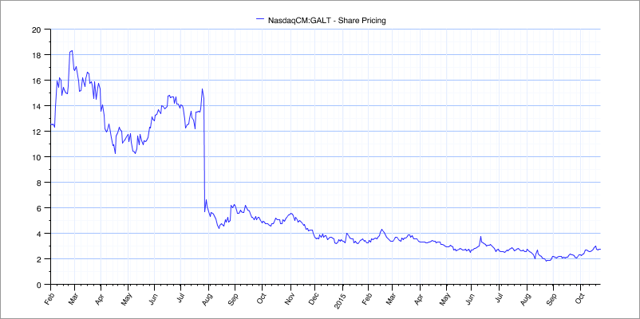 (picture credit capiq)
And who could forget the amazing Provectus Pharmaceuticals (OTC:PVCT) which Patrick Cox has touted as well, which then imploded from $3.40 per share to $0.52 per share for an uncompromising -86.1% decline.
Patrick Cox from "Agora Financial": Associated With Many Wipeouts, Also Associated With APDN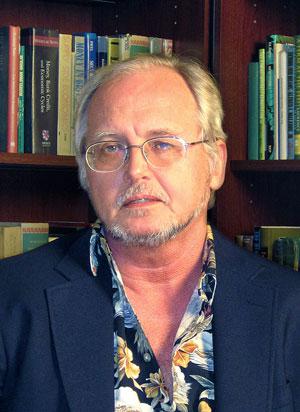 (pic credit)
I believe Patrick Cox's Agora Financial itself is pretty questionable in its own right. While the founder and President William Bonner apparently enjoys a Chateau in France, Agora faced SEC allegations regarding an "ongoing scheme to defraud public investors" involving disseminating false information and claiming to have insider information to sell for $1,000.
I would never ever invest in any company associated with any paid stock promotion or anyone like Patrick Cox and Agora Financial. As you can see above, touted stocks typically swiftly implode creating large, permanent losses and should always be avoided. Furthermore, they are a critical red flag because if the business fundamentals were truly exceptional the company would be focused on that and not need to pay for, or be associated with, any of these low quality stock tout outfits.
Is APND's Patronus A "Real" Company? Investigating APDN's "Valeant-Esque" Opaque Offshore Deal…
A series of recent exposes on Valeant Pharmaceuticals (NYSE:VRX) (here,here, and here) reveal the company is allegedly using deconsolidated entities to juice profits and manipulate shareholders, with some claiming VRX may be nothing more than an Enron style scam. Unfortunately after looking into APDN's opaque relationship with their curious "Patronus" UK banking deal partner I couldn't help but find eerie similarities. I'll let you be the judge if this Patronus deal is actually great news and all just a big silly mix up or if there is instead something much darker going on…
Patronus appears to be an opaque offshore shell recently setup by curious individuals with no material banking background, with no website, little or no assets or sales, founding address at a virtual office, with corporate registry documents showing connections to a group of serial directors who have served on dozens of now defunct private Limited Partnerships in the UK with confusing ownership.
On 9/17/2015, Applied DNA issued a vague press release about an exclusive 5 year deal with a curious UK-based company named "Patronus Systems Ltd." where no revenue terms were disclosed. Bulls rejoiced and APDN stock rallied, but who exactly is Patronus? Outside of the APDN press release, I could findnothing of substance about Patronus.
I pulled the corporate registry for Patronus Systems Limited and Patronus Cash Systems Limited from the UK Companies House, a government ownedcorporate registry in England. Based on the Certificate of Incorporation (Company No. 8915529), we know that Patronus did not even exist before the 27th of February, 2014.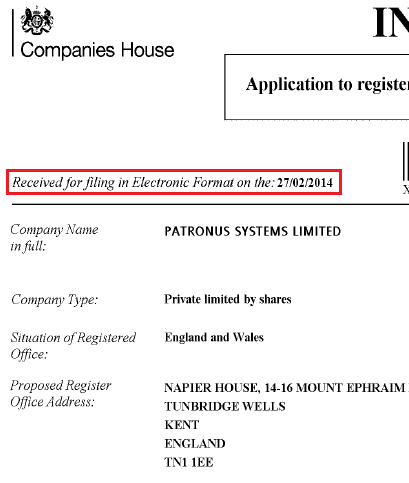 (pic credit UK corporate registry)
While curiously, Patronus apparently even registered a website domain but never thought it necessary to actually have a website built despite virtually free cost? What kind of business claims big banking relationships yet doesn't even have a website?
The Patronus press release quotes Duncan Grant, a company director at Patronus, who said:
"I am relatively new to the cash handling industry…" "Leading banks across Europe are working with us in adapting this new technology."
How do those two statements possibly belong together? And who exactly is this curious Duncan John Grant? It appears Duncan James Grant brings suchheavy hitting experience to the cash handling industry as his background with a wine events company, a claimed artificial intelligence company, and EURORAXX Limited, a company apparently involved in the sale of retail sporting goods. In fact, an extensive search for Mr. Grant reveals that he apparently has no substantial background at all in the cash handling industry (something he freely admitted in the PR) prior to founding Patronus Systems in early 2014 and none of his other companies have any evidence of success I could find.
The rabbit hole gets deeper too as below we find a Peter Mila joining Duncan Grant on the board of this Patronus shell. Peter Mila's date of birth at 23/10/1968 puts him at age 48.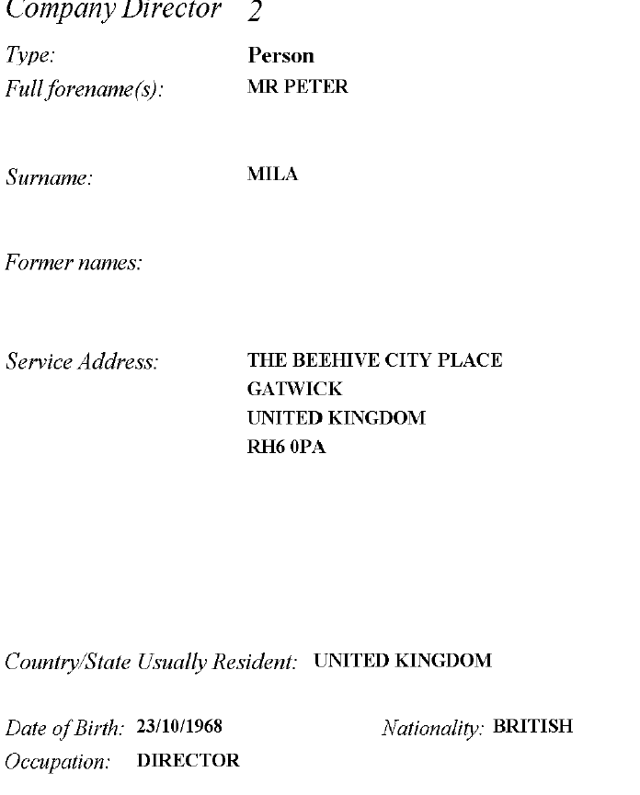 (pic credit UK corp registry docs)
Given the hype around the Applied DNA-Patronus relationship, it would stand to reason Mila ought to be a cash handling expert, but that doesn't appear to be the case either. Like Grant, Mila appears to be a part of a series of active and defunct Limited Partnerships that seemingly have nothing to do with cash handling, while his main job appears to be as Logistics Director for Thomas Pink, a high-end clothing designer in London. Needless to say, Thomas Pink is NOT in the cash handling business at all, so it's unclear what expertise Mila would bring. It seems highly likely to me that this is the same Peter Mila as the Peter in the LinkedIn profile, who, at age 48, would have approximately 26 years of professional experience after completing university. There is no educational information listed on Mila's LinkedIn, but his listed experienced does span back to 1989, 26 years ago, seemingly indicating a match to me but it is admittedly unclear.
The last member of the team at Patronus is Peter John Rogers. Rogers has been involved in no less than 47 board appointments for various Limited Partnerships in the UK spanning back to at least 1990, according to Company House UK records. Is Rogers a "director-for-hire" for random limited partnership shells? If he is not here to obscure true ownership what exactly is going on here? Are we to believe the clothing designer and wine events guys above are the true people behind APDN's recently founded "game changing" cash handling shell company? While I was not able to get APDN on the phone to confirm or disprove my speculations, I believe these people involved have all the hallmarks of a group of proxy directors hired to create opacity and so I advise caution and forming your own opinion.
In Patronus registry documents, the previously address was The Beehive, City Place, London Gatwick Airport, Gatwick, West Sussex, England, RH6 0PA (also here). "The Beehive" is a apparently a virtual rent-an-office next to the airport, where a mailing address can be rented for as little as 49 pounds a month.
As of a new filing dated 2/17/2015, Patronus has relocated down the street to the Explorer Building Fleming Way Crawley West Sussex England RH10 9GT, which Endole lists it as having "No Accounts," zero cash in the bank, and zero net worth. Also residing at the same address is Assetturn Limited, another Duncan Grant Limited Partnership, which also apparently has little or no assets and is listed as "Dormant".
At this point I believe APDN shareholders deserve immediate answers to some very serious questions:
Who are Rogers, Grant and Mila? If they are proxy "stand in" directors, who is honestly behind this concerning shell company?
Does Patronus have any material customers, sales, or assets?
Why are multiple no asset Limited Partnerships involving Grant residing at the same address?
Why did APDN put out a press release about Patronus when it appears to be a brand new startup with little or no operations?
Was APDN or any of its officers involved in setting up the Patronus Limited Partnership and putting proxy directors on the board of Patronus?
Have any cash or stock payments been made to Patronus?
Given the opaque Patronus ownership and various past APDN partners facing fraud allegations, what exactly are the financial terms of the deal signed with Patronus?
As it turns out, the "Companies House" is infested with fraudsters
Two articles here and here reveal troubling information that thousands of people registered with the Companies House have participated in financial fraud, terrorism, money laundering, illicit arms dealing, drug trafficking, corruption, and general shenanigans. According to The Times, "The research exposes an apparent absence of vetting of who can and cannot register a business and become a company director in Britain" and that "that the vetting regime in place was so lax that 1,500 disqualified directors were also found on the register."
A money-laundering consultant added, "Considering the way that companies can be used, one might think that in this age there would be close monitoring of the identities of directors."
Quoting the article, qualifications to sit on the board include such rigorous standards as:
No qualifications are required to become a company director
Private limited companies must have at least one director and one company secretary
The only stipulated job of a director is to submit the company's accounts and returns on time to Companies House
European cash handling industry is very competitive, Patronus Set to Fail Even If Real
Has Patronus become a powerhouse in the cash handling industry in just the last 18 months while run by people with apparently no cash handling background, what appears to be essentially zero capital investment, by people who sit on multiple Limited Partnership boards, with no website, against entrenched competitors in a 30+ year old mature industry?
But magic aside, let's take a look at the cash handling business in Europe. APDN would have you believe they are already a leader in the cash handling business in Europe even though the company has been in Europe for over 5 years and Applied DNA's revenue has effectively never ramped to meaningful scale.
Similar to the US, countries in Europe employ a variety of Cash in Transit (NYSE:CIT) protection methods including armored vehicles, armed guards, andIntelligent Banknote Neutralization Systems (IBNS). The purpose of IBNS is to mark or destroy the money contained in a cash safe box if the box is improperly opened: If a thief cannot reap the reward of the theft, there is no reason to commit theft in the first place.
According to a European Union Commission Report, "All countries operate armored transportation and to a certain extent IBNS." Meaning, IBNS is not a new technology, and the market in Europe is mature with all countries listed in the report already using some form of IBNS.
Furthermore, an EU proposal in 2010 created additional demand for IBNS by standardizing intra-country cash transfers across the EU. This demand never flowed through to APDN, apparently, because Applied DNA is a tiny company and largely inconsequential in the market relative to the larger, established companies already providing this service.
From the impact assessment, we can see that the IBNS industry in Europe was supportive of this proposal, creating a win-win for all involved parties:
"Intelligent Banknote Neutralization systems (IBNS) manufacturers are supportive too and would like the use of intelligent banknote neutralisation devices to benefit from the initiative as they can help resolving the difficult issue of the carrying of weapons in a cross-border context. Their argument is that the use of 'smart devices' to transport cash provides a high degree of security without necessarily involving the use of weapons."
The rule was ultimately adopted at the end of 2012 in the EU.
The IBNS provider industry in Europe is mature and very competitive
According to Wikipedia:
There are six major global players in this market: 3SI, Spinnaker, SQS, Villiger, Gehrer, and Oberthur Cash Protection; these companies export IBNS to many countries worldwide. They are members of EURICPA – European Intelligent Cash Protection Association. EURICPA focuses on promoting ink staining technology as the most secure and safe solution for CIT.
Oh, I'm sorry, where are Applied DNA and Patronus on the list? You're goin' nowhere!
You already know how this movie ends but just for fun let's briefly review some of these competitors:
Oberthur
Oberthur Cash Protection is a French manufacturer of Intelligent Banknote Neutralisation Systems to protect cash, based in Dijon, France. Established in 1985, the company holds one of the first IBNS patents to protect valuables by neutralizing them with ink and, as of 2011, is the largest manufacturer ofIntelligent Banknote Neutralisation systems in the world, with over 60,000 systems installed.
Oberthur Cash Protection's customers are major CIT companies (G4S, Loomis,Brinks, Prosegur), banks (Travelex, HBOS, Credit Agricole, BNP Paribas, Credit du Nord, BPCE, Banque Postale, Banque De France, Barclays, Royal Bank of Canada, CIBC, Swedbank,Raiffeisen Bank, and others), and ATM manufacturers (NCR, Wincor Nixdorf, Diebold, retailers, and others).
Spinnaker
Founded in 1985, Spinnaker leads the market in intelligent bank note neutralisation systems. Spinnaker exports cost-effective solutions worldwide, and has developed many flexible systems that provide a safe and secure medium for the transport and storage of cash and ATM cassettes.
Spinnaker's range of products offer leading solutions for cash security with ink degradation and indelible security ink. Our continuing innovation for the security of bank notes means that we are already prepared for this significant change in bank note production.
Villiger
VILLIGER SECURITY SOLUTIONS AG, established in 1988, belongs to the leading manufacturers of intelligent security solutions.
But what about APDN? They frequently issue incredible sounding press releases that lack revenue terms or any meaningful details about the viability of their business!
The problem is, Applied DNA has been providing IBNS products in Europe since 2009 and yet scant revenue has ever been produced by the company.
As far as I can tell, there are only three possible explanations for this:
APDN has tiny market share of the IBNS market in Europe and has never been able to ramp the business up, and probably never will
The unit economics of the IBNS business are incredibly small, so even with decent market share, no significant revenue will ever be generated
APDN is a "me too" IBNS service provider who has never been able to become a "go to" supplier for any of the major customers in the market and may only have revenue generated from one-time or short duration trials
So Mr. Grant, who exactly are these "Leading banks across Europe?" that you are speaking with?
I wonder if Patronus is talking to the same "leading banks across Europe," from the section above because it seems like APDN's competitors already have it under control?
If the APDN product is so good, why don't they have partnerships with any of the major suppliers in Europe, instead having to settle for a Limited Partnership started 18 months ago by guys who sit on a lot of Limited Partnership boards but have apparently no meaningful cash handling experience to speak of?
Exclusivity Means Exclusive
The terms of the deal include a 5 year exclusivity agreement with Patronus, meaning APDN is now exclusive with this 18 month old company run by directors who sit on multiple Limited Partnership companies, with no website, and apparently no revenue or assets from what I can tell. Another nice way of saying this is that, in all probability, APDN is exclusive with a company that seems incapable of ever win significant new revenue-generating contracts, thereby prohibiting APDN from getting any significant new customer wins.
This is like shooting yourself in the foot. Why would APDN do this if they were confident in their product? The question answers itself, in my view.
APDN Historical Revenue

Source: CapitalIQ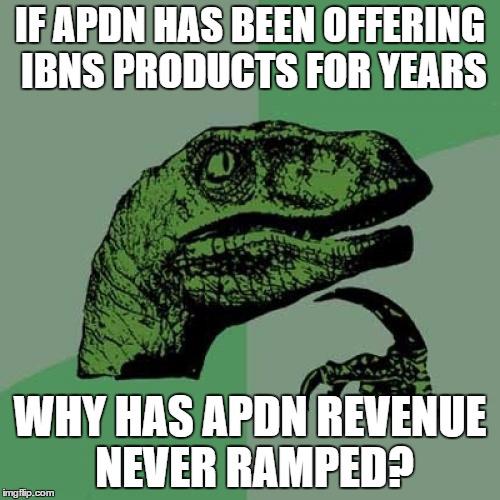 Picture made by me
APDN's Obsolescence and Failing DNA Market Position: Synthetic DNA and Competitor Superiority
Now that you understand the quality of the people behind APDN, let us evaluate the product they are touting so you can begin to understand the bigger picture of what is happening here. It seems many APDN shareholders and touts believe APDN has something unique or the best DNA authentication offering available. I think research shows that nothing could be further from the truth. While APDN's failed CEO apparently compares their obsolete technology to penicillin and Thomas Edison's light bulb (q1 2015 call), real investors who have done deep work talking to competitors in the industry know APDN's technology is obsolete and failing.
Remember APDN's product and technology was created in a late 1990s Chinese lab, which apparently gave up on it and sold it to APDN in exchange for penny stock shares. Since then APDN has spent virtually nothing on R&D so you should not be surprised to learn APDN is now hopelessly behind the technology curve while other DNA tagging and authentication companies dominate APDN in this small niche market. Not only are there other superior plant-based organic technology based products and companies available but a whole new class of "Synthetic DNA taggants" have been invented since APDN came on the scene, which offer vastly superior security and functionality at a structurally lower cost.

(pic credit)
The global leader in DNA authentication is SelectaDNA, a UK company that has been offering its technology since 1985 and which has already marked over 30 million items. SelectaDNA offers its products in over 30 countries and hosts a database of marked items that is accessible to police forces around the globe. APDN isn't even close, and for any police force or commercial customer requiring DNA-authentication products, they might as well just go with SelectaDNA, which is vastly superior to APDN in terms of experience, brand, size, scale, and global presence.

(pic credit)
Authentix is another global authentication giant with a large head start on APDN, having been formed in 1992 and incubated at Royal Dutch Shell before ultimately spinning out as a standalone company. The company has a number of Fortune 500 and government clients. Currently, Authentix is backed by theThe Carlyle Group, one of the top private equity firms in the world. The company has what is probably the best management team in the industry, serves 5 out of the top 10 global healthcare companies with $50 billion of products carrying the Authentix brand, protects 48% of the US gasoline market, and has a significant presence in currency and consumer products applications. APDN has virtually no chance against this juggernaut. In my view: Authentix would crush APDN in any head-to-head bidding scenario I can think of and there is zero chance APDN has any technology advantage over Authentix. All of this should be self evident as APDN's revenue has failed to ramp over the lifetime of the company.
As if clearly superior global juggernauts were not enough, the DNA authentication technology market place has moved to Synthetic DNA. There are many reasons for this but the two most important aspects are that synthetic DNA can encode significantly more target information, allowing a higher level of encryption and allowing more target data to be embedded into the product, while simultaneously synthetic DNA has a huge cost advantage over botanical DNA products. There are many offering this superior technology from BrandWatch, which has already signed large pharma customers, to DNA Technologies, Obiex DNA Solutions and others.
DNA Technologies is a formidable competitor and far ahead of the curve relative to APDN, having key relationships with such industry giants as Avery Dennison (serving 11 top apparel brands), Thomas Kinkade, the NFL, and tennis balls provided at the US Open. It's almost certain that these industry leaders would have also sought discussions with APDN, only to pass and go with the superior provider.
This continues to render APDN increasingly obsolete and irrelevant, pushing them further into the bottom end of the market competing against all the other standard DNA authentication companies like TraceTag, DNAtrax andothers. In this context it is not hard to see why APDN is more known for endless stream of largely meaningless press releases instead of actually signing revenue or profit generating contracts.
APDN Government DLA Deal Failed: APDN Unraveling with -61.2% of Total Revenue Now Going Away
The recent hype responsible for the current temporarily inflated APDN valuation is the retail investor dream of a 2012 US government DLA contract finally coming to fruition. Unfortunately for APDN shareholders though, deep industry research shows that relationship has officially blown up into an unprecedented cluster with the economics now going in reverse for APDN as revenue falls off a cliff. Given how badly this went for APDN and the US government, I also don't see how APDN's relationship with the DLA has not become permanently impaired.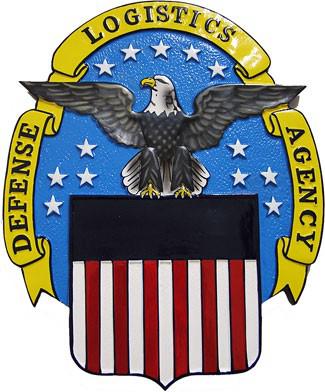 (pic credit)
For background: in 2012 the Defense Logistics Agency ("DLA") decided to test drive anti-counterfeit technology in response to publicity regarding fake semiconductor chips potentially in military equipment. The DLA started with a small class of chips in the FSC 5962 class for this product marking experiment and mandated that chip manufacturers and the (most likely counterfeit) distributors to all mark their chips with APDN technology. APDN bulls rejoiced as they expected APDN to receive lucrative license revenue from all the DLA's 5962 class suppliers which would each need their own DNA mark and license. Per APDN's SEC filed 10s this DLA-derived revenue is estimated at ~50% of sales in 2014 and 2013 driving virtually all of the small revenue growth and decreased cash burn APDN has seen.
Unfortunately the whole thing quickly blew up into a cluster of unparalleled magnitude wasting untold amounts of US tax payer money. Perversely,INCREASING the risk of counterfeit chips entering the military supply chain and harming US soldiers as the DLA began buying 80% of their chips from brokers and other channels – which is apparently where counterfeits typically come from. It is important for you to also understand that the DLA typically buys chips from two main sources: first the Original Component Manufacturers (OCMs) which build the chips in house, or secondly the DLA can buy chips from brokers and distributors who source the chips themselves from wherever is available.
Immediately after the DLA's ruling, the large and trustworthy Original Component Manufacturers (OCMs) quickly withdrew from selling to the DLA. Their cited concerns include: that the new DNA program would not prevent counterfeits anyway, the hassle was prohibitive and the technology unsound relative to other solutions already available which could be implemented in the critical QC step for every chip anyway, while the industry was not comfortable being locked into a "sole source" relationship with any one marking provider DNA or otherwise and losing control of their own supply chain process meant they were not comfortable providing warranties since opening their packages and administering the ink technically alters the parts which are then not in "as shipped" condition.
As Dan Deisz from Rochester Electronics explains product integrity dramatically declines while costs to US tax payers almost immediately doubledfor the newly less reliable parts:
"What simultaneously happened was that all the authorized suppliers backed out because they said they wouldn't use the DNA marking and brokers recognized an opportunity to be in a sole-source position where they could increase prices with the DLA. In six quarters after mandating DNA marking, their costs doubled for FSC 5962 product, as they flipped from buying 80 percent of the 5962 products from authorized suppliers to buying 80 percent of the same products from brokers. They are now unwinding that. However, it's a slow switchback due to various purchase agreements and red tape."
Even worse, with questionable brokers now supplying DNA stamped chips to the DLA the whole system seems to have quickly broken down with multiple instances of questionable parts seemingly being unable to verify authenticitydespite having APDN's DNA stamps:
"There have been three documented instances where a QSLD broker has put DNA marking on a suspect counterfeit product.One of these instances resulted in a GIDEP Agency Action Notice from DLA. In all three of these instances, the suspect product was returned to the seller in violation of NDAA 2012 requirements. Most suppliers agree that the DNA is probably uncopyable, but if it is being misused and put on suspect counterfeit product what value does it add?
This DNA stamping fiasco seems to have lowered product integrity and reliability so much that:
"Some prime contractors and government program managers will not take product from DLA any more because they don't trust the parts they are getting" " DNA marking has been and continues to be a waste of taxpayer money. If you put out an irrational directive, and all of your authorized suppliers say 'no thank you, we choose not to do business with you,' shouldn't you look at your directive and the unintended consequences?"
Given the extent of this fiasco it should not be a shocker the DLA quickly backpedaled. On 10/11/2014 the DLA announced they had rescinded their decision, with new terms going into effect 12/15/2014 that the DLA now would be the sole DNA stamping party with forecasted 1 year time frame to completion for this transition. This is an unmitigated financial disaster for APDN, let me explain.
Remember that APDN's primary source of revenue in this contract, and otherwise, is from upfront license fees they charge. Previously has received an estimated $50k each from ~28 distributors to license the APDN DNA stamp. As you can see below, this created a temporary revenue ramp into 2014. However now the DLA is the only party stamping the electronics and they require only one ~$50k license, sending APDN's business into swift financial reversal as that $1.45m of revenue goes to ~$50k.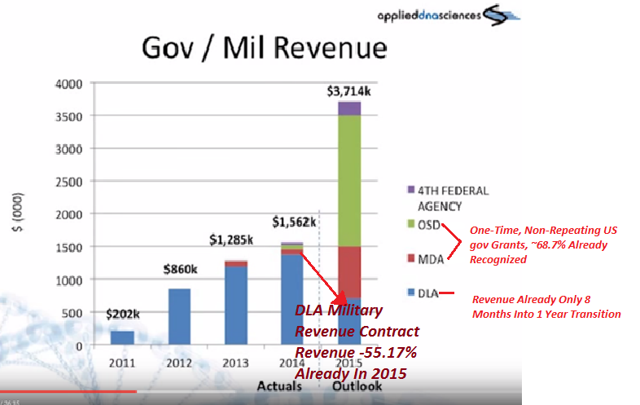 (pic credit APDN August 10, 2015 call with my annotations)
In a rare bout of APDN financial transparency you can begin to see the impact of this financial dynamic on APDN into 2015 where, as of the 8/2015 call and only 8 months into the one year transition, APDN's DLA revenue had already declined by -55.17%. This DLA dynamic not only removes almost $1.5m of very high margin revenue but I believe likely impairs APDN's relationship with the US military.
With the DLA now backed into the corner they have admitted:
"We are open to other solutions and tools as we learn about them."
Simultaneously, I don't see how the DLA is equipped to properly verify semiconductor chips for authenticity where APDN themselves say "product inspections are of limited value" in regards to inadequate authentication methods. So how is the DLA attempting to physically verify each chip in their possession independently possibly a bullet proof solution to counterfeit chips? Semiconductor quality control is not the DLA's specialty and this recent shift to DLA verification and stamping seems like an obviously flawed idea to me.
Is it a coincidence that now Applied DNA's superior competitor DDT just signed a major contract with one US government agency and have started a pilot "proof of concept" with another? Meanwhile a well funded non profit has created a counterfeit verification method that is 100% reliable, and only takes seconds in a standard QC procedure. How can APDN possibly compete with a company with no need to generate a profit?
I would not be surprised to hear APDN's technology completely removed by the DLA. Either way I imagine whichever poor individual championed APDN's products at the US military is not in good standing now and APDN's relationship is permanently impaired.
Going into Year 2016, APDN Expected to Lose -61.2% of Their Revenue
Furthermore, the only reason APDN didn't implode in 2015 was they got lucky with two non-recurring government grants they received for a total of $4m over 2 years. However, it seems APDN may have "pulled out the stops" to hit milestones necessary to pull that revenue forward. Now APDN has recognized ~68.7% of that "one time" grant revenue in 2015 which means it will not recur in 2016, creating a large revenue cliff they cannot avoid.
The combination of the nearly $1.5m of high margin DLA revenue APDN will never see again and the $2.75m of non-recurring grant revenue that will not occur in 2016 means APDN will lose -61.2% of their revenue going into 2016 with no legitimate prospects of making that up I can find. Even more concerning, APDN CEO has guided to higher operating expenses with more hiring while they will lose that $1.45m of nearly pure margin DLA license revenue, meaning Applied DNA cash burn is set to accelerate dramatically as revenue falls off a cliff. This is already underway and should begin to hit APDN's financial statements in Q3 and Q4, which should send the stock into a tailspin as excuses will be insufficient once revenue starts shrinking rapidly while losses continue to pile on.
Applied DNA: Financial Integrity In Question – Multiple Accounting Red Flags With Auditor Deficiencies
According to several reports by Public Company Accounting Oversight Board, an inspection into the audit activities of Applied DNA's former auditor RBSM LLP found "audit deficiencies". More specifically:
"deficiencies identified in one of the audits reviewed included a deficiency of such significance that it appeared to the inspection team that the Firm did not obtain sufficient competent evidential matter to support its opinion on the issuer's financial statements."
RBSM LLP has been involved with other penny stock companies that appear to worth close to nothing in the end.


Even more concerning is that fact that Applied DNA has previously reportedmaterial weaknesses in its own filings and received multiple letters from SEC regarding the company's filings and disclosures. On top of all of this, in 2014, APDN dismissed RBSM as its independent public accounting firm and appointed Marcum LLP in its place. Marcum LLP appear even worse than RBSM to me, with their own PCAOB cited deficiencies ranging from insufficient evidential matter to support their opinion to failure to perform sufficient audit procedures to test revenue, among other issues.
Speaking of Marcum, Applied DNA's current Chief Financial Officer, Beth Jantzen was employed there right before she started working at APDN. Below is Beth Jantzen's bio directly from Applied DNA SEC filings:
"Beth Jantzen, age 38, was appointed as Chief Financial Officer of the Company, effective February 15, 2015. Ms. Jantzen held the position of Controller since May 2013. Prior to joining the company, Ms. Jantzen was a senior manager at Marcum LLP, the Company's independent registered accounting firm since June 23, 2014, where she managed multiple engagements and specialized in SEC policies, practices and procedures, including Sarbanes-Oxley compliance. Ms. Jantzen holds a Bachelor of Science (BS) in Accounting from the State University of New York at Binghamton and is also a Certified Public Accountant (NYSE:CPA)"
Before Jantzen was the CFO, Ms. Gray was appointed as Chief Financial Officer effective October 14, 2013 and resigned effective February 15, 2015. Did Ms. Gray resign due to concerns about the company's financial integrity?
Frequently changing your Auditor, Chief Financial Officer, and further reporting material weaknesses in your financial statements are all major red flags. Taken together, these issues should give investors extreme pause about the reliability and integrity of the company's financial statements.
Applied DNA's Empty "Pharma Opportunity" Hype
Applied DNA stock also seems to have been recently strong based on misplaced optimism among retail investors betting on APDN's new "Pharma Opportunity". Unfortunately, while APDN endlessly press releases new meaningless "pilot projects", their DNA authentication competitors and the pharma industry have left then hopelessly behind years ago and vague press releases don't keep the lights on or sustain a high stock price forever.
For instance, DNATrax is apparently already approved for human consumption by the FDA and already in pharma. DNA Authentication company "DNA Technologies" already has a pharma industry product. Schreiner MediPharmalready launched their DNAsecure product at the huge NYC medical packaging conference back in early 2014 with full "plug and play" IT integration. Not to mention Schreiner offers a comprehensive broad product offering of RFID solutions, color shifting ink, thermos reactive print and the most advanced anti counterfeiting, with logistics track and trace functionality, of any company in the world.
Brandwatch rolled out their superior synthetic DNA authentication product for pharma customers with one of the world's largest pharma companies back in 2012. Abbott Pharma also apparently was rolling out BioDetect's DNA anti-counterfeit technology back in 2007
The future of authentication technology is in nanotechnology anyway and the pharma industry is already rapidly advancing this option instead of DNA authentication products anyway. In fact, SchreinerMediPharm's "next gen" product is a complex 3d hologram with embedded nanotechnology magnetic wires that can be machine read alongside LaserHighSecure products in second with handheld tools in seconds, that are essentially impossible to reproduce.
APDN is years behind the curve here touting an inferior product. More "pilot program" press releases of hype are not going to cut it at this point. With a hopelessly obsolete product and in the face of intense superior competition I estimate APDN's probability of landing profitable and large pharma customers generating material ($2m+ sales annually) at ~0%.
APDN Cotton Claims = 11+ years of Broken Promises For Commoditized and Unviable Offering
The final factor currently driving Applied DNA stock hype are unfounded claims APDN will generate profitable revenue growth based on selling products to the cotton and textiles markets. Despite APDN touting this textile story since at least 2004 when they signed "pilot programs!" with NC based Champion Thread, and 11 other apparel brands trialed competing DNA authentication technology as far back as 2003, this story refuses to die and is back again. Basic research and fact checking shows any outlandish claims APDN could do tens of millions of dollars in sales for simple, generic cotton genotyping are delusional though. Identifying cotton genes, or genotyping, is old technology and has been done for decades and basically just involves extracting the DNA and matching it up. To think cotton companies will routinely pay APDN $10m+ per year for essentially the same process used to identify illegitimate fathers on Jerry Springer is clearly absurd. If necessary I will go into more detail on why APDN's cotton story is clearly unviable. However, for now you can simplygoogle research "cotton genotyping" to find countless places that either have or could easily and cheaply provide this service. Like this journal that outlines a lab process for extracting cotton DNA for as little as $0.05 per sample using basic lab techniques.
"DNeasy Plant Mini Kit": Plant DNA kit available online for $218, requires zero APDN involvement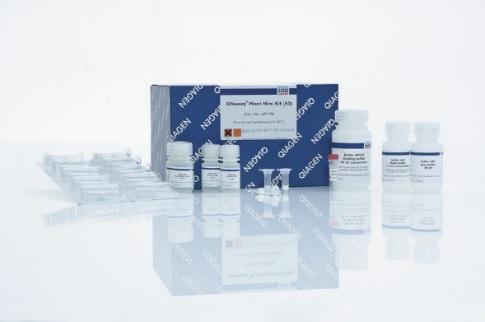 (pic credit Qiagen)
Any gene lab in the country could simply buy this $218 "DNeasy Plant mini kit" for the dna extraction while universities around the world have already beenidentifying specific cotton genes for many years. Affymetrix will sell you your own Axiom cotton genotyping array if you just call them.
Meanwhile the cost of DNA sequencing is falling in half every 22 months, so any value add in this space is only becoming increasingly commoditized as the cost goes to nearly $0.
Rapidly Falling DNA Sequencing Cost Rendering Applied DNA Increasingly Commoditized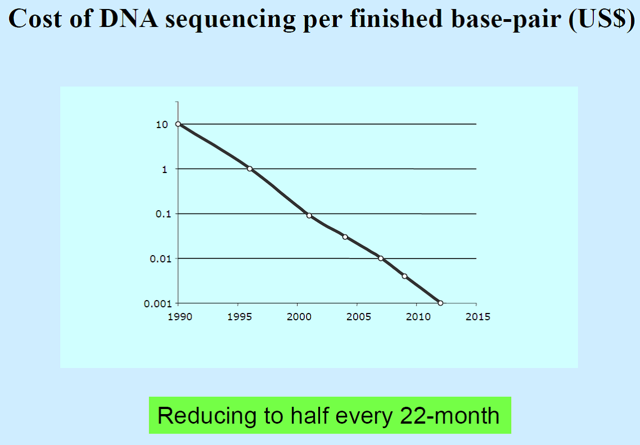 (pic credit page 5)
To think the cotton industry has not worked out their own way to identify specific types of cotton is clearly absurd and the probability APDN generates a meaningful profit from this segment is obviously zero.
Understanding APDN's True Purpose: Flagrant Insider Enrichment and Concerning Related Party Transactions Abound
Since we now understand APDN's is hopeless unviable; what is the true purpose of APDN's existence? What is this team of wipeout artists possibly doing with this old and unviable technology in a reverse merger shell?
The chart below makes me sick and I don't see how any shareholder alive would consider this anything other than abusive and offensive. I apologize as the chart below is a bit small but this is absolutely critical for you to understand so please follow along closely.
The body of this table breaks down APDN's insider compensation, below that is APDN's revenue and R&D spending for each year.

In yellow on the right you will see Applied DNA insiders have "earned" a staggering $32.36m of compensation, coming straight out of shareholder pockets.
Most offensively, APND has invested just $4.87m into R&D over the last 11 years combined. This means insiders paid themselves a ridiculous 6.63x what was invested in R&D. How could APDN possibly stay relevant in a hyper competitive industry given this gross abuse of shareholder money? How could this possibly be considered fair and acceptable?!
What have APDN's retail shareholders "enjoyed" as a result of paying these people tens of millions of dollars?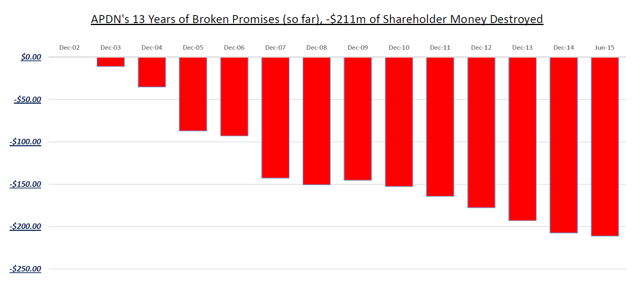 Why is APDN CEO James A. Hayward Smiling? He made $13.2m from the APDN Piggy Bank (I'd be smiling too) while APDN has Burned -$211m of Shareholder's Money (so far)…..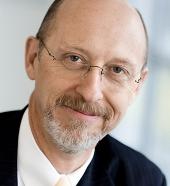 (pic credit)
How have Applied DNA insiders possibly funded this incredible insider compensation in the face of constant financial disaster?

Then how has this relentless dilution driven piggybank for insiders been possible?
Likely as a result of APDN's 10+ years of failure and paid stock promotion, there are no credible sophisticated investors involved. The only shareholders you would recognize by name are typical large holders who directly replicate the NASDAQ index for their clients as passive index investors. Meanwhile a full 76.84% of the shareholder base is "mom and pop" retail holders who lack the time or resources necessary to do conduct proper institutional-quality due diligence on APDN to understand what is truly going on.

(chart build using public information)
That's Not All! APDN's Spiderweb of Related Party Transactions With Concerning CEO Loans
Apparently making $32m+ for doing nothing I can see is still not enough for the APDN team. On 10/11/2014 [aa5] the APDN team and CEO James Hayward decided the best idea they could come up with was for James Hayward to loan money to his own company for 10 months at 12.5%. Then even more upsetting, just 2 months later James Hayward and the APDN gang all agreed to convert this loan into an egregious amount of stock, giving him 252,137 shares along with another 252,137 warrants struck at $3.25. With APDN stock now temporarily hyped up to nearly $8 per share that XYZ loan is now worth ~$3.2m excluding any interest payments he may have received for a whopping $1.41m profit to CEO James Hayward! Not bad for 2 month loan to your own company at the expense of shareholders!!
That isn't all though as in 2012 Applied DNA CEO and insiders again decided the best idea they could come up with would be to issue a million dilutive warrants and a generous revenue share to a tiny company James Hayward and APDN insider Yacov were both investors in:
" We acquired rights to certain software and intellectual property pursuant to an agreement we entered into with DivineRune Inc., a secure cloud-computing specialist, on January 25, 2012. DivineRune was issued a 3 year warrant to purchase one million shares of our common stock at an exercise price of$0.071 per share vesting in full on the first anniversary of the date of grant as compensation for a license to DivineRune's patent portfolio. We will also share revenues on any future sales of products generated as a result of this agreement. We expect that the partnership will enhance and extend our core anti-counterfeiting, anti-diversion, and security systems into the digital track-and-trace sphere. James A. Hayward, our President, Chairman and Chief Executive Officer, and Yacov Shamash, a member of our Board of Directors, were among the early investors in DivineRune. "
Does this all seem fair to YOU?? These guys are making millions and millions of dollars while diluting unsophisticated retail investors into oblivion and losing literally hundreds of millions of dollars of investor money. How much longer can this possibly continue??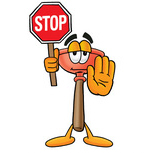 (picture credit me)
APDN's Dangerous Financial Position: Imminently Facing Insolvency as Cash Burn Accelerates
Unfortunately for APDN's retail shareholders, huge insider compensation, -$211m of losses (so far) and an unviable product mean APDN loses a staggering amount of money each and every year. As this trend has only gotten worse, despite Applied DNA's constant dilutive and abusive equity raises, APDN is always one failed capital raise away from bankruptcy. Today is no different and with current cash dwindling as APDN cash burn is now set to get worse, I believe we are fast approaching the "event horizon" where APDN finally goes up in smoke and ceases to exist.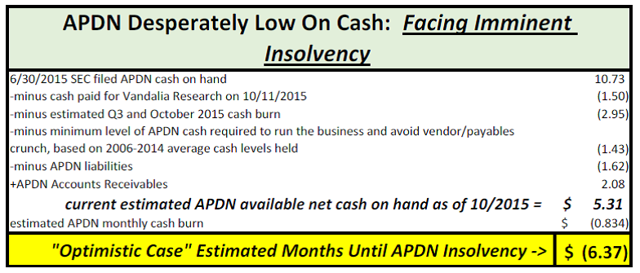 (chart by me with public information)
As you see above, APDN is estimated in the "optimistic case scenario" to have barely ~6 months of cash left before bankruptcy. Note that I believe companies are typically required to keep at least 1 year of cash needs on hand in order to avoid the dreaded "going concern" auditor statement which typically marks so many companies before their demise.
This means APDN is now in a precarious position and I believe only has three options left:
1. "Most Likely Outcome": APDN is totally unviable and survives only on repeated dilution. APDN gets stuck in a game of "chicken" with potential investors who are happy to sit back and let APDN squirm as cash flow dwindles. The kind of sharky investors who participate in equity raises for these bottom tier companies are not afraid of playing games and drag desperate APDN into a "death spiral" as they push for increasingly better terms at the expense of APDN shareholders. Eventually a deal is executed on horrible terms and APDN stock becomes unhinged as it violently breaks down to it's fair value of $0.19 per share on this terrible news.
2. "Next Most Likely Outcome": Applied DNA struggles to find more bagholders willing to immediately put up the $10m+ of cash they require, and with a failed capital raise APDN swiftly goes bankrupt like countless other failed and unviable micro-cap penny stock tech stories. APDN stock goes to $0.
3. APDN management's blathering finally becomes reality and APDN grows revenue over the next two quarters and becomes cash flow positive. In this case I am completely wrong, APDN never issues equity since that is not necessary with their revenue growth and profits. As a result, APDN has zero need for any more dilution and current shareholders rejoice. However APDN is still valued at 12.5x even the "fantastyland" estimates put forth by APDN's obviously conflicted investment banker Maxim. Peers trade at 1.5x revenue though and I don't see how APDN is worth 12.5x sales so honestly APDN stock is still quite overvalued even using the unreasonably aggressive estimates put out but their most passionate cheerleaders.
DNA-Authentication Shareholder Wipeouts: We've Been Down This Road Before…..
Unfortunately Applied DNA is not the first DNA authentication wipeout to occur as APDN is essentially just a left over zombie company from the early 2000 authentication bubble. This DNA technology and concept is neither new, nor successful – in fact it is over 15 years old and the industry is littered with failures like APDN. Most interestingly, as I will explain, some of these companies appear vastly and irrefutably superior to APDN as well. First, a history lesson in DNA authentication wipeouts as none of these companies have worked out and all have been wipeouts:
First, APDN: A Shareholder Loss Odyssey in 1080 HD
Starting back in the early 2000s, coinciding with the Authentication bubble, APDN managed to inflict severe pain on anyone unfortunate enough to be long the stock at virtually any point in its history.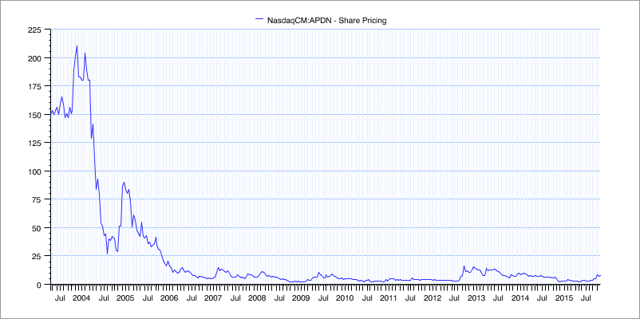 Source: CapitalIQ
Sure Trace Security Corporation (OTC:SSTY)
Then there was SSTY, another early 2000s DNA-Authentication wipeout… BADA-BING!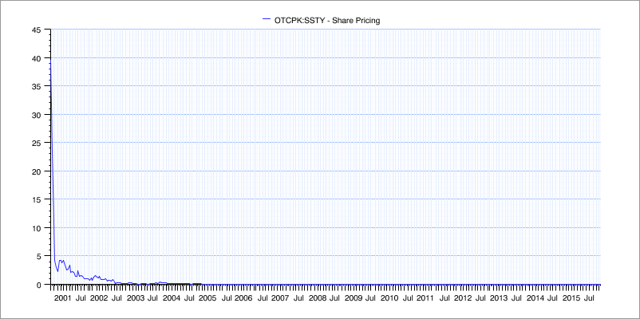 Source: CapitalIQ
New York Global Innovations, Inc. (OTCPK:INKS)
Before going defunct and selling the shell to New York Global, a company called Inksure Technologies offered specialized authentication products. Like APDN, INKS was unable to generate meaningful revenue and crushed its shareholders.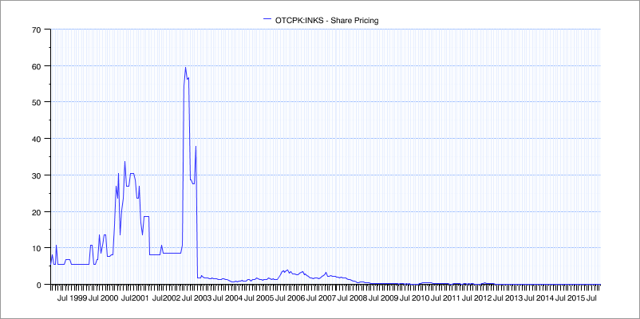 Source: CapitalIQ
DataDot Technology Limited (ASX:DDT)
Not to be outdone, the Aussies got into the game with a company named DataDot that has done nothing but go "Down Under" for its shareholders over the last decade, now trading at $0.02, similar to where APDN stock was before the 60:1 reverse stock split.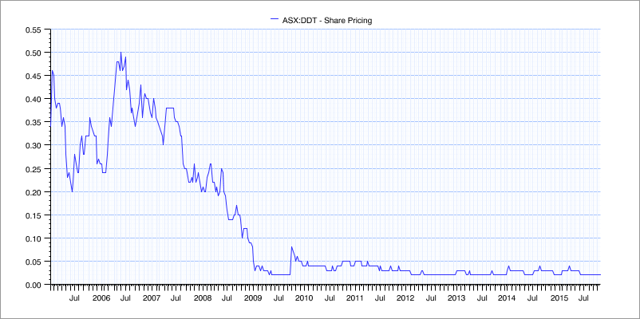 Source: CapitalIQ
In order to show how absurdly over valued APDN has temporarily become let us look at DataDot as a comparison since is an obviously superior company and also the most accurate benchmark for valuing APDN. Through reviewing the DDT investor presentation, we can understand several key facts about the DNA authentication industry and DDT's clear superiority.
First, DDT is more global than APDN while competing in some of the same territories: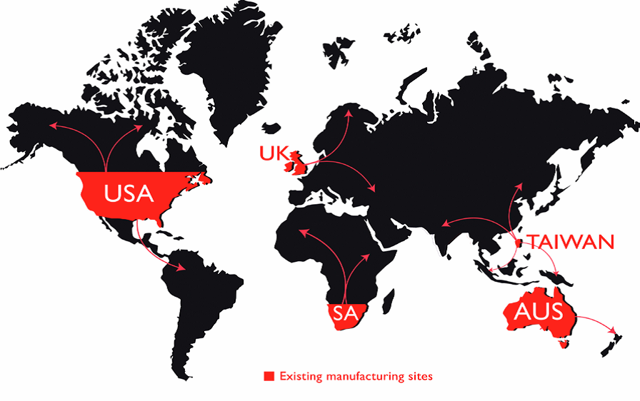 Source: DDT Investor Presentation
While APDN continues to tout partnerships with obscure companies, some of which seem especially Valeant-esque to me, like APDN's much touted but apparently unviable UK partner "Patronus", DataDot has a blue chip customer base boasting impressive market share in key territories and is aggressively expanding into the US, recently being awarded a key contract with the US government while recently starting a proof of concept with another US government authority.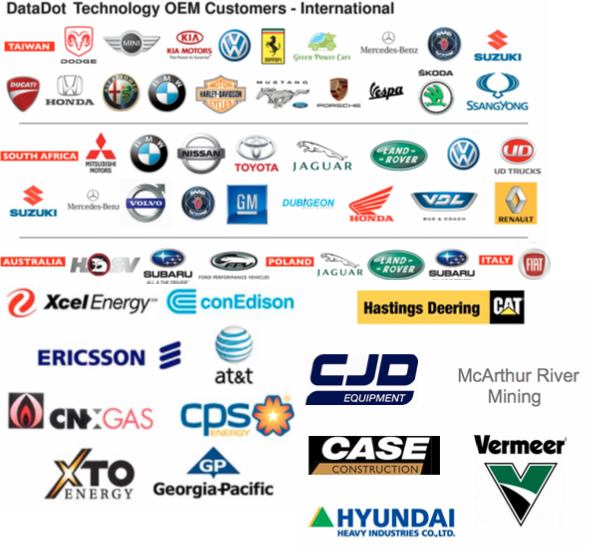 Source: DDT Investor Presentation
Thirdly, DDT serves a wide variety of industries and also apparently has more revenue than APDN.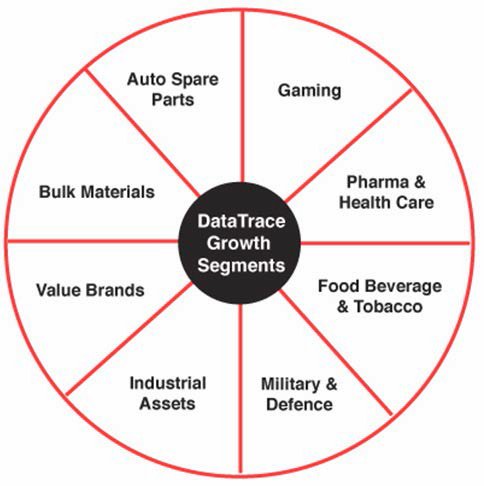 Source: DDT Investor Presentation
While DDT is clearly a superior company with ~$7.2m in 2014 revenue (in ASD), DDT has a whopping $15 million market cap (ASD) and $0.02 per share (ASD) valuation. If we value APDN similarly to superior DDT we see that APDN is -92.62% overvalued with a fair value of $0.57 per APDN share using generous assumptions.
(chart built by me with public info)
APDN's Non-Response
Despite having multiple full time IR employees APDN seems unable to answer the phone for investors. Multiple calls were made over multiple days to try and get anyone from APDN on the phone but apparently could not be bothered to pick up the phone even once. I have serious questions that deserve immediate answers so I look forward to hearing APDN's detailed point-by-point response to what I have expressed here along with the serious issues my research has uncovered. If I owned APDN stock I would immediately call the company for answers. Always remember: They are supposed to work for you and, as a shareholder, APDN is YOUR company. I think any company that does not take this responsibility is obviously un-investible as I expect any company I invest in to take the time to speak with me.
As a result of recent, unprecedented hype and paid stock promotion, despite rapidly deteriorating fundamentals and cash burn, APDN reached the temporary valuation level of $180m based on an insane 48x APDN's forecasted 2016 revenue.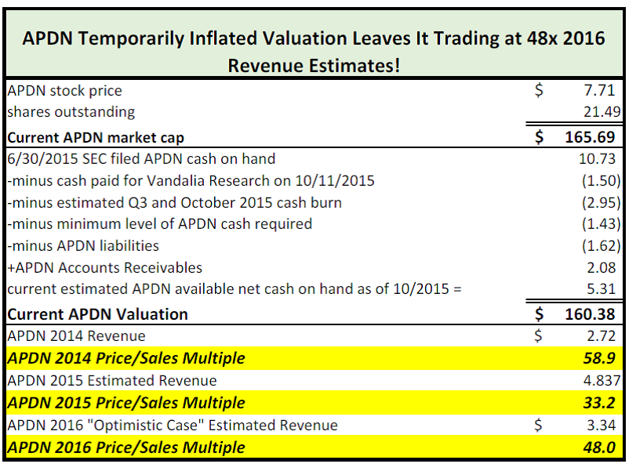 (table and estimates built using public info)
Not only has APDN never seen this valuation before but last time it got even close APDN quickly filed an equity shelf registration (preparation to sell stock) on 7/24/2013 and did yet another large, dilutive equity raise on 10/2/2014 while the stock quickly fell -76.9% afterward.
Unprecedented, Temporarily Inflated APDN Valuation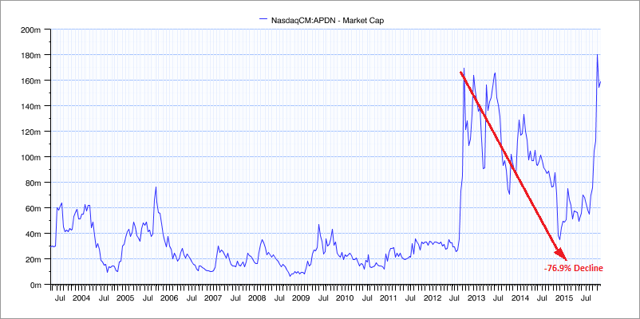 Note last time APDN's stock value temporarily approached the current valuation, APDN immediately fell -76.9% despite incessant press releases about DLA and more vague "pilot programs". Another way to look at APDN is that before the current DLA hype, APDN languished with a $10-30m market cap.
We have seen above that APDN's revenue is set to decline next year as the temporary DLA inspired license fees and revenue expire while at the same time the one-time US government grants are not repeated. Simultaneously APDN management has guided to higher expenses through expanding the sales force, which means even worse losses and cash burn than in the past. As this hype blows over and APDN is not able to ramp revenue dramatically or drive profitability next year, I would expect APDN to break down back to past valuation levels or lower. Assuming APDN can avoid bankruptcy, using the current 21.49m shares outstanding and generously using 6x my 2016 revenue estimates puts APDN stock at $0.98 per share for -87.32% near term downside.
Plungey Makes The Call: APDN Will Be Near Total Wipeout, With -92.62% Near-Term Downside
APDN Conclusion: "Don't Fall For It."
As APDN's DLA contract failure becomes impossible to ignore and the two non-repeating US government grants roll off, APDN revenue will never hit the revenue or profitability metrics investors are expecting. As this hype wears off APDN will find itself desperately short of cash, facing either another emergency dilutive equity raise at terrible terms, or swift bankruptcy. With APDN trading at the dot-com bubblicious valuation of 48x forecasted 2016 revenue there is no downside protection for this obsolete Chinese based technology reverse merger when superior peer competitors trade for just 1.5x revenue. The last time APDN hit valuation levels approaching today's, the stock , immediately fell -76.9% while any vaguely reasonable valuation estimate results in fair value per share at a maximum of $0.571 per share using generous assumptions.
I do not expect APDN insiders to share in this misery though. Unless shareholders pull the plug, CEO James Hayward and the APDN gang will continue enriching themselves at shareholder expense to the tune of millions and millions of dollars funded through merciless dilution until APDN eventually ceases to exist and insiders keep all their money.
There are tens of thousands of stocks in the world. I see no reason to own anything with even half the red flags and flagrant insider enrichment APDN has and I'm sure any vaguely intelligent individual can find something better to invest in than this mess.
DON'T FALL FOR IT.