Hottest links for Tuesday, February 25th, the late edition. Get our free daily newsletter and never miss a single linkfest. Also, now if you sign up you will get our new e-book on value investing.
Top stories for today are included below.  Some great stories today, including the best investment advice you'll never hear, and the mystery commentator behind the caustic @GSElevator account revealed!
Hottest Links: Stories
Value Investing
Tiny Deep Value and Illiquid
Looking Into the Gaming Industry with VanEck's JP Lee
ValueWalk's Raul Panganiban interviews JP Lee, Product Managers at VanEck, and discusses the video gaming industry. Q4 2020 hedge fund letters, conferences and more The following is a computer generated transcript and may contain some errors. Interview With VanEck's JP Lee ValueWalk's ValueTalks ·
Trans World Corporation (OTCMKTS:TWOC): owns and operates 3 casinos and a hotel in the Czech Republic along the German and Austrian borders.  The company plans to expand further in the non gaming hotel business. This move will diversify their existing source of income. [ShadowStock]
The best investment advice you'll never get
For 35 years, Bay Area finance revolutionaries have been pushing a personal investing strategy that brokers despise and hope you ignore. [Barry Ritholtz, The Big Picture]
Does Alpha Exist?
The juxtaposition of luck and skill presents a false choice. The fundamental issue is much simpler: Does alpha exist? I have deliberately structured this question to parallel the philosophical question—"Does God exist?"—because an asset owner's answer results in an investment theology that transfigures his or her entire investment orientation. [aiCIO]
Adventures in TAA
I had to wait a year for a little turmoil in the bond market, but after some modification I think I have a good candidate. It still needs another year in the sandbox and some tedious QA on the code, but here's what I've learned so far: [Mortality Sucks]
Funds
Distressed debt: Quick update IVG convertible – insolvency plan released
As a former IVG convertible investor, I still follow what is happening there in order to learn how this "new" German bankruptcy process works. [Memyselfandi, Value And Opportunity]
Chart of the Day: Buffett's 90/10 vs the Barclay Macro Index
In the Fortune piece I linked to excerpting Warren Buffett's 2014 letter, he recommended a very simple approach to asset allocation – a 90/10 split between stocks and bonds in low fee index funds. [Cullen Roche, Pragmatic Capitalism]
Mt Gox, bitcoin, Hordes of Chaos, Demons and armies of Orcs…
MtGox.com is the main exchange for bitcoin. I am not inherently opposed to bitcoin as a small and interesting speculation (though I would not do it for my clients). [John Hempton, Bronte Capital] Related: Imagine that: The locals actually believed these silly pieces of colored paper had value. Sure, paper currency worked as a medium of exchange, and it allowed you to buy goods and services within that society. [Barry Ritholtz, The Big Picture] Related: Being a currency buff, I have always found Bitcoin and all of the other "alternative" currencies to be interesting, and a pleasant distraction. [Meb Faber]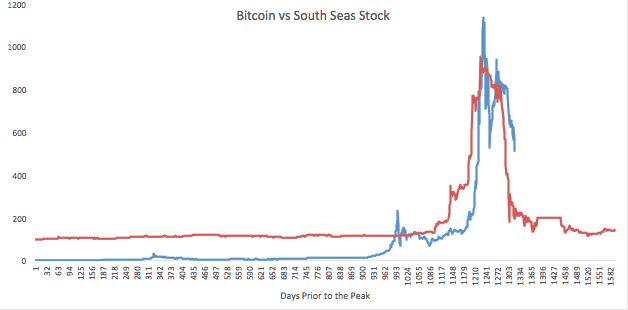 Here Comes the Climax
This past week's $19 billion Facebook Inc (NASDAQ:FB) binge felt like the beginning of a climaxing of sorts – the type of deal that usually comes to punctuate the end of a great bull market (think AOL, Inc. (NYSE:AOL)-Time Warner Inc (NYSE:TWX), the LBO of Equity Office Properties) or at least speeds up the gallop into the end. [Joshua M Brown, The Reformed Broker]
Shorting Tesla: Is Seabreeze Partners' Doug Kass a Genius?
Last Wednesday Mr. Kass very publicly shorted Tesla Motors Inc (NASDAQ:TSLA) a few hours before earnings were announced. Rookie move, on a few levels. [Climateer Investing]
@GSElevator Tattletale Exposed
A three-year parlor game has been taking place on Wall Street to identify the Goldman Sachs Group Inc (NYSE:GS) employee behind a Twitter account that purports to reveal the uncensored comments overheard in the firm's elevators. [Andrew Ross Sorkin, DealBook]
Using the Price of Magic to Estimate the Cost of Capital
On Friday, I wrote about the delightful capital arbitrage of DTA-linked notes, in which banks are looking to "get 'capital' by securitizing tax deductions from past losses." [Matt Levine, Bloomberg]
SEC Employees Make Great Stock Pickers
We use a new data set obtained via a Freedom of Information Act request to investigate the trading strategies of the employees of the Securities and Exchange Commission (SEC). [Wesley R. Gray, Turnkey Analyst]
RealPage Gets Ripped
This update to our Reality Check of two weeks ago on RealPage, Inc. (NASDAQ:RP): Not only did the apartment-management software company miss fourth-quarter revenue and earnings, but it missed and guided down on perhaps the most important metric of all: Organic growth — and not in a small way. [Herb Greenberg, Herb on TheStreet]
After the Jump
I've learned a few things about what to take or leave behind. I've accumulated quite a few stories, some you know and some that are still to be told. [Joshua M Brown, The Reformed Broker]
Taxpayers deserve every penny of Fannie and Freddie profits
When it comes to the Treasury Department's 2012 decision to return all of Fannie Mae / Federal National Mortgage Association (OTCBB:FNMA) and Freddie Mac / Federal Home Loan Mortgage Corp (OTCBB:FMCC)'s earnings to taxpayers rather than issuing a 10% dividend as originally stipulated, these two are lining up behind wealthy investors. [Christopher Matthews, CNNMoney]
Hottest Links: Not The Onion
Farmer sets up cameras to bust upstate New Yorkers making porn with his cows
"Michael Jones, 35, allegedly did the dirty deed with the bovine beasts in Herkimer County while best pal Reid Fontaine, 31, filmed the entire sordid encounters. They were busted, however, when the farmer started to wonder why his animals weren't producing as much milk as usual." [Lee Morgan, New York Daily News]