Nu Skin Enterprises, Inc. (NYSE:NUS) is focusing much of its efforts on China, but unfortunately, the public media there don't like the company at all. After an article published by the Chinese site People's Daily, Nu Skin shares fell as much as 20% during the regular trading day. Today's decline comes just two days after the company's stock hit a new 52-week high.
Shares of Herbalife Ltd (NYSE:HLF) fell as much as 3%, possibly as investors drew comparisons between Nu Skin's and Herbalife's strategies in China.
21st Century Investing with The Investment Integration Project's William Burckart
ValueWalk's Raul Panganiban interviews William Burckart, The Investment Integration Project's President and COO, and discuss his recent book that he co-authored, "21st Century Investing: Redirecting Financial Strategies to Drive System Change". Q1 2021 hedge fund letters, conferences and more The following is a computer generated transcript and may contain some errors.
Chinese report suggests Nu Skin may be "brainwashing" people
People's Daily reporters apparently spent some time attending meetings at which people were solicited to become distributors for Nu Skin Enterprises, Inc. (NYSE:NUS). They were investigating after receiving a letter from a reader who said Nu Skin "felt like a family MLM" and asked exactly what the company is. As part of its investigation, the media outlet spoke with Hu Jiang, a lecturer at the Southwest University of Politics and Law, who said he thinks that what was said and done at those meetings constitutes "alleged mind control" or "brainwashing," according to Google's translation of the Chinese article.
The report also suggests that Nu Skin's personnel model does resemble that of a pyramid or "trapezoidal pyramid structure," according to Google's translation. It points to the way Nu Skin structures its bonus system with a "level commission, retail commission and bonus." As part of the "level commission," distributors can see downline sales commission from six generations the people they recruit. The report suggests that under Chinese law, this system may indeed represent an illegal multi-level marketing (MLM) scheme.
Nu Skin's brochures may not be accurate
People's Daily also suggests that Nu Skin's brochures could be lying when they talk about "gene reset technology," which the report says is "purely fabricated," according to Google's translation. Reports apparently investigated these technical terms and found the reference articles did not really back up Nu Skin's claims. In fact, experts told the media company that the science in those articles did not necessarily apply to humans.
Nu Skin's tactics similar to Herbalife's
Herbalife Ltd (NYSE:HLF) and Nu Skin may be in the clear as far as the U.S. Federal Trade Commission is concerned—at least for now—but both MLMs have emphasized just how important China is to their strategies. D.A. Davidson analyst Tim Ramey, one of Herbalife's biggest cheerleaders, actually wrote a report late last year highlighting just how important China has become to both Nu Skin and Herbalife.
As a result, investors may think that today's report spells trouble, particularly for  Nu Skin.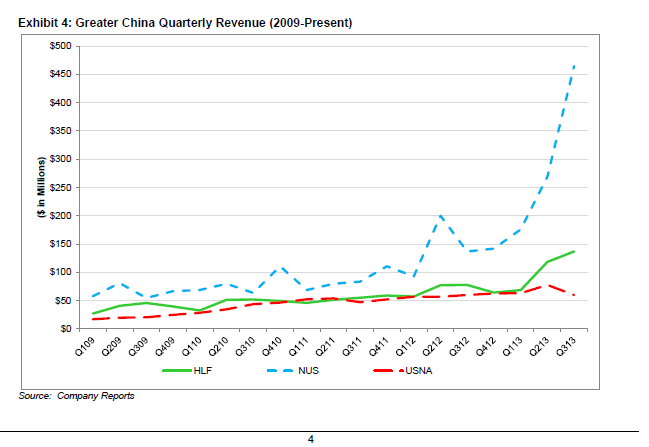 Nu Skin also accused last year
This isn't the first time Nu Skin Enterprises, Inc. (NYSE:NUS)'s strategy in China has been questioned. Back in October, Citron Research also claimed that, through its own independent research, plus mainstream Chinese media reports, Nu Skin is operating an illegal MLM there.