"Davidson" submits:
The Dallas Fed released the 12mo Trimmed Mean PCE(core inflation) measure at 1.3%. This keeps the Prevailing Rate at ~4.3% and the SP500 Intrinsic Value Index moves to $1,923 for Dec 2013. The table for the Dallas Fed Trimmed Mean values and the chart of the SP500 vs. SP500 Intrinsic Value Index are below.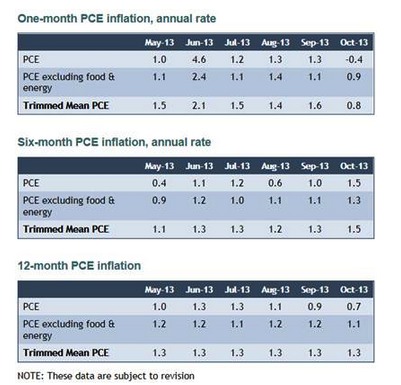 The SP500 Intrinsic Value Index is only important when the price of the SPDR S&P 500 ETF Trust (NYSEARCA:SPY) is below as this level as it represents the price level attractive to Value Investors in past investment cycles. This is because when Value Investors such as Warren Buffett deem stock prices attractive it coincides with the SP500 long term mean earnings trend capitalized by the Prevailing Rate. Inflation is a component of the Prevailing Rate and market lows which are created by the Value Investors incorporates this inflation factor. As the economy expands, inflation is less important in the pricing as many investors bringing fresh capital to the markets are simple trend followers and ignore many common valuation parameters.
Although there have been a few signs of Momentum Investor activity, i.e. recent social media stocks and names such as Tesla Motors Inc (NASDAQ:TSLA), where stock prices exceed by wide margins the identifiable value(if there is any), the current market remains within the historical range for Value Investors. It should not surprise anyone if Warren Buffett buys another Burlington Northern or Heinz.
Many opportunities remain for investors for gains the next several years in my opinion.
Via: valueplays