Hottest links for Friday 6th December, the late edition (see Thursday's edition of hottest links). Get our free daily newsletter (which HAS BEEN RECENTLY UPDATED) and never miss a single linkfest. Also, now if you sign up you will get our new e-book on value investing.
Top stories for today are included below. Today we have an illuminating yield chart, a way to bet against Bitcoin, and a Vanity Fair piece on 'Geek Goddess' Marissa Mayer.
Hottest Links: Stories
Value Investing
The Most Important Yield Chart in the World
We mentioned this back in August where the premium that dividend yield stocks are trading at relative to the market is near the highest ever. [Mebane Faber]
Some more thoughts on ThyssenKrupp
So without the disposal, for the rest of ThyssenKrupp AG (ETR:TKA) (FRA:TKA), net debt INCREASED by 200 mn EUR, so not so great actually. I think also their description of the debt reduction on page 45 in the (German) annual report is highly misleading. [memyselfandi007, ValueAndOppurtunity]
When the 2-and-20 crowd drives economic research
It's the 2-and-20 crowd, who are giving quite astonishing amounts of money to fund economic research in such places. Last year, for instance, Bill Janeway gave $25 million and George Soros gave another $50 million to The Institute for New Economic Thinking, which gifts spurred INET to announce that it was going to try to raise another $75 million on top of that. [Felix Salmon, Reuters]
Simplify your investing to avoid 'opportunities for failure'
Retail investors are back. Josh Brown at The Reformed Broker in a recent post highlights the rush of investors back into the stock market, five years and nearly a 100% return up from the bottom. [Abnormal Returns]
The Interoil-Total deal
InterOil Corporation (NYSE:IOC)- an oil and gas company with operations in Papua New Guinea – is a controversial stock. And there are reasons – today demonstrates just some of them. [John Hempton, Bronte Capital]
Confessions of an Institutional Investor
The high fees, under performance, leverage and lack of transparency for this investing style has been well documented over the past few years, but I have seen other risks above and beyond these issues. [Downtown Josh Brown, The Big Picture]
Funds
The Wall Street Stupidity Index
The day Twitter Inc (NYSE:TWTR) went public not only was profitable in the fiscal sense, but also illuminated a metric that has heretofore been underappreciated by those attempting to comprehend and thereby profit from the laws that guide the market. We will call this potent new tool the Wall Street Stupidity Index. [Climateer Investing]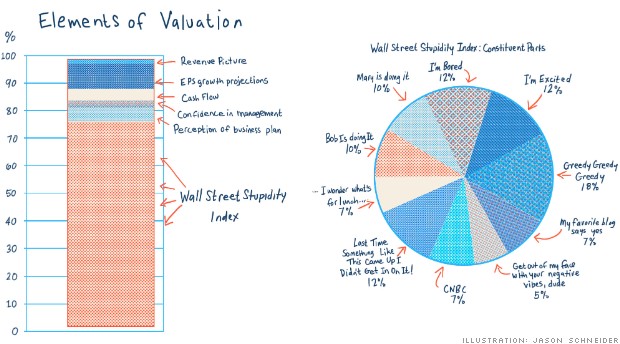 Fun with Corrections!
In this morning's discussion about defining bubbles, a reader made an interesting a posteriori statement: You can tell a bubble after a market has "dived much lower." [Barry Ritholtz, The Big Picture]
How to bet against the bitcoin megabubble
Can you bet on the likely eventual bitcoin crash? You bet. But it's an expensive trade. And even if you're right, you won't walk away with much, if anything. [Stephen Gandel, Term Sheet]
Hedge funds say they have absorbed new EU rules on short selling
European rules requiring short-sellers to report positions are an irritation rather than a danger to the hedge funds industry, managers and investors said after reports the rules had prompted one fund to close. [Chris Vellacot, Reuters]
Are NFL Betting Markets Inefficient?
We analyze the intra-week evolution of bookie-quoted National Football League betting lines in NewYork City and its implications for market efficiency. Our unique data set includes three sequential lines. [Wesley R. Gray, Turnley Analyst]
How Doing What Is Right Helped Build the Indian Financial System
This section will trace the construction of an institution that likely helped set the stage for that development by helping Indian companies access credit, and the significant role that anaylytical rigor and ethics had in that institution's success. [William Ortel, CFA Institute]
Best And Worst-Performing Short Bets In Europe
While several hedge funds have jumped aboard the shorting bandwagon, the earliest shortsellers were Viking Globlal, Citadel and Pennant Capital.. Shares of K/+S AG are down 40% YTD. The potash industry faced pressure from the possibility of competitive prices as Russia's Uralkaliy OAO (MCX:URKA) (OTCMKTS:URALL) ended its agreement with Belarusian Potash Company, which together accounted for the bulk of the world's potash supply. [Tabinda Hussian, ValueWalk]
Hedge Fund Advisor Talks 2014
2013 is about to end and it is clear to see it was a great year to be invested in the stock market. The S&P 500 (INDEXSP:.INX)is going to have a 20%+ return this year and is on its way to finish the year above 1,800; the NASDAQ Composite (INDEXNASDAQ:.IXIC) is trading above 4,000 level for the first time in 13 years.  [Ronen Schwartzman, FINalternatives]
Quant Jocks and Tire Kickers
This paper classifies mutual funds into two groups according to their distinctive stock selection approaches: tire kickers who rely on fund managers' personal judgment and fundamental analysis to pick stocks, and quant jocks who use computer-based models to select stocks. [Wesley R. Gray, Turnkey Analyst]
Greek-Focused Hedge Fund Doing Okay For Itself
Dromeus Capital Group launched its Greek Advantage Fund last October, and in its first 12 months, has returned 107%. [Bess Levin, DealBreaker]
Misc
Blackstone responds to Jon Stewart
The Blackstone Group L.P. (NYSE:BX) found itself in The Daily Show's sights last night, based on a seemingly-brazen piece of self-dealing that was first uncovered late last month by Bloomberg News. [Dan Primack, Term Sheet] The Blackstone Codere trade — in which Blackstone Group LP bought credit-default swaps on troubled Spanish gaming company Codere SA, then agreed to roll a $100 million revolver for Codere on favorable terms in exchange for Codere agreeing to make an interest payment on some bonds two days late. [Matt Levine, Bloomberg]
Blackstone & Codere
Samantha Bee investigates the shady, totally legal business dealings of a private equity firm called The Blackstone Group L.P. (NYSE:BX). [The Daily Show with Jon Stewart]
CIBL, a discounted pile of cash with high optionality
Fast forward close to two years later, CIBL, INC. (OTCMKTS:CIBY) has followed through and sold out of their wireless towers and TV station ownership interests for a value that is slightly higher than my low end estimate. [Nate Tobik, Oddball Stocks]
Yahoo! Inc. (NASDAQ:YHOO)'s Geek Goddess
After a brutal fight to depose the company's C.E.O., Daniel Loeb helped raid Google Inc (NASDAQ:GOOG) for one of its longest-serving and most famous executives, Marissa Mayer, then often called "the face of Google" or "Google's glamour geek." [Bethany McLean, VanityFair]
'Cashtags' turn tweets into dollars
In November, Lady Gaga sold fans an album and accompanying merchandise for $57.98 (plus shipping) via a Facebook post. All they had to do was respond to her offer with the hashtags #buy and #ARTPOP. And on Tuesday, Eminem promised to match donations dollar for dollar for Twitter Inc (NYSE:TWTR)  users who gave money by tweeting #donate to Wolverine Human Services, a social-services agency in the rapper's native Michigan. [Catey Hill, Market Watch]
Greenberg: Best Part of the Ulta Story
Long before Ulta Salon, Cosmetics & Fragrance, Inc. (NASDAQ:ULTA) report of disappointing results Thursday, there were plenty of reasons to be wary: A revolving door of CFOs, including one who stayed just five weeks. A promotional CEO who left for something presumably better before his options granted — and before the annual audit was completed. [Herb Greenberg, The Street]
Is BlackRock too big to fail?
Ten firms each individually control over $1 trillion in assets with the largest, by far, being BlackRock, Inc. (NYSE:BLK), which manages $4.1 trillion. [Sheila Bair, Term Sheet] Related: ASK conspiracy theorists who they think really runs the world, and they will probably point to global banks, such as Citigroup Inc (NYSE:C), Bank of America Corp (NYSE:BAC) and JPMorgan Chase & Co. (NYSE:JPM). One firm unlikely to feature on their list is BlackRock, an investment manager whose name rings few bells outside financial circles. [The Economist]
The SEC's Questions for Twitter Ahead of Its IPO
Ahead of its Nov. 7 initial public offering, the SEC asked Twitter Inc (NYSE:TWTR) to clarify a few of its assertions from its original S-1, the prospectus filed by company's that want to go public. Twitter released these letters on Friday [Maureen Farrell, MoneyBeat]
Hottest Links: Not the Onion
A TEENAGER has been left fuming after mistakenly buying a photo of an in-demand computer console online. Peter Clatworthy thought he had paid £450 for an XBox One console on eBay, but actually received a picture of one in the post. [Bryan Henesey, Nottingham Post]