It's been awhile since I posted on total N. American rail traffic so I thought I'd update it today with the latest information.  After a middling month of March rail traffic has again begun to accelerate from April through last week coming in at 696k carloads vs 679k the prior year.
As I have said on all these other posts we have to make some adjustments when talking about the absolute numbers and comparing them to previous years. Coal traffic (red line below) collapsed in late 2011 as shale gas became abundant (shipped via pipeline not rail). That has had a roughly 20k per week negative effect on carloads. To give you some scale 20k carloads is about the total amount of food and grain products shipped via rail each week in N. America.
ADW Capital's 2020 letter: Long CDON, the future Amazon of the Nordics
ADW Capital Partners was up 119.2% for 2020, compared to a 13.77% gain for the S&P 500, an 11.17% increase for the Russell 2000, and an 8.62% return for the Russell 2000 Value Index. The fund reports an annualized return of 24.63% since its inception in 2005. Q4 2020 hedge fund letters, conferences and more Read More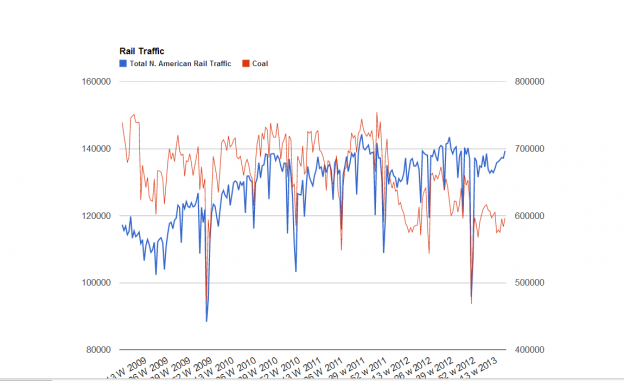 Now, some will say shale oil has replaced that. Total weekly coal shipments are still nearly 2X oil shipments (119k to 67k) if not more as the "petroleum" category also includes "chemicals". Bottom line is the rise in oil shipments via rail has only offset a fraction of coal's decline. Now, that decline will get smaller as we go forward but for comparison purposes when to look at YOY numbers for total traffic, the only really valid comps we can look at without making adjustments are 2012 and '13.
Here is the chart, note the two sides are scaled differently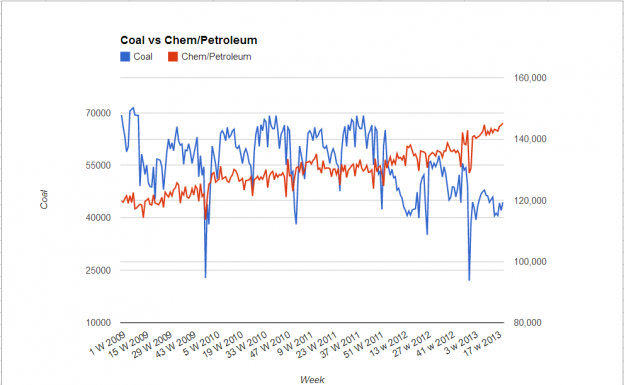 So, what do the current numbers tell us? Simply it would seem the economy is accelerating albeit at a slow and methodical pace. Traffic has strengthened for the last 7 weeks with the most recent week's jump being the largest.
By: valueplays