Total N. american rail traffic rebounded from the typical Christmas/New Year slump last week to 686k carloads. This is a very strong number as the rebound is back near the high levels of 2012. Typically rail traffic rebounds in early January but to no where near the high points of the previous year.
Here is the chart:
Notes From Schwarzman, Sternlicht, Robert Smith, Mary Callahan Erdoes, Joseph Tsai And Much More From The 2020 Delivering Alpha Conference
The following are rough notes of Stephen Schwarzman, Steve Mnuchin, and Barry Sternlicht's interview from our coverage of the 2020 CNBC Institutional Investor Delivering Alpha Conference. We are posting much more over the next few hours stay tuned. Q2 2020 hedge fund letters, conferences and more One of the most influential investor conferences every year, Read More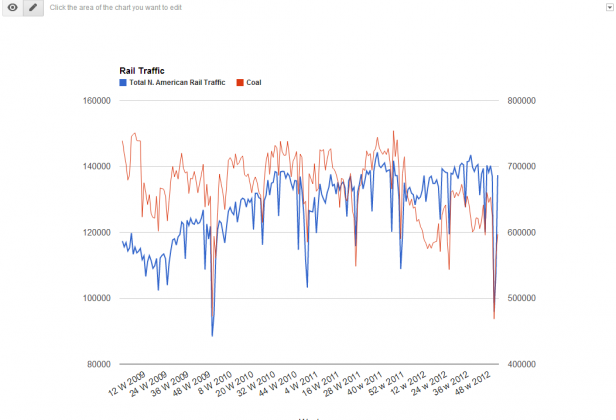 Now, some have doubted the strength of rail traffic through the end of the year and here are some of the usual reasons they feel the levels we have seen are NOT due to general economic strength but ancillary reasons:
1- "More oil is being shipped from Bakken via rail"
To be sure this is happening. BUT, when you consider the collapse in coal traffic via rail, any increases in oil shipments have not overcome that loss. In fact, in the current week coal shipments were down 24k carload while the category "chemical/petroleum" was up only 7k carloads (that is not all oil but chemicals and oil). For some perspective, CP just signed a deal to ship 50k barrels of oil per day from Bakken. BUT, at ~700 barrels per rail car, that comes to ~71 rail cars a day or 2k /month. Just a drop in the bucket when coal traffic is falling 15k-25k per week.
Here is that chart: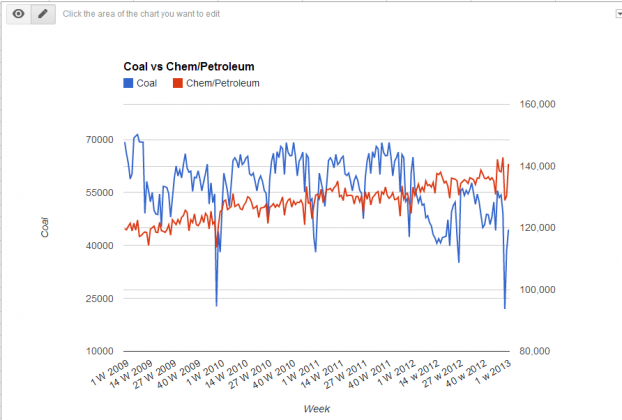 2- "Drought on Mississippi is causing grains to be shipped via rail vs barge:
Again, there is "some" of this happening but if we look at grain traffic, at 43k carloads last week, it has essentially flatlined at 30k to 34k per week since early 2012 when there was no drought and is actually down 2k YOY. So, while there may be some shipments being transferred via rail vs barge, currently it is an immaterial amount.
So ,if those are not the reasons rail traffic bucked historical trends in 2012 and rebounded stronger than normal in early '13, where is the strength coming from ? We have seen real strength in "stone & related products" (think construction) up 20% YOY and Intermodal up 13% (Intermodal is ~1/2 of rail traffic #'s). Those categories are base level manufacturing and goods being shipped. It portends additional economic strength coming down the road.
So again, rail traffic continues to signal the economy is growing and expanding at an increasingly healthy clip…
By: valueplays