I would caution that I do not think we will see a boom here in the near future. Memories of '06-'08 and the aftermath are still too fresh in everyone's minds. I do think that construction will increase at an healthy rate from here. The lack of gushing new supply all but eliminates the "shadow inventory" boogeyman we have been hearing about for three years now as that supply is being absorbed as fast as it enters the market. Further, a moderate level of new supply will further serve to boost prices which at the moment of the most pressing issue, not demand.
Demand is there, anyone who thinks different just is not looking at the numbers. As prices continue to rise, we will see additional activity as those currently "trapped" in underwater homes are able to exit their current situation and move. Now, this activity is a zero gain in terms of inventory, I sell house "A" to buy house "B". It does mean more economic activity in agent commissions, contractors for renovations, paint, tool etc. the ancillary benefit is that potential new buyers, sitting on the sidelines currently renting will see this increased activity and move to buy. It is a virtuous circle. There are over 4M more people working now than there were at the depths of the recession, the US has added >7M people since 2009 and over 20M people (adults) are living in shared housing. That is a lot pf people who want to own homes and it has been proven that as economic conditions improve, they will.
Investing in the Next Generation of Emerging and Frontier Markets with Maurits Pot
ValueWalk's Raul Panganiban with Maurits Pot, Founder and CEO of Dawn Global. Before this he was Partner at Kingsway Capital, a frontier market specialist with over 2 billion AUM. In the interview, we discuss his approach to investing and why investors should look into frontier and emerging markets. Q2 2021 hedge fund letters, conferences and Read More
It all means we can expect housing demand to remain strong for the foreseeable future and as the economy improve further, it will increase.
We are at a ~800k annual pace right now (up ~25% YOY) for new construction and ought to pass 1M next spring. That number is still far too low to fully satiate new demand and that is good as it means positive YOY numbers will be coming out of the housing market for some time, further boosting confidence.
"Davidson" submits:
The Monthly Supply of New Homes of Sale was reported at 4.5mos of supply. Historically when the data trended towards lower readings and was at this level it reflected strong housing demand which led to strong improvements in future Residential Construction Employment. The same relationship exists between reviving auto&light truck sales and general employment trends.

This is typical behavior for recovery. We might have expected this improvement last year ,but tighter lending regulations during the Greek debt issue slowed and then reversed Residential Construction Employment gains. In spite of the current tight lending regulations, the Monthly Supply of Homes data as and the actual numbers of homes sold have improved.

There is the barest hint that Res. Const. Emp. Has begun to revive once again in the most recent data. I expect these trends to continue till a full housing recovery occurs.

I expect to see evidence of a robust housing market shortly. I expect that equity markets which have been improving all summer to continue to reflect improvements in economic activity.

Optimism remains warranted!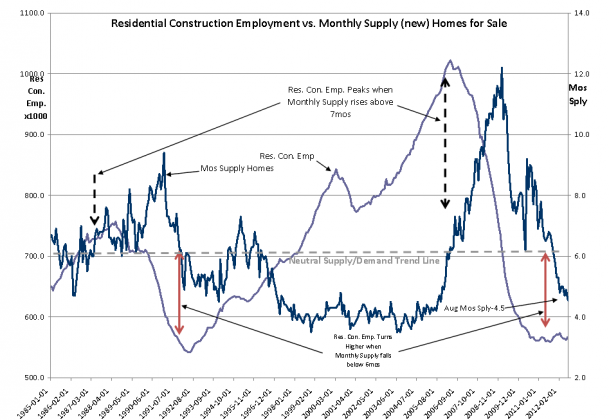 By: valueplays