For the past three years we have heard the constant refrain of the "double dip" coming or that the economy is in "stalled speed". Yet, it has continued to chug along not only dipping into a recession but not even posting a single quarter of negative GDP since the end of the recession.
How? Economists by in large looking at the aggregate numbers have been telling us "based on historic data a recession is imminent and unavoidable".
Yet, is doesn't come.
Folks like ECRI last Sept said were we entering one and "if you thought the last one was bad, you ain't seen nothing yet". They doubled down on that call in December '11 and even today stick by it (although they mysteriously now start the clock from last December, not September but that is another post for another day.
Yet, we continue to grow
David Rosenberg said in '10 not only were we in a recession ,we were in fact in a depression and he inexplicably claimed the same only a few months ago
Let's just put aside his saying today is a recession is laughable and an insult to anyone who actually lived through the 1930?s……an insult. I suggest that Rosenberg brush up on a little reading about what the Depression was before he make such comments…I guess it does get him on TV though… Maybe being seen is more important that being realistic?
Yet, the economy continues to grow, profits continue to rise and the consumer continues to improve their balance sheet at the same time
Nouriel Roubini continues to claim the the end of the world is just around the corner……it's coming…….wait for it…….wait for it………… no comment
Nassim Taleb just tells us we are too fucking stupid to know what only he knows….
So then, why aren't we seeing any of these predictions come to pass? Why? Because looking only at the top numbers does not tell the whole story. Witness the following chart: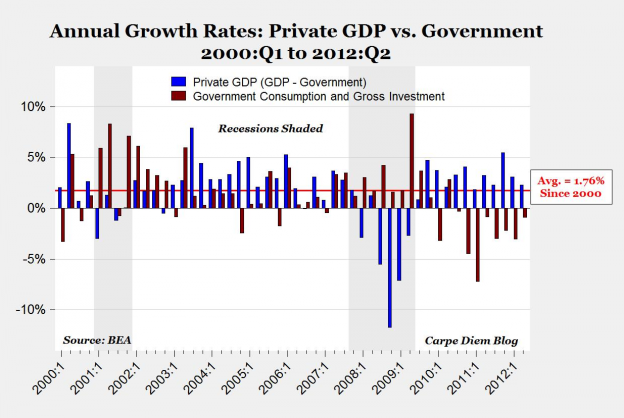 We have seen 8 straight quarters of negative government input in GDP and 9 out of the last 10. Yet, the private economy has grown 3.3% over the past year and has been ABOVE its average of the past 12 years in 11 out of the past 12 quarters and in most cases significantly so.
In fact, the decrease in gov't spending/consumption has been a drag on what would otherwise be a significant recovery. It also means the general economy is in far better shape than the doomsayers would have you believe. Think about it, if the gov't part of GDP was simply flat over the past year, we would be seeing 3.3% GDP prints.
Now, I'll leave the "who did what", "who caused what", "who save what" vitriol to the political zealots on both side of the aisle.
The bottom line is we have a private economy growing better than at any point in the last twelve years. It is doing so with housing in a slight recovery (from the depths and providing little benefit other than stability now), facing the economic headwinds of a government spending retraction and the turmoil in Europe. Given what it is facing, the fact we are seeing ~3% annual growth in it underscores its strength.
There are two ways to see any situation. The two here are thus:
The private economy is fragile and any worsening in the above risk factors will turn us into recession.
The other is that the private economy is actually really strong and any improvement in the above items will lead to further increases. One could say those factors, far from pushing it down are only now holding it back. For instance a housing market than continues to improve will goose private GDP even more and if there is a slowdown in the reduction in gov't, that will goose GDP also. One cannot deny the private economy is actually doing very well (unless they choose to ignore the chart above). The chart above should give pause to those who think we need more gov't spending to improve the economy.
It hasn't been very cool/hip/"smart" or "well-informed" to have been optimistic on the economy the last three years ('10-'12). But, it has been the right call. As we look forward, with employment rising (despite continued gov't layoffs), rail traffic rising, private GDP still growing and corporate profits still rising, I see continued growth.
No, I am not calling for a 4% GDP number, DOW 15,000 and 6% unemployment in the next year. I do think the odds of further improvements from here far outweigh the odds of a recession though. Everyone is so myopically focused on what government is doing they are missing the real story…what the private sector is doing
By: valueplays