Exclusive: Third Point is diving into the private and SPAC markets [In-Depth]
Dan Loeb's Third Point returned 11% in its flagship Offshore Fund and 13.2% in its Ultra Fund for the first quarter. For April, the Offshore Fund was up 1.7%, while the Ultra Fund gained 2.3%. The S&P 500 was up 6.2% for the first quarter, while the MSCI World Index gained 5%. Q1 2021 hedge Read More
Patriot Coal Corporation (NYSE:PCX) filed for Chapter 11. I have been getting emails on it so thought I would answer.
Not interested.
WHY?
Patriot Coal Corporation  listed ~$500M in net equity. The problem with that is most of their assets are coal.
Some basics:
The company postponed closing a $625 million, 9.5 percent five-year loan after saying May 14 that a key customer might default on a contract for coal that had fallen as much as $30 a ton below the original contracted price. The same day, the company cut a 2012 forecast for sales of steelmaking coal.
On June 1, Patriot filed a complaint in federal court in Charleston, West Virginia, alleging that Fort Meyers, Florida- based Keystone Industries LLC breached a contract to buy "hundreds of thousands of tons" of coal. Later that month, Principal Accounting Officer Christopher Knibb resigned and was replaced by Chief Financial Officer Mark Schroeder, according to filings with the SEC.

Patriot got 87 percent of its 2011 revenue from coal mined in the Central Appalachian region of the U.S., which includes Kentucky and West Virginia. Its operating costs in Appalachia were $71.06 a ton last year while the average price of Central Appalachian coal futures was $75.86.
The bankruptcy case is In re Patriot Coal Corp.; 12-bk- 12900; U.S. Bankruptcy Court, Southern District of New York (Manhattan).
We have followed the coal story for a while now in as part of our rail traffic series. The drop in demand for coal has been huge and unlikely to get better anytime soon. The natty story is real and supplies are plentiful to ensure it stays the electrical power provider of choice due to low cost for a long time, displacing coal even more than it currently is. Now, Patriot says
Thermal coal accounted for approximately 76%, 78% and 83% of our coal sales volume during the years ended December 31, 2011, 2010 and 2009, respectively. The majority of our sales of thermal coal were to U.S. electric power generators with an increasing percentage sold into the global export market. The amount of coal consumed for U.S. electric power generation is affected primarily by the overall demand for electricity; the location, availability, quality and price of competing fuels for power such as natural gas, nuclear, fuel oil and alternative energy sources such as wind and hydroelectric power; technological developments; limitations on financings for coal-fueled power plants; and governmental regulations, including increasing difficulties in obtaining permits for coal-fueled power plants and more burdensome restrictions in the permits received for such facilities. In addition, the increasingly stringent requirements of the Clean Air Act or other laws and regulations, including tax credits that have been or may be provided for alternative energy sources and renewable energy mandates that have been or may be imposed on utilities, may result in more electric power generators shifting away from coal-fueled generation, the closure of existing coal-fueled plants and the building of more non-coal fueled electrical generating sources in the future. Current developments in natural gas production processes have lowered the cost and increased the supply, resulting in greater use of natural gas for electricity generation.

All of the foregoing could reduce demand for our coal, which could reduce our revenues, earnings and the value of our coal reserves.

During 2011, headwinds created by low natural gas prices, mild weather and weaker international and domestic economies have impacted coal markets, and market weakness continues as we enter 2012.
Now, about those $3.7B in assets Patriot listed. Most of that is simply coal and mining equipment ($2.9B land/coal and $1.2B machinery/buildings). Whatever the equipment is being held at, cut it in half, at least. Other coal producers are not going to want to buy their equipment when they are seeing their demand drop also. They will be pulling their own equipment from the field, why would they buy some from Patriot?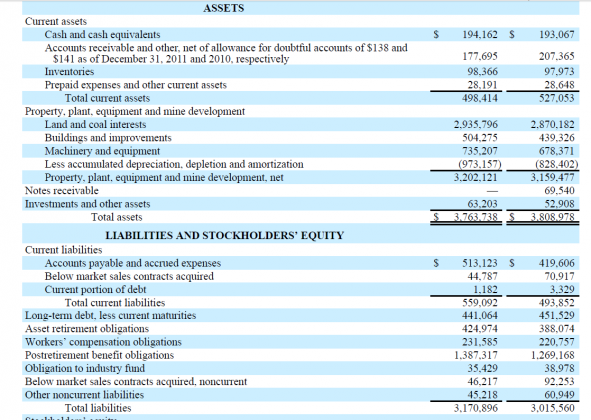 So, that leaves the only real assets they have with any market value being the coal. Coal that sells for ~$75/ton and costs $71/ton to extract. $4/ton is not a profit margin, at all. So if anyone was going to buy that asset they would be offering a price well below Patriot's production costs to ensure themselves a profit.
Granted this only a cursory look but I'd just about promise that $500M in equity is not a solid number and shareholders are totally wiped out on this one.