Total N. American rail traffic came in at 686k last week. This is a pretty impressive surge, far better than what I expected. Even better is that the main reason was metal and stone products (think construction) and auto's set yet another multi-year high. As I read the data coming out and observe the key indicators we follow I am becoming more convinced, those who "sell in April/May and go away" are going to regret that decision.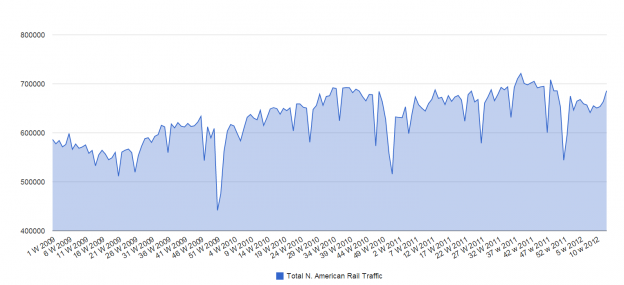 If we adjust the train numbers for the collapse in coal (below) then rail traffic would be well ahead of last year. In the chart below I have circles "week 13? for the past 4 years to give you a point of reference on the degree of coal's plunge. Click here to see the reasoning for the coal decline.
Northern Pipe Line Wasn't Graham's Only Activist Situation
We wrote about Ben Graham's activism at northern pipe line, but there are other interesting stories involving the father of value investing Value investing and activism go hand-in-hand. Benjamin Graham, the godfather of value investing, discovered how important it is to incorporate activism into a value strategy relatively early in his career, a strategy that Read More

What we are seeing is an economy that is continuing to strengthen at what seems to be an increasing pace. Now of course the issue that confronts us is: Is this a blip or a trend?
As the weeks go by and I keep seeing improving numbers, I am moving solidly in the "trend" camp. Late winter numbers were not bad so this isn't a "catch up" scenario. That data was solid, if unspectacular which has been reflected in much of what we have seen in the past month. Good but not great data. I think that is going to begin to change as this spring progresses…
By Todd Sullivan of Value Plays