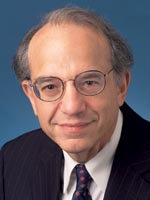 Jeremy Siegel is the Russell E. Palmer Professor of Finance at the Wharton School of the University of Pennsylvania. He graduated from Columbia University in 1967, received his Ph.D. in Economics from the Massachusetts Institute of Technology in 1971, and spent one year as a National Science Foundation Post-Doctoral Fellow at Harvard University. Prof. Siegel taught for four years at the Graduate School of Business of the University of Chicago before joining the Wharton faculty in 1976.
Prof. Siegel has written and lectured extensively about the economy and financial markets, has appeared frequently on CNN, CNBC, NPR and others networks. He is a regular columnist for Kiplinger's and Yahoo! Finance and has contributed articles to The Wall Street Journal, Barron's, The Financial Times and other national and international news media. Prof. Siegel served for 15 years as head of economics training at JP Morgan and is currently the academic director of the U.S. Securities Industry Institute.
Prof. Siegel is the author of numerous professional articles and three books. His best known, Stocks for the Long Run, which published its third edition in 2002, was named by the Washington Post as one of the ten-best investment books of all time. His current book, The Future for Investors: Why the Tried and the True Triumph Over the Bold and the New, was published by Crown Business in March 2005 and was named one of the best business books published in 2005 by Business Week, the Financial Times, and Barron's magazine.
How Warren Buffett Uses Discount Rates To Value Stocks
Warren Buffett has never detailed the process he uses to value the businesses he acquires for Berkshire Hathaway. However, over the years, he has provided some limited insight into his methods. Q3 2020 hedge fund letters, conferences and more Based on these comments, it is widely assumed that Buffett uses a discount cash flow model Read More
Siegel recently made some public comments (in the WSJ and the video below) about the current state of the bond market. He thinks the extremely low yields on bonds indicate that there is a bond bubble which he likens to the Tech bubble. He is warning investors to avoid long term bonds, which are offering very low returns and carry huge inflation risks, plus the risk of loss of principle. I largely agree with Siegel, and will follow up this video with my views on the topic next week. I will explain why I am short long term bonds, and why they are a very risky investment now.
Visit msnbc.com for breaking news, world news, and news about the economy
Disclosure: I am short long term treasury bonds