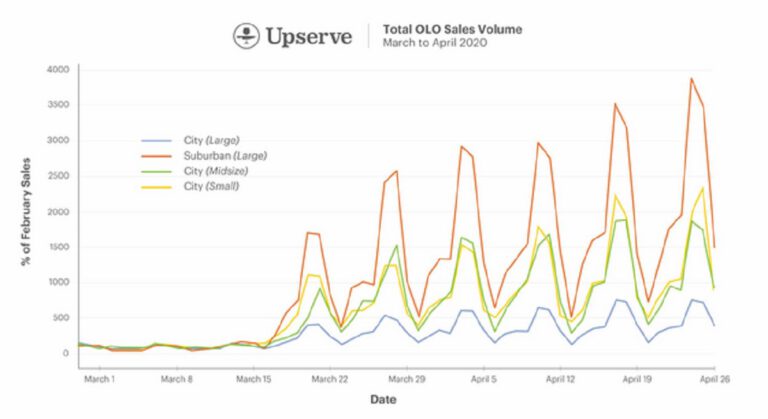 Restaurant technology business Olo is angling for a $100 million Initial Public Offering off the back of a significant year for online deliveries driven by the Coronavirus pandemic.
Q4 2020 hedge fund letters, conferences and more
The New York-based company was founded in 2005 by Noah Glass as a service that enables customers to order their food via the use of text messages. The name 'Olo' comes simply from combining the words 'online' and 'ordering,'
Gator Financial Partners 1H2022 Performance Update
Gator Financial Partners letter to investors for the first half of the year ended June 30, 2022. Q2 2022 hedge fund letters, conferences and more Dear Gator Financial Partners:  We are pleased to provide you with Gator Financial Partners, LLC's (the "Fund" or "GFP") 1st Half 2022 investor letter. This letter reviews the Fund's 1st Read More
Since its formation, Olo has grown significantly to offer online ordering, delivery integration and various other restaurant software-based services to over 64,000 restaurants run by more than 400 brands - including key industry players like Five Guys, Shake Shack, Chili's and Wingstop. The service also integrates with over 100 other tech platforms. (Image: Upserve)
As we can see from the insights provided by Upserve, Olo sales rocketed by almost 4,000% in suburban areas following the arrival of the COVID-19 pandemic. Many industries specializing in delivering services have received boosts in users and Olo has clearly utilized this unexpected peak in interest to bide its time ahead of going public.
Olo confirmed in its IPO documents filed in February that the company had experienced a massive boost from the pandemic. Revenue rose by 94% from $45.1 million in 2019 to $92.8 million in 2020. Significantly, Olo was also profitable in 2020, returning $3.1 million in net income, however, this profitability is a relatively new shift for Olo, which has reportedly developed a deficit of $69.3 million as of the end of 2019.
Furthermore, Olo surpassed one billion transactions in 2020, illustrating that the business has facilitated a healthy level of growth over the past decade and processed $14.6 billion in gross merchandise value for restaurants.
Building For a Floated Future
Speculation has been rife for over a year regarding the development of Olo's IPO. In January 2020, publications began reporting that the takeaway giants were eyeing an imminent $1 billion IPO.
Although $100 million may be some climb down from the speculated $1 billion valuation, it's fair to say that Olo's caution regarding a 2020 IPO has paid off for the company. Not only has Olo become profitable over the past year, but it's also made some shrewd recruiting decisions in order to better prepare the company ahead of going public.
In December 2020, Olo added two technology business veterans to its board of directors as a means of continuing its strategic growth amid the wildly popular digital ordering climate. Zuhairah Scott Washington and Russell Jones have strong backgrounds in the scaling of businesses and financial management to help the progression of Olo's Initial Public Offering.
Zuhairah Scott Washington had previously been working as a global senior vice president with Expedia Group, working as general manager of strategic partners for lodging and vacation rentals. She was also a general manager at Uber, helping the company to grow their revenue to a $1 billion annual run rate.
"I look forward to applying my experience in the tech sector to support Olo's strategic direction as a leading provider of digital solutions that help restaurants capitalize on today's on-demand world," Washington said in a statement.
Meanwhile, Russell Jones was an adviser to Sierra Wireless, Georgian Partners, and the Ottawa Hospital Foundation. He was also CFO of eCommerce at Shopify when it went public in 2015 - helping to guide the company through a $150 million Initial Public Offering.
By recruiting two experienced professionals who possess a wealth of experience in strategically growing businesses and guiding them through the process of going public, it's clear to see that Olo is looking to capitalize on its growth over the course of the pandemic and launch its IPO while the online restaurant delivery industry boom reaches its peak before vaccines bring an end to social distancing measures.
How Olo Plans to Use its IPO
Yahoo Finance reports that Olo intends to use the proceeds from its IPO for more general corporate purposes, including working capital, operating expenses, and capital expenditures. However, the company may allocate some of the proceeds to acquire businesses that complement Olo's mission, products, services, or technologies.
Although Olo has diverted its focus on expanding off-premise tools for its restaurants in recent years, the company also has plans for future growth moving forward. Olo looks to add new large multi-location and high-growth restaurant brands, targeting well-capitalized businesses. As these brands add new locations, the company believes it will be placed in a position to organically grow revenue, according to the IPO filing.
The IPO will help Olo to better utilize what the company understands to be an addressable market opportunity at around $7 billion based on its current offerings and focus on enterprise restaurants.
Olo is also looking to expand its current product functionality to better leverage payments, on-premise dining and data analytics. The company is looking to on-premise dining as an area of opportunity for technology integration in the wake of the pandemic and is looking to incorporate table ordering functionality in the future. Olo may also explore upselling additional products to existing customers and working with them to enable higher transaction volume whilst building its team of developers, UX designers, and other partners to support its customers
Investing in Olo's IPO
The arrival of a Olo IPO may be tempting for investors looking to buy into the fledgling tech services markets in the wake of the COVID-19 pandemic, but the path to investing in Initial Public Offerings isn't always straightforward.
The easiest way of investing in an Initial Public Offering is to go to the company's website directly and look for opportunities to invest. However, in many cases, companies opt to offer their IPOs to institutional investors as a means of selling huge volumes of shares in a single transaction.
Although an IPO geared towards the general public could facilitate more interest, sometimes companies can lose more money on smaller individual investments than through dealing directly with the institutional arena.
Despite this drawback, there are companies that work to allow individuals to participate in a multitude of IPOs that would otherwise be inaccessible. Freedom Holding Corp. (FRHC), a NasDaq listed investment company, for instance, offers a platform that allows individuals to apply to participate in IPOs - including that of Olo - however, the financial threshold for applications starts at $2,000.
Furthermore, more traditional organizations like Fidelity also offer participation, but only at a significantly higher threshold of either $100,000 or $500,000 in household assets, depending on the IPO terms. Another option is TD Ameritrade, which is owned by Charles Schwab Corporation (SCHW) - one of the largest financial services companies in the world.
For Olo, however, the company appears set to follow on from a wildly successful 2020 with a well-thought-out IPO this month. In a world that's becoming increasingly digital, Olo's $100m valuation may one day be reflected upon as a relative bargain.
Updated on