Is Snow Park Capital hedge fund founder Jeffrey Pierce sitting on top of the counter-trend trade of 2018? With the headlines warning of the Amazon Apocalypse, Snow Park's stake in Cedar Realty Trust Inc (NYSE:CDR), pegged at 6.4% of the portfolio in a 1st quarter 2017 report, is a bet on retail malls that might be immune to Amazon but have fallen in value nonetheless. The problem is Cedar's underperformance relative to peers. Sources familiar with the situation now tell ValueWalk "patience is running thin" with the REIT's management, with more aggressive moves to change the board of directors potentially on the near-term horizon.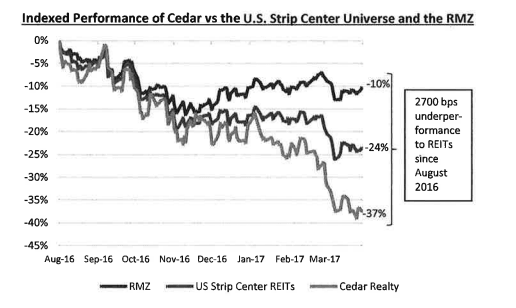 Snow Park Capital says Cedar Realty has value, but management is in the way
The market sell-off in the retail shopping mall REIT space has been "indiscriminate," according to Snow Park Capital's Pierce. In an investor letter explained the fund's Cedar Realty acquisition, calling the REIT an "orphan" with good underlying assets but poor management performance.
Since August 2016, Cedar Realty, which on the east coast, has underperformed US Strip Center REITs by 27%. When compared to a peer with significant exposure in REITs with exposure to grocery store anchors as the primary business model, the REIT's underperformance a nagging investor concern.
On July 1, 2011, the first month when newly minted Cedar Realty CEO Bruce Schanzer emerged from an investment bank to take over the REIT, the stock traded at $5.25. Today, more than six years later, it is up to $6.16 – near 2.5% appreciation, much lower than the underlying asset appreciation in the strip mall real estate market. Compare this to Retail Opportunity Investment Corp., a firm that like Cedar, has significant exposure to strip malls with grocery store anchor merchants. Their stock price has close to doubled over the same period, moving from $10.85 to currently just trade just over $20.
The message coming from investors is "management needs to unlock value or get out of the way."

Snow Park Capital: Cedar Realty Trust Inc core strategy of investing in malls works
On October 25, 2017, when Snow Park Capital asked the board of directors at Cedar Realty to explore either selling the REIT or liquidating the company's assets, it saw a company with good underlying assets but subpar execution and management.
Schanzer took over the REIT from an investment banking background and has failed to properly monetize the underlying assets due to a lack of experience in retail mall management, critics charge.
The core strategy of operating shopping malls with a grocery anchor tenant is a winner, the issue is more one of executing properly so as to keep up with REITs with a similar focus.
What is also concerning investors is a new potential Cedar Realty strategy to get into mixed-use development with hotels and apartment rentals, a completely different real estate model to which there isn't much institutional experience. This is an example of "failing upwards," one person familiar with the situation opined to ValueWalk, one that puts investors at significant risk. If Cedar Realty can't keep up with management in the retail mall space with a strong target offering, what gives investors' confidence they can manage the more volatile hotel and apartment real estate arena?
It is time for Cedar Realty to listen to investors and make changes or fight
For investors, the time of reckoning is at hand. They have attempted to work with Cedar Realty management, but talks appear at an impasse regarding potential paths forward. Either the REIT management works with investor plans to unlock asset value or they will begin working to replace the board of directors.
Snow Park is a classic activist hedge fund manager, known to acquire an interest in a REIT and then encourage a spin-off of assets or change in leadership when the asset value is underappreciated in the stock price.
In mid-December, Snow Park most recently targeted Altisource, a situation where it claims the underlying assets were perceived worth more than the stock. This odd phenomenon of trading below book value was due to an alleged sweet deal between Altsource Residential and the Altisource Asset Management Corp., a related group that made management decisions and charged the REIT a fee for its services.
In this case, Snow Park said the related deal "erodes shareholder returns" and was the reason for the REIT's underperformance of the underlying real estate it owned.
The hedge fund has a history of encouraging REIT management that operates sound underlying properties to get out of the way if there is not evident value.
In 2016 Snow Park urged Monogram Residential Trust, Inc. to explore a sale, which occurred in July 2017 when Greystar Real Estate Partners closed a deal valued near $3 billion, increasing the stock price by nearly 20% on the day when the deal was announced.
2016 was also the year Snow Park urged FelCor Lodging Trust Inc. (NYSE:FCH) to explore a sale, and in April of this year, RLJ Lodging Trust purchased the firm.
Cedar Realty said they welcomed communications with shareholders when Snow Park first announced their intentions, but now patience could be wearing thin. Cedar had earlier rejected an unsolicited bid from Wheeler REIT in November 2017.