This series on the Amazon Apocalypse was last updated by "Quant" on 1/21/18 at 6:45PM EST
2017 was not a great year for retail stocks on the whole. With brick-and- mortar retailers facing stiff competition from online stores, 2017 was a record year for closures. Although retail managed to develop some strength from November into year end, don't expect a straightforward upward return trajectory from retail stocks this year either.
Although the outlook for equities is positive overall – discerning stock picking will make all the difference in 2018. A favourable tax environment (lower rates) combined with continued tailwinds from the end of 2017 signal continued positive momentum through 2018 – at least for the first six months.
Into the second half of 2018 there are more economic sensitivities at play – of which rising interest rates stands out as the most prominent. Wage inflation, one expected outcome from forecasted economic growth for this year, will also impact margins in US retail stocks.
Growth over Value?
Armed with the expectation of a mixed-bag of performance for US retail stocks in 2018 you are probably left wondering where to capture opportunities in this segment. Recent research from UBS highlights that the market overall is showing favour to growth themes over value.
1 Backed by economic arguments, the UBS research forecasts consumption growth of 0.48pp in 2018 followed by 0.47pp in 2019.
Overall retail sales growth, excluding automobiles has delivered annual average growth of 3% since 2013. So a potential consumption led 50bps uplift is certainly nothing to be sniffed at.
More importantly, when 50bps is added to the average hardline company comparison assumption in the same research. It would suggest a further 100 bps of yield in incremental earnings- per- share (EPS).
Headline Risk – Downside Skew
When allocating to the segment keep in mind that headline risk is distinctly skewed to the downside -  Meaning negative news will impact pricing downwards than positive news does upwards. This is a continued trend from the past few years and showed no sign of abating in 2017.
As a clear example, we observed a fast, downward market response in retail stocks when Amazon bought Whole Foods in 2017. On the other hand, when positive news of tax reforms came to light in the same year, the upwards response in retail was slow and, by comparison, suppressed. 1
US retail - Tax Reform Stimulus
Demand will grow in US retail with the implementation of upcoming tax reforms. Specifically, lower tax withholding rates will leave the average household with more money to spend. The new rates come into effect from this January and we can expect the average household to be holding an increased amount of disposable income from as early as next month.
This will boost consumption spending whilst also adding to volatility. US Retail will also benefit from the supply side - with a corporate tax break from 35% to 22%. That is announced in December of the last year2. Which is designed to enhance domestic profitability and hoped to lead to job creation.
Overall, these dynamics point to both improved demand and supply-side factors. Which is combined with upwards momentum for retail stocks into the start of 2018. Keep a close eye on upcoming reports to see whether the Amazon Apocalypse is subsiding. Q4 2017 earnings reports and end-of-year holiday sales figures are set to be released over the next few weeks and may influence the tone for the remainder of 2018.
Sources:
1 UBS, Global Research 4 January 2018, U.S. Retail 2018 Outlook: Making Retail Great Again?
2 Harvard Business Review, https://hbr.org/ideacast/2017/12/breaking-down-the-new-u-s-corporate-tax-law
.....................
When looking at the retail panoply, Cowen and Company analyst John Kernan and his team look at the recently enacted tax reform and wonder if it will push the needle to the point middle income wage earners help second and third-tier retail malls. With the sector narrative coming from Wall Street and the media echoing " the Amazon apocalypse," will tax and fiscal policy come to the rescue?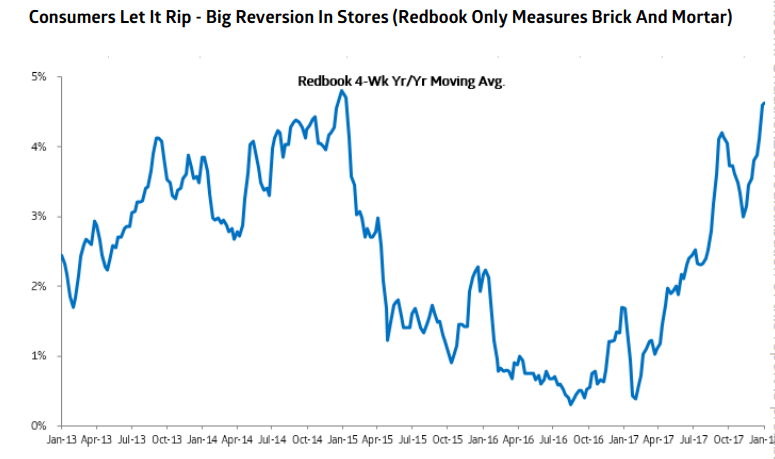 What Amazon Apocalypse? Retail sales up the most since the 2008 financial crisis

Please login to view the rest of this article - Not subscribed? Get our adfree exclusive content for only a few dollars a month.
It also helps us fund our operations so think of it as supporting quality journalism.