As published by Chain Reaction Research, and written by Hilde van Dijkhorst, Aidenvironment, Barbara Kuepper, Profundo, and Gabriel Thoumi, CFA, FRM, Climate Advisers, coffee production has been identified by the Peruvian Agricultural Census of 2012 as one of the major drivers of deforestation in the Peruvian Amazon, making up 25.4 percent of agricultural land in this region. Smallholders with less than 5 hectares (HA) of land produce 62 percent of the coffee grown in the Peruvian Amazon, often applying shade-grown techniques. Smallholder coffee production and the expansion of the agricultural frontier by migrant farmers contribute to deforestation and forest degradation.
In 2016, Olam Peru was the second largest exporter of coffee from Peru with 13 percent volume share. Olam Peru has an important role in the coffee value chain. It purchases 95 percent of its coffee from smallholders through agents and intermediaries. Its parent company Olam International (OLMIF) (Olam) has zero-deforestation goals, but policy implementation remains not fully adopted within Olam Peru's coffee value chain. This exposes Olam to deforestation risks, which could result in reputational damage.
Key Findings
Olam International has extensive environmental sustainability policies. Olam's upcoming Global Forest Policy, will have a cross-commodity scope and may apply to Olam Peru's coffee supply chain.
Olam Peru is one of the largest coffee traders in Peru. In 2016, it accounted for 13 percent of Peruvian coffee exports. As most Peruvian coffee is produced for sale to export markets, Olam Peru has an important position in the coffee value chain. Olam Peru sources 95 percent of its coffee through a network of licensed agents, intermediaries and traders. Suppliers are selected on a day-to-day basis.
Government institutions, research agencies and civil society have identified coffee as a major driver of deforestation in the Peruvian Amazon. Coffee has the highest land coverage and highest expansion rates of all commodities produced in the Peruvian Amazon. Small-scale coffee production and the expansion of the agricultural frontier by migrant farmers contribute to forest loss.
Olam Peru uses certification schemes for parts of its supply chain. It applies its Livelihood Charter and Supplier Code to smallholders and intermediaries, but Olam Peru is unable to guarantee a zero-deforestation supply chain. Olam Peru does not suspend trading relations in response to non-compliance with its sourcing policies.
Olam International faces reputational risk because of deforestation in Olam Peru's coffee supply chain. It is unlikely that Olam faces possible loss of clients or regulatory sanctions because of Peruvian deforestation in its supply chain. If Olam Peru lost all its Peruvian coffee sales due to deforestation risks, it would have a negative impact of 0.5 percent on Olam's enterprise value. Because of Olam's high debt level, this would trigger a negative 1.6 percent impact of 1.6 percent on its equity valuation. This USD 60 million annual loss of client revenue would exceed the estimated USD 10 million financial gain from extra coffee sales by Olam Peru from deforested land.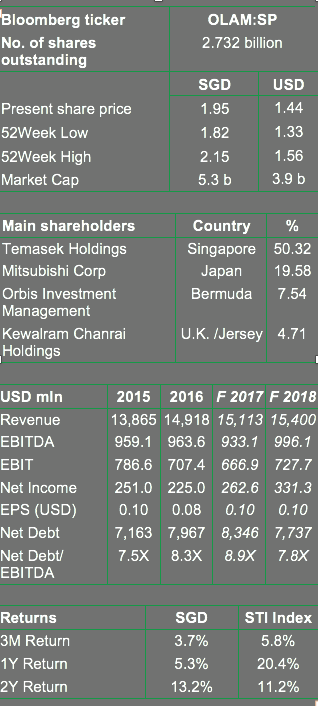 Olam International: The World's Largest Farmer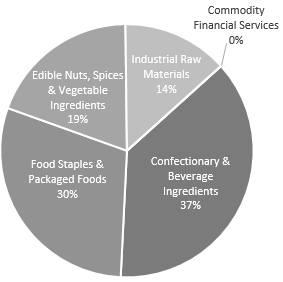 Figure 1: Olam segment revenue, 2016. Source: Olam International, Annual Report 2016.
Olam International is one of the ten largest agri-commodity companies globally. Since its founding in 1989 and currently headquartered in Singapore, it has grown from a commodity trader to a vertically integrated player with assets throughout the supply chains and across various products. Its 18 product platforms source from 4.33 million farmers. Olam International (Olam) has 2.4 million hectares (HA) under direct management. Olam sources from an additional 7.1 million ha. In FY2016, Olam reported revenues of USD 14.9 billion, resulting in a net profit of USD 225.0 million.
As shown in Figure 1 (above), Olam has five business segments:
Edible Nuts, Spices and Vegetable Ingredients
Confectionery and Beverage Ingredients (cocoa and coffee)
Food Staples and Packaged Foods
Industrial Raw Materials, Ag Logistics and Infrastructure
Commodity Financial Services
37 percent of Olam's 2016 revenue was from its coffee and cocoa business segment. It operates single-estate coffee plantations in Brazil, Zambia, Tanzania, and Laos. Olam is one of the world's leading coffee traders. It sources from Africa, Asia, Central America and Latin America. Olam is Peru's second largest coffee exporter by volume and value.
Olam's Sustainability Policies Include Suppliers and Smallholders
Olam applies its Olam Sustainability Standard Framework (OSSF) to its business activities across its supply chains. It has seven focus areas:
Labor
Land
Water
Climate Change
Livelihoods
Food Security
Food Safety
Olam sources from 4.33 million farmers globally. Its Supplier Code last updated October 17, 2014, addresses responsible business practices in its supply chain. The Code was implemented in 2013 in priority products in key countries, including coffee in Peru. By 2016, 58 percent of all tonnage from priority product volumes was covered under its Supplier Code. Olam defines priority products as having high risk of social and environmental impacts.
These products include:
Cashew
Coffee
Cocoa
Cotton
Hazelnut
Palm oil
Rubber
By signing the Supplier Code, suppliers are expected to commit to the following:
Commit to corporate governance and integrity
Guarantee the quality of goods and services they supply
Uphold labor standards and human rights within their operations
Respect the natural environment
Conduct their business in a way that honors the local community
Ensure compliance.
In 2016, the Olam Livelihood Charter (OLC) reached 302,552 smallholder farmers  in 19 countries including Peru, and in key value chains, including coffee. Olam uses the OLC to reduce its smallholders' environmental footprint. The company organizes trainings for smallholders it sources from on climate smart agricultural practices to increase productivity and to improve soil, water, and forest management.
Olam says it cannot monitor land management processes for all its suppliers, as it cannot physically reach all the supplying farms. As a result, the company prioritizes the high-risk products cashew, cocoa, coffee, palm oil and rubber. The OLC and its Supplier Code are also used to extend influence on its indirect suppliers.
Zero Deforestation Commitments for Palm Oil
Olam has deforestation policies for its palm oil supply chains. Its specific palm oil No Deforestation, No Peat, No Exploitation (NDPE) policy extends to all Olam owned and managed plantations, outgrowers in Gabon, and third-party suppliers who have specific commitments. For palm and rubber plantation activities, Olam applies Free, Prior and Informed Consent (FPIC), Environmental and Social Impact Assessment (ESIA), participatory mapping, and the Roundtable on Sustainable Palm Oil (RSPO) Principles and Criteria. All palm oil suppliers have signed the Olam Supplier Code.
In December 2016, the Mighty Earth forest campaign alleged that Olam caused deforestation in Gabon. The forest campaign alleged that Olam created a market for deforestation-linked palm oil. It criticized the company for giving its suppliers until 2020 to comply with its sustainability requirements. These organizations alleged that Olam violated its FSC commitments, and that the company did not use a proper High Carbon Stock Approach (HSCA) methodology to identify forest areas suitable for clearing. In response, Olam indicated that it could not sign onto the HCSA approach on